KASAMA Vol. 23 No. 3 / July-August-September-October 2009 / Solidarity Philippines Australia Network
Cordillera Disaster Response Network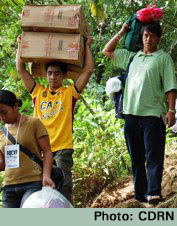 Cordillera Peoples Alliance (CPA) and the Center for Development Programs in the Cordillera (CDPC) organized a disaster response body composed of its network of organizations, which is the Serve the People Brigade–Cordillera Disaster Response Network. The name is historic, as it is derived from the disaster response initiatives of Cordillera activists during the 1972 floods and the killer quake in July 1990. This response is also rooted in the indigenous tradition of cooperation and collective action in times of disaster or in emergency situations.
The Serve the People Brigade, to sustain its rescue and relief missions, is now coordinating with other institutions, organizations and individuals in the region for rescue and relief operations in the most depressed areas in the region.
OUR APPEAL FOR SUPPORT
The Brigade humbly and urgently appeals for all forms of support for its relief and rescue operations.
For Financial, Material Donations and to Volunteer:
Please visit us at No. 55 Ferguson Road, Brgy. A. Bonifacio, Baguio City and look for Mr. Santos Mero, Serve the People Brigade Coordinator and CPA Deputy Secretary General.
You may also call or text the Hotline at mobile number 09209286370 or Telephone Number 63-074-304-4239, Fax number is 63-074-443-7159. You can also reach us through email at cpa@cpaphils.org for queries.
Financial donations may also be channeled through: Cordillera Peoples Alliance, Savings Account: 1-326-72354-8, RCBC Baguio Peso Account.
You may also lend your vehicles for the relief and rescue missions, and we welcome the assistance and support of paramedics, doctors, and all volunteers who would like to be part of the relief and rescue drive.
Please visit our web site at http://www.cpaphils.org/ and Photo gallery at http://www.flickr.com/photos/40468493@N02/sets/72157622560770448/
We thank you sincerely and look forward to your positive response on this urgent appeal.
Related articles: