KASAMA Vol. 23 No. 3 / July-August-September-October 2009 / Solidarity Philippines Australia Network
A migrant Filipina's reflections on her encounter with Ondoy
by Belle Uy
On September 26, 2009, Typhoon Ondoy (international name: Ketsana) brought a month's worth of rainfall to Metro Manila and nearby areas in just a few hours, causing severe flooding which resulted in the loss of 246 lives and the displace­ment of over half a million Filipinos in the Luzon region. The cost of damages to property and crops by Ondoy has also risen to P4.69 billion, according to the National Disaster Coordinating Council. (Source: ABS–CBN NEWS 29 September 2009)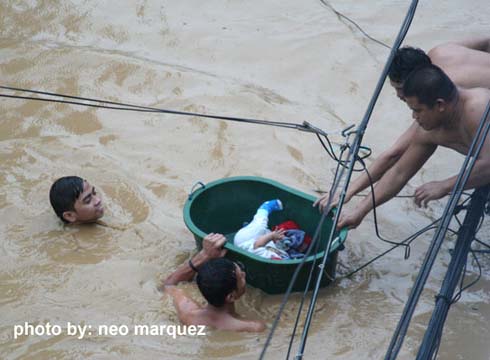 Stranded but safe
My personal experience of this natural disaster is insignificant in comparison to all the horrific and heroic stories of people trapped on rooftops without ample shelter, food and water; those who had to wade through a river of flood­water and sewage to reach home to be with their families; and, ultimately, those who have given up their lives fighting the effects of typhoon Ondoy. I was simply confined to a hotel for three days while the drama unfolded.
Taking my vacation from work in Australia, I was a balikbayan visiting college friends who had booked a hotel room overnight for some fun and frivolities. In good old Pinoy fashion, we ate, talked, and sang on the MagicSing for most of the night, to the detriment of our neighbour's ears. It was a great night reminiscing times shared in the past and catching up on things that have changed in our lives in the time that we've been apart.
The next morning proved to be quite a different atmos­phere as we received numerous phone calls from panicked family members desperately making sure we were all safe. We were more than safe. We were accommodated comfortably in a hotel room with electricity; and the hotel was built beside a shopping mall which had everything you could need in an emergency situation (clothing, food, water, toiletries, etc). However, it was a frantic time for us as we spent hours texting and calling everyone we knew, making sure they were alive and safe.
We spent most of our time in front of the television, feeling quite useless because we couldn't do anything to help those ringing into the TV stations begging the hosts to send rescue rubber boats their way. I remember Kris Aquino being part of this special TV segment where they were getting calls from people needing rescue and from companies wishing to donate relief goods and/or monies to support the relief efforts. I was reminded of the celebrity culture we have and how much Philippine society upholds fame as a value. Well, where else can you find such a place where an action star-turned-president-turned-convict can still run for presidency and actually be supported by his peers? Prominence precedes credentials and I often get depressed by the thought of this effect in the political arena. However, I am pleased to see that celebrities, in the instance of Ondoy, have volunteered their time to take phone calls, to host the relief effort segments, and to ask their corporate sponsors for donations. There was really a sense of unity in the media, like nothing I've witnessed before. I begin to hope…
In the next few days, I found myself playing the role of confidant, consoling friends with loved ones stranded at train stations and on their home's rooftops, in areas like Marikina, Pasig, and Cainta. The feelings of fear and desperation were real and present during that time – all we could do was wait for the water levels to recede and hope for the least amount of damage to property and lives. We were very glad to be safe but the guilty thought never escaped us: "Why were we spared while all these people, just a few kilometres from us, are suffering and in dire need?" We could not eat and drink extravagantly while we knew what was going on in the rest of Metro Manila, and northern Luzon.
By the second day, most of my friends' families – those who were in the midst of the floods – could not be contacted anymore. Either their mobile phone batteries had died or there was not enough reception to put a call through. Television networks asked viewers to moderate their mobile phone usage so as not to inundate the telecommunications network, a common concern for the texting capital of the world I guess. It was a very strange time for me. I felt like an outsider walking alongside people I have known for years, but now in a very distant way.
I do not have everything I had in the Philippines. My whole lifestyle is not at risk of being drowned out by this calamity because at the end of the day, I can go back to Brisbane and live a different life. At that point, I realised I was an outsider, and all I could do was mourn.
On the third day, water levels went down and the Marcos Highway was declared passable. We quickly packed everything, paid our triple-sized hotel bill and went our separate ways, wishing safety upon each other until we meet again.
Rescue, recovery and relief
Some areas were still under water; people were still being rescued by rubber boats, and the government suspended classes so that students can volunteer their time to help the relief efforts. Affected families were relocated to public schools-turned-relief shelters. The mayor of Pasig City opened up the Entertainment Centre to thousands of its neighbours who had nowhere else to go.
I still had a week left of my stay and I could not stand idly by while the metro painfully begins its recovery and rebuilding process, so I went with my friend to her local church where there were hundreds of people receiving, carting, sorting, labeling, and packing essential goods to be delivered to distribution centers in affected areas. It was a busy place and we were ready to jump straight into it. The volunteering process, though, was not as glamorous as we expected.
Learning from the previous day's work, the church had started enforcing certain rules to keep everyone more organised and, sadly enough, to keep anyone from looting. Apparently, there were people coming into the church to volunteer and, instead, they were filling their own bags with things from the donation stockpile. I only had one question in mind after I heard about this. I wondered if anyone confronted these "looters" and asked why they were doing such things. Unfortunately, the answer was "no".
While I can understand the need for order in the relief effort, I think a certain level of humanity and compassion is necessary in group and individual inter­actions, especially in the midst of natural disasters and grave uncertainty. I do not know the circumstances which would bring these people to take donations for themselves (I believe poverty can make us do the most undignified and degrading acts), but my concern over the whole thing was that the church leaders opted to enforce stricter rules rather than confront the people who have come to "loot" for food and second-hand clothes. These goods were being put together for people in need, and I can't help but wonder if the same could be said for the looters. I went home with a little less hope at the end of that day.
Reflections
This second visit to the Philippines since I moved to Brisbane four years ago was quite an event. It was challenging in a lot of ways, but it was also a privilege to have shared life with such amazing people even for a short period of time. I was able to re-learn important things about my roots and to humbly acknowledge that these are inherent qualities in me as well.
I was reminded of the Filipino quality of resilience and unity in adversity. The floods could not quell Filipino ingenuity with people resorting to fee-for-service rubber boat ferries. It was also amazing to see how people used various materials as makeshift rafts – styrofoam containers, wide-lipped buckets etc. Neighbours took care of each other, moving people from one roof to another if a neighbour's house got submerged. Light rail train stations, university libraries, and condominiums became temporary shelters for stranded commuters – and food was made available to those without means (for example, university cafeterias providing free food for its stranded students).
While there is a poetic beauty in the Filipino sense of hope, I also re-learned that my home country is infected with numerous deficiencies. The government does not have enough power to protect its people in times of crises. While there were skilled rescue teams in some municipalities, they were ill-equipped and in scarcity. There is a great disparity between the rich and the poor, and the opportunities available to access safe refuge. A newspaper headline read "The equality of the storm Ondoy" which I strongly disagree with. While a high profile subdivision reported a significant number of fatalities, the media failed to report the even more significant number of squatters swept away because they lived directly beside swelled rivers; or those who drowned because their homes were shanties made of tin and cardboard, and they could not find higher ground.
This is the reality brought about by a culture struggling to survive. This is probably why we cling so much to hopefulness rather than despair, because there's so much repair work to be done, not only due to the ruin caused by Ondoy, but also the devastation brought about by societal ills.
Lastly, and I would really like to end on a positive note, I re-learned the significance of family relationships which extend far and wide. Despite having lived in a different continent for the past four years, coming back to the Philippines felt like acknowl­edging that connectedness I have always had – with blood relatives and with people I grew up with – they are my family. I was so warmly welcomed by everyone that I actually got physically sick because I hadn't stopped catching up with people. My body was exhausted from all these activities, a massive endeavour for someone who has adapted to the chilled out pace of Brisbane, but my heart was full and overflowing. Thank you my Filo sisters and brothers for this learning. I believe we are all ultimately connected and I hope that this can be a driving force to consider in healing, renewing and redefining our local, national, and global society.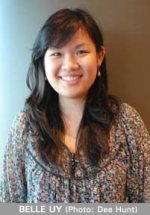 About the Author:

BELLE UY
is a Filipina, with Chinese descent. Growing up in Manila, she says, has taught her to understand the privileges of the few and the suffering of many as brought about by one's socio-economic background. This has and always will challenge and guide the way she lives her life.
Since 2005, Belle has been living in Brisbane where she works in the women's sector, promoting the rights of women from non-English speaking backgrounds who are escaping domestic and sexual violence.
Related articles: