KASAMA Vol. 23 No. 3 / July-August-September-October 2009 / Solidarity Philippines Australia Network
The Igorot in the midst of cyclones Ketsana and Parma:
A cursory look on vulnerability, resilience and ethnic solidarity
Background
Barely a week after tropical cyclone Ketsana, with local codename Ondoy, struck southern Luzon, tropical cyclone Parma (Pepeng) unleashed its torrential rains over northern Luzon. Typhoons in the country usually take only a day to pass through the Philippines, but Parma took an erratic path that meandered and struck Luzon on three different occasions in five days. These two typhoons rendered the island of Luzon in a state of calamity.
The Cordillera region, home to about one million indigenous peoples collectively known as the Igorot, is one of the areas greatly affected by typhoon Parma. These communities were drenched with what is estimated to be more than a month's rainfall. This resulted in numerous massive landslides which eventually caused a significant loss of life and damage to property.
The typhoons' impact on livelihood
Typhoons Ketsana and Parma struck a heavy toll upon the livelihood of the Igorot. The torrential rains saturated the fragile mountainsides and scoured the land utilized for vegetable and rice farming. While crops on some vegetable farms were effectively washed away, newly-harvested crops face the risk of spoilage. Farm-to-market roads were rendered impassable due to landslides. In fact, all the highway systems (Halsema, Kennon, Marcos, and Naguilian roads) connecting the Cordillera to the Luzon lowlands were temporarily closed due to the heavy damage to infrastructure.
The relative isolation of the Cordillera during this period resulted in a temporary shortage of highland vegetables in Metro Manila markets. As a result, Igorot farmers had no choice but to face substantial losses for this cropping season. In a country without crop insurance and minimal state subsidy, this means they have to save on food stocks and protect remaining assets because of the loss of income. And since most seeds and farm inputs are purchased on credit, farmers are faced with yet another unpaid debt for the next cropping season.
Lives buried in mud and debris
Among the most traumatic things that happened were the mudslides which buried villages and a large number of inhabitants. There are some cases where all family members were buried under mud and debris. Survivors suffered the trauma of witnessing their relatives and neighbours perish while trying to escape the avalanche of mud and debris. For some, there is nothing to return to: their houses, farmland and families were either washed away or buried under the heavy mud. Indeed, their lives have to literally start all over again.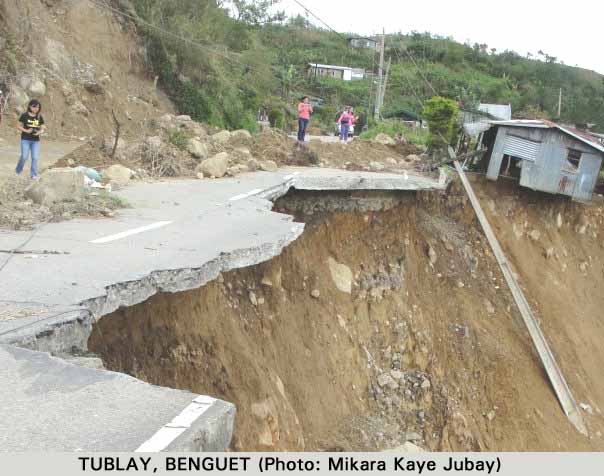 Impact of Mining
A number of communities that incurred the heaviest toll were adjacent to mined-out areas by mining companies. The Benguet municipalities of Itogon, Mankayan and Tublay were "host" to commercial mining activities at some point during the last century. Questions were raised over the long-term impact of commercial mining upon the indigenous communities which hosted them. The Cordillera Peoples' Alliance, a network of Igorot cause-oriented and non-government organisations, pointed out that the Philippine government's policy of promoting a combination of commercial mining and mega-dams had continued to cause "environmental destruction and suffering" to indigenous communities even long after its operation. There are renewed calls for reparation and compensation to affected people by commercial mining companies. This is along with the decommissioning of other mining activities and mining applications within the region. [1]
The Role of Indigenous Socio-political Institutions
With the absence of immediate state and civic support, indigenous socio-political institutions played an active role during natural calamities. This is proven among the Igorot when a call for cooperation, called mabtad, was made by the elders of respective communities. The mabtad is made to inform members to stay alert and vigilant. It is also meant that able-bodied community members must be ready to give their time and effort for the sake of the community. Another indigenous socio-political institution at work was the ub-ubfo (also called as binnadang, ub-ubbo, or ob-obbo). Apparently similar to the Tagalog bayanihan system of mutual cooperation, the ub-ubfo is a collective and unwritten initiative to extend one's labor and strength for the good of the community.
Another effort is the "food for work" system where able-bodied individuals who are temporarily housed in evacuation centers are enjoined to share their labor-power for the repair of damaged community infrastructure such as roads, bridges and irrigation systems. This is in exchange for sufficient food for the worker's family. This system is in lieu of the dole-out system commonly practiced during disasters. In this case, the survivors are not considered hapless victims but active human agents having the capacity to surmount such crises.
It can be observed that indigenous culture did not only fill in the lapses of warranted services from state or government structures. It is likewise indicative that indigenous communities have learned not to be overly dependent on state resources during disaster situations.
Igorot solidarity online
Online Igorot communities such as the BIBAKnet, one of the oldest listservs of Igorot professionals based in the Philippines and abroad, were abuzz with discussions on how to extend help to their ill-fated compatriots. The BIBAKnet decided to focus on children orphaned by the landslides. Pledges under the Bibaknet Education Scholarship Fund were made by its members to cover the educational expenses of the orphans. [2]

Online philanthropy of virtual communities (in this case, among the Igorot) demonstrates that Igorot solidarity is thriving despite geographical constraints. It also illustrates how crises can be transformed as a collective undertaking bound by strong ethnic links.
Vulnerability and Resilience
Typhoons Ketsana and Parma show the vulnerability of indigenous peoples' livelihoods. With their relative inaccessibility to government resources in spite of their economic importance as food providers to Manila and nearby provinces, Igorot farming communities face the risk of chronic economic insecurity brought about by climactic shocks. With the rising tide of climate change, it is said with trepidation that cyclones showing the same elements of typhoons Ketsana and Parma will not be uncommon.
It can be argued that indigenous communities such as the Igorot are now facing the risks of environmental disasters more than at any point in history. Igorot communities situated in fragile and mined-out areas face the risk of life, limb and livelihood. There is a need to rethink current "development" efforts as who actually benefits (and conversely, who are shouldering the costs) of these mining concessions within indigenous land and territory.
Indigenous institutions have displayed the resilience of the Igorot in responding to disasters. These institutions are at work in both local and global networked structures, bound by ethnic solidarity and, not the least important, shared experiences — be it tragic or otherwise.
Endnotes:
[1] Cordillera Peoples' Alliance, Case Study on the Impacts of Mining and Dams on the Environment and Indigenous Peoples in Benguet, Cordillera, Philippines submitted to the International Expert Group Meeting on Indigenous Peoples and Protection of the Environment, 27-29 August 2007.
[2] Maurice Malanes, 'Pepeng' draws out best in Igorot culture, Philippine Daily Inquirer, 27 October 2009.
About the author:

GINO ORTICIO
is a social researcher and indigenous rights advocate. He is currently pursuing his PhD at the Queensland University of Technology (QUT). A former university lecturer, Orticio's work spans various areas in the social sciences and development studies, particularly on the issues of indigenous rights, food security and social informatics. His works include authoring and co-authoring several articles and books, including a sourcebook entitled
Our Harvest in Peril
- which explores the food insecurity of indigenous peoples in the Philippines.
Related articles: