KASAMA Vol. 19 No. 2 / April-May-June 2005 / Solidarity Philippines Australia Network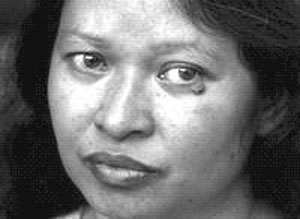 VIVIAN SOLON:
The Face That Shamed Australia
SATURDAY, 11 JUNE 2005: The Victorian public gathered at the Trades Hall in Melbourne to call on Prime Minister John Howard and Immigration Minister Amanda Vanstone to bring home Vivian Solon immediately and to commit to the rehabilitation package proposed by her lawyers.
Vivian Solon, an Australian citizen, was unjustly deported from Australia by the Department of Immigration as an illegal migrant, despite her statement that she held an Australian passport, and despite questions raised by a number of professionals in touch with her case at the time.
Melba Marginson, the Filipino member of the Victorian Multicultural Commission, said: "We are dismayed at the foot-dragging by the government in relation to its duty of care towards Vivian. It made a horrifying mistake that cost her four years of life without her children; now she is losing more time. And, it is rubbing salt into the wound by blame-shifting onto Ms. Solon's lawyers. It's as if the government still doesn't want to admit that it made a mistake, and that it should say sorry, and mean it."
"It is only fair that the Australian government pays back by providing her not only an airfare back to Australia, but also appropriate housing for a person with disability, disability benefits, a carer's allowance for her brother who will look after her, and all medical, psychiatric and rehabilitation support necessary to get her back to normality," Ms. Marginson added.
The Filipino community which numbers more than a hundred thousand in Australia, is deeply concerned about the detention and deportation processes used by the Immigration Department. Many Filipinos are wondering if their citizenship is valued.
Ms. Maria Selga, Chair of the Victoria Branch of the Centre for Philippine Concerns Australia (CPCA), a network advocating for the welfare of Filipinos, states: "Vivian Solon's case is symptomatic of deeper problems in the government's management of issues related to migrants. If those deeper problems are not addressed, something like the Solon case will happen again. There is a need to review, if not overhaul, the Immigration Act and its administration. The Solon case is only one of a number of horrifying incidents".
The Community Forum was jointly supported by the Ethnic Communities Council of Victoria (ECCV), CPCA-Victoria, and the Victorian Immigrant and Refugee Women's Coalition. The panel included speakers from the Victorian Multicultural Commission, Public Health Association of Australia, ECCV, and the Asylum Seekers Resource Centre.
To the Community Forum, June 11, Melbourne:

Statement of support from Chris Rau, Cornelia Rau's sister, and the University of Newcastle Legal Centre, who prepared the Rau family's submission to the Palmer Inquiry.
Hello everyone; thank you for being here today.
In May this year we were astonished to hear the detail emerge about Vivian's case. Then it was hard for us to imagine anyone being treated more callously than Cornelia was. But the stories about how Vivian was deported while still injured and how the Department did not even try to find her once it realised its mistake made us realise that Cornelia was even "lucky" compared to Vivian.
Nonetheless, there are many eerie similarities between the two cases.
Both women were ill, and their illnesses weren't treated.
Both women were confused, but no one tried to cut through the confusion. Instead, DIMIA just locked them up and applied for travel documents.
Both women were offered help from concerned outsiders. But in both cases those who wanted to help were turned away with evasions and lies.
You have to ask: How can Australia get to this point where there is seemingly such disregard for any humanity once someone is suspected of being an "illegal"?
I think such cruel behaviour by a bureaucracy is only possible when its officials lose sight of logic and compassion in the pursuit of arbitrary 'rules'. When they and their political masters feel secure in the knowledge that the electorate doesn't know what they are doing, and what's more, doesn't care.
Well, thanks to Vivian and Cornelia, more of us are starting to know – and our knowledge is coloured by sheer disbelief that cases like theirs could happen .
And hopefully, more of us are starting to care – not just about the Australians who have been wrongfully detained and/or deported, but about anyone who is badly treated behind the wire in our immigration detention prisons.
Today we'd like to join you in your call for an open judicial inquiry into the Department of Immigration's practices and procedures. I'd even go a step further and say the inquiry should be into mandatory detention policy as a whole.
The inquiry should investigate not only the hundreds of cases of wrongful detention which have been revealed in internal audits. It should investigate other matters that might mean something to voters if simple humanity doesn't.
Try the hip pocket nerve:
An inquiry could ask 'how much does it really cost to run Immigration Detention Centres?'
How many hundreds of millions of dollars are we spending each year to lock innocent people up in purpose-built jails? How much will the new detention prison on Christmas Island cost us?
How much money does it cost to post six guards every 24-hours on those detainees who are sent mad by detention and end up in psychiatric facilities?
At the moment it's costing taxpayers at least $150,000 a month for 54 guards a day to watch over each of the nine detainees in Adelaide's Glenside hospital. Their demountable on hospital grounds costs $300 a day.
No wonder Immigration doesn't like to acknowledge psychiatric illnesses among detainees — it's too expensive!
How much did it cost in Vivian's convoluted case to put her up in a Brisbane motel with guards; to transfer her from state to state and country to country with escorts? How many more Vivians are out there?
How much is it costing Australian taxpayers to farm out detention facilities to shadowy corporations which hide behind corporate confidentiality? When was the last DIMIA audit done on GSL [Global Solutions Limited*]?
And once those numbers are out in the open, what are the alternatives to detention centres?
An inquiry could also ask the question: 'Is there a better way?'
Could there be a cheaper , as well as a more humane way, to secure our borders?
What about housing people in hostels in the community while their status is being determined — surely this can be done in a way which is secure but also allows Australia to regain its once-respected human rights standard?
AFP involvement offshore has been quoted as an effective deterrent to people smugglers. Are there ways of doing this better? What other deterrents can we think of which might work, and which might obviate the need to lock up those who ask for our help?
In the meantime, Vivian and Cornelia's cases show us there are serious problems in DIMIA. We believe that if these and other cases of wrongful detention are not examined in a public forum, then true reform of Immigration Department practices cannot happen.
Practices that are deeply flawed need to be exposed in order to change the system. Yes, it might be politically painful. But surely it would also show political courage to acknowledge past mistakes and to try and do something about them.
These cases go beyond the Filipino community, the German community, even the Australian community. They go down to the bedrock of universal human rights. They show that when a government department has the power to lock people up without proper outside scrutiny, it is our community as human beings that is damaged.
It doesn't matter whether that government department is DIMIA in Australia, the internal police in China or the security forces in the old South Africa. The potential for abuse is the same.
The difference is that we live in a democracy and we can do something about it.
Treating any human being the way Vivian was treated, the way Cornelia was treated, and the way many people still behind the wire are being treated, is simply wrong and it diminishes us all. An open inquiry is needed so we can look closely at the practices and the bureaucratic culture that led to these mistakes.
No one, no matter what their politics or their religion, would want a repeat of these mistakes.
My greatest fear is that if and when we find out what really happened to asylum seekers in the years 1998 to 2005, we might even find we have wrongfully deported someone to their death.
I sincerely hope I'm wrong. But unless we drastically change the way DIMIA operates and dramatically improve the accuracy of its judgements, then that will be the inevitable outcome. Either in a past case, or, worse still, knowing what we know now, in the future.
That change in DIMIA can only come with genuine political will and with greater public knowledge about its shortcomings.
Vivian's and Cornelia's suffering will hopefully have at least one positive result, and that is that, to a small extent, we're achieving the greater knowledge part of the equation.
Thank you.
*NOTE: GSL (Australia) Pty Limited was contracted by DIMIA to deliver services at the Baxter Detention Centre during the period when Cornelia Rau was detained. Their current contract runs until 2007. (Kasama Ed.)
A public version of the Submission of the Rau Family to the Inquiry into the Detention of Cornelia Rau prepared by the staff and students of the University of Newcastle Legal Centre on behalf of the family can be downloaded from the Internet at the UNLC web site
http://www.newcastle.edu.au/school/law/centres/
More background information about Vivian's case: