KASAMA Vol. 19 No. 2 / April-May-June 2005 / Solidarity Philippines Australia Network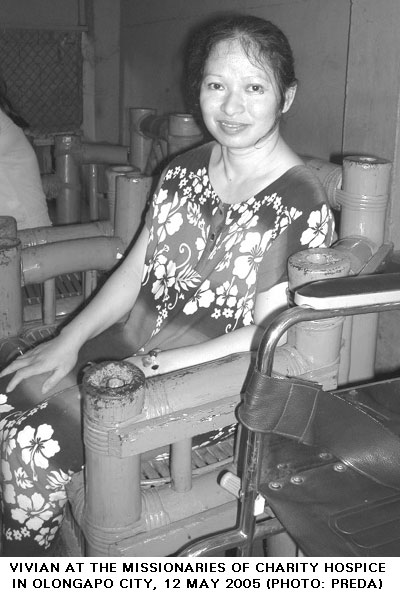 Deporting citizens shows an immigration policy gone mad
When I arrived at the large blue gate of the compound of the missionaries of charity last Thursday, I found the media camped outside waiting to have an interview with Vivian.
I went in and found Vivian sitting in a green painted bamboo chair, parked nearby was her wheel chair.
I sat beside her asking how she felt. "I'm okay now," she answered with a gentle smile. Her sister Cecile sat nearby; they had just met after 15 years. They met as strangers, no hugs or recognition. "Faces change after 15 years," she says.
Vivian was calm and at peace after Manila-based Australian Consul General Frank Evatt had reassured her everything would be done to help her be reunited with her family and medical assistance would be shouldered by the Australian Government. "They got the message" she said later, with a smile.
Father Michael Duffin, the hospice chaplain came over with Frank Evatt. The Consul said all would be done for her, the embassy would pay the medical costs and social welfare will be provided.
"Could I then live in a nursing home?" she asked. The Consul replied, "It would be assessed in the long term to look after you in the future."
Vivian then asked, "Can I see my son?" The Consul replied, "If it's an Australian in need, it's normal to give assistance. We will help achieve what is best. The role is to get social services to pay for it in the end, and get back to normal. You will get what are your wishes."
"Thank you, so much", Vivian said.
The Consul expressed concern about the media: "When I go, say what you want to say even if critical. You are not advised to leave this present place. The Prime Minister made a public apology and accepted responsibility."
Australian born Father Michael Duffin said, "Vivian never had hard feelings" He turned to Vivian saying, "you should be happy now".
Perhaps he regretted the long years of unhappiness that Vivian had suffered missing her family and wished that he had pursued enquires into the identity of the English speaking mystery woman from Australia that he met during his visits to the hospice as chaplain.
When asked a while later by a journalist if she had hard feelings to the Australian authorities for what they had done to her, Vivian said, "I did not see it wrong at that time."
The wrongful deportation of a Filipina who is an Australian citizen is a serious embarrassment to the Australian government, which has introduced a zero tolerance policy. Filipinos in Australia have condemned the treatment of Vivian as racist and discriminatory. They have challenged the mailed fist policy of immigration that has jailed migrants who have valid visas. Vivian's sister said, "If she was white they would never have deported her immediately, there was some kind of racial discrimination." There is a widespread concern that there may be many similar secret deportations unknown to the public or even the families and friends of the deportees.
When I asked the children at the Preda Home what they felt now that Vivian is going home, Beth said it all, "She is going to be with her children, I am so happy for them, if only we had parents who care for us we could be happy too."
More background information about Vivian's case: