KASAMA Vol. 19 No. 2 / April-May-June 2005 / Solidarity Philippines Australia Network
Australian Citizen Deported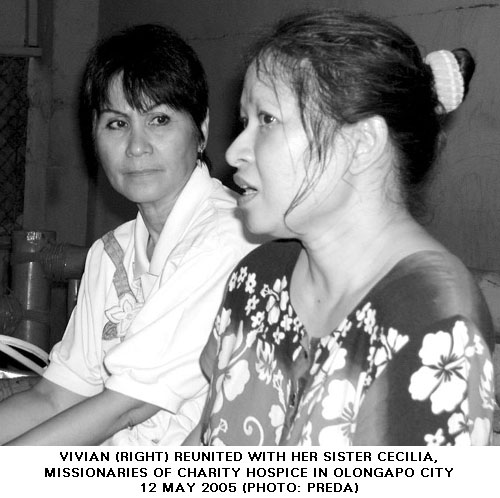 Write to the Prime Minister:
Bring Vivian Home!
Amanda Vanstone, the Minister for Immigration, is suggesting that it is Vivian who is responsible for delaying her return to Australia.
Talk about blaming the victim!
Please write to the Prime Minister and send a copy to Liberal Party member Ms. Louise Markus (Louise.Markus.MP@aph.gov.au) to call on the Prime Minister to do the right thing and bring Vivian home.
The Hon John Howard MP,
Prime Minister,
Parliament House,
CANBERRA ACT 2600
And send a copy to SPAN as well.
Vivian Alvarez Solon 'removed' to the Philippines
1962 - Vivian Alvarez Solon born in the Philippines, grew up in Cebu.
1984 - she married Robert Young and migrated to Australia.
1986 - Vivian acquired Australian citizenship. She applied for and received an Australian passport.
2001 March 31 - Found unconscious and badly injured, Vivian was admitted to hospital and treated for serious spinal and head injuries.
April 2 - Hospital staff, suspecting her of being an illegal immigrant, notify the Department of Immigration (DIMA)
May 3 - Officers from DIMA's compliance section interview Vivian. Although she tells them she is an Australian citizen, but is not in possession of her passport, they decide she is an unlawful non-citizen.
July 12 - Vivian is discharged from hospital, taken into detention and, the next day, transferred to motel accommodation near the Brisbane airport.
July 16 - Vivian is interviewed by the Philippine Consul's assistant in Brisbane. Mayette Mackintosh, a nurse, was asked to accompany her. She spoke with Vivian in their native tongue Cebuano and witnessed Vivian having a seizure.
July 17 - Queensland Department of Family Services reported Vivian as missing and the Police list her in the Queensland Missing Persons Register as Vivian Young.
July 20 - Confined to a wheelchair, Vivian is deported to the Philippines; her name recorded as Vivian Alvarez.
2003 August - The Immigration officer who first interviewed Vivian in 2001 recognises her photo aired on a missing persons TV program. He informs DIMIA that the missing and deported women are the same person.
IN AUGUST 2003 OFFICIALS WITHIN DIMIA KNEW THAT AN AUSTRALIAN CITIZEN HAD BEEN DEPORTED BUT NOTHING WAS DONE!
2005 February 8 - The Palmer Inquiry, set to investigate the case of Cornelia Rau, reveals 33 others, including the deportation of an Australian citizen. Vivian's family renews enquiries with DIMIA and the police. The media initiate their own investigation.
April 22 - DIMIA begins their search for Vivian in the Philippines.
May 8 - An Olongapo City priest recognises Vivian from an ABC news cast as the woman cared for in a charity-run hospice for four years.
May 12 - The Australian Consul General travels to Olongapo to meet Vivian. The following day the Embassy transfers her to Manila for medical tests and treatment.
AS WE GO TO PRESS, 49 DAYS HAVE PASSED AND THE GOVERNMENT HAS NOT YET MADE AN ACCEPTABLE OFFER FOR VIVIAN'S RESETTLEMENT IN AUSTRALIA. SHE IS STILL IN MANILA.
More background information about Vivian's case: