KASAMA Vol. 25 Nos. 3 and 4 / July - December 2011 / Solidarity Philippines Australia Network
Govt's Smart Aid Will Do Little: Mining Watchdog
by Ryan Witcombe – 8 November 2011
The Gillard Government's 'Mining for Development Initiative' has come under attack from a Philippines' mining watchdog, which says the plan to provide training and scholarships will do little to address serious environmental and human rights problems created by the mining industry.
Prime Minister Julie Gillard recently launched a $127 million 'Mining for Development' initiative, which the Government hopes will help developing countries use mining to benefit their economics — but the proposal brings into question the real effects of mining in developing countries.
Mining Action Philippines—Australia (MAP-Oz), a Philippine-based alliance with more than 90 mining affected community organisations, said the initiative will not address mining related issues including extra-judicial killings, human rights violations, indigenous land grabbing, environmental destruction and corruption.
Rodne Galicha from Map-Oz said that mining contributes little to the Philippines economy, but it has a huge impact on the environment, corruption and human rights. Galicha told a forum at Melbourne University that Australians that invest in mining companies "risk being a partner in an orchestrated crime of human rights violations".
Galicha said the Philippines' 1995 Mining Act, co‑authored by (now) former President Gloria Macapagal-Arroyo, declared the Philippines "open to mining unless closed." Galicha said mining in the Philippines has led to poisoned rivers, environmental degradation, the demolition of towns and farmland, and the deaths of 21 anti-mining advocates since 2001. He said the Philippines already can't feed its population of 90 million people — and if mining continues to destroy farming land, it has little hope of producing enough food for an estimated 120 million inhabitants in 2030.
There are at least 11 Australian mining companies in the Philippines with licenses to operate and explore including OceanaGold, Xstrata, Indophil, Central Gold Asia, Pelican Resources and Mindoro Resources Limited. Galicha says these companies enjoy a 'tax holiday' in the southeast Asian country, and contribute very little back to the country.
Galicha said Philippine mining revenue from 2007-10 topped PHP101.1 billion (AUD$2.27 billion), however in 2010 the Philippine government received only PHP1.4 billion (AUD$31 million) in tax from the mining companies.
He said while the mining lobby promised massive job creation, 184,000 jobs were created in mining in 2011 — a figure dwarfed by the 12 million people employed in agroforestry.
Galicha said protests against mining have recently led the government to establish 'mining militias' — security forces trained by the army that protect mining sites.[1] "Miners can now use the military to inflict force on their behalf," said Galicha.
There is already plenty of education in the Philippines funded by Australian mining companies, said Galicha, but "funding mining education will not change the way mining companies operate".
Anti-global poverty group Jubilee Australia director Adele Webb says the Australian Government is failing to meet its UN Human Rights Council responsibilities, and gives companies no authoritative guidance on how to avoid negative affects in their operations overseas, and there exists no accountability and enforcement mechanisms when such breaches occur.
"While there is much patting on the back about joint industry and Australian aid funded scholarship programs in countries like the Philippines, there is an eerie silence about what remote indigenous communities are facing on the ground," says Webb.
Galicha says public opinion in the Philippines is overwhelmingly against mining, with people wanting the Government's attitude towards mining to change to "the Philippines is closed to mining" until explicitly agreed to by the people.
For more information on the campaign against mining in the Philippines visit www.alyansatigilmina.net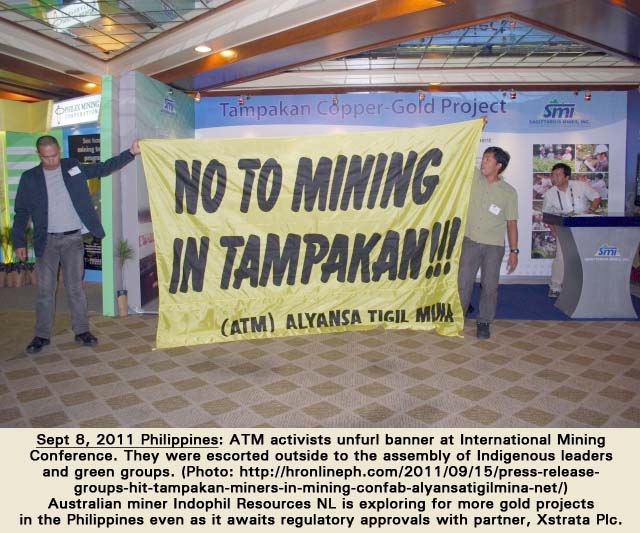 This article was written by Ryan Witcombe for
Pro Bono Australia News
and is republished here with permission.
Pro Bono Australia News
is published online at
http://www.probonoaustralia.com.au/news
Contact: Pro Bono Australia, Suite 503, 685 Burke Road, Camberwell VIC 3124. Tel: (03) 8080 5650
KASAMA Editor's End Note:
[1] Army recruits militiamen to protect mining sites in Surigao Norte, by Dona Z. Pazzibugan, 11 October 2011, Philippine Daily Inquirer,
On October 29, RODNE GALICHA was interviewed on 3CR Community Radio. You can download the program at
http://www.3cr.org.au/radioactive-show-29102011
Related Article