KASAMA Vol. 25 Nos. 3 and 4 / July - December 2011 / Solidarity Philippines Australia Network
Australia supports new human rights activities in the Philippines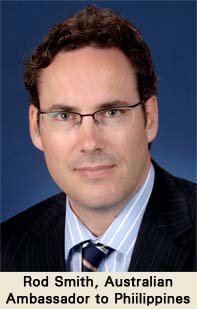 The Australian Government is supporting six Philippine civil society organisations for action and education on human rights through the Karapatan sa Malikhaing Paraan (KaSaMa) multi-donor initiative. KaSaMa funds civil society organisations to imple­ment innovative human rights projects.
In this year's funding round of KaSaMa, Australia will provide PHP6 million (A$139,000) to six partners: Philippine Alliance of Human Rights Advocates, Lanao Alliance of Human Rights Advocates, Community Manage­ment Institute, Anti-Trafficking Legal Advocates Society Inc, Gualandi Volunteer Services Program, and DAKILA-Philippine Collective for Modern Heroism. Australian Ambassador to the Philippines, Rod Smith, said, "the Australian Govern­ment is pleased to support these organisa­tions that are working directly on critical human rights challenges — organisations that combine creative new approaches with practical assistance on human rights. The majority of these organisations are also engaging with various levels of government to positively influence policies affecting human rights — we encourage those kinds of collaborations."
Through KaSaMa, Australia is supporting projects on: paralegal training to increase skills and knowledge of human rights advocates; mainstreaming rights-based approaches in local development planning; working with the Philippine National Police to ensure human rights are respected during investigations; promotion of women's rights, practical anti-human trafficking measures, and elimination of gender-based violence; human rights education for schools and communities using films; and advocacy against sexual abuse and exploitation of deaf children. Australian support also has a particular emphasis on disability and women and children's welfare and rights. Partnerships with various non-government organisations help increase awareness about human rights among people with disabilities and empower them as advocates and active participants in shaping inclusive community development.
Australia is also currently supporting the Commission on Human Rights with practical help to build specific skills and competencies necessary for their over­sight role. "Despite the encouraging declines in the number of human rights violations in the Philippines in recent years, there is still more to be done. Australia will continue to work with government agencies, including the Commission on Human Rights, the Armed Forces of the Philippines, the Philippine National Police, and civil society groups in the Philippines to actively protect and promote respect for human rights. We believe that strong and effective institu­tions and a legal system that enjoys the people's trust are fundamental to achieving human rights for all," Ambassador Smith said.
Australia joins the Philippines and the rest of the world in commemorating Inter­national Human Rights Day, which calls for the promotion and protection of human rights.
Related Article