KASAMA Vol. 25 No. 2 / April-May-June 2011 / Solidarity Philippines Australia Network
Out of the shadows: Filipino youth survivors of violence transform the personal into the digital
by AVA VIVIAN GONZALES for APC Manila, Philippines, 13 June 2011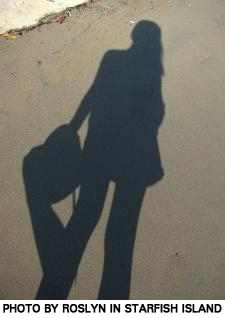 Regardless of whether one is a beginning writer or an experienced one, writers all face the same obstacle — that of filling up a blank page. The process begins long before a writer puts pen to paper or types away at a keyboard. After all, stories do not come pre–packed and ready made, but first take shape in a writer's mind. However, the adage "write what you know" is easier said than done, especially when the stories that need to be told deal with sexual abuse, domestic violence, and trafficking. Such were the narratives created during The Youth Tell Their Stories: Breaking Silences, Using ICTs as a Form of Healing, (Mga Kwento ng Kabataan: Pagbasag sa Katahimikan, Paggamit ng ICTs Bilang Porma ng Paghihilom), a project of the Women's Education, Development, Productivity, and Research Organization (WeDpro).
"We use art as a social forum and as a balm for wounded spirits," says Aida Santos–Maranan, WeDpro's Chairperson. After delving into their own perceptions, memories, and associations they attach to the violence they experience everyday, the participants learn to write their own scripts, create story boards, record their voice–overs, and play with the images and music they choose. They breathe life into their own stories using open source software, voice recorders, scanners, cameras, and computers. Since it generally takes 30 to 45 minutes to edit a 30–second sound byte, one can imagine the amount of work the participants put in to come up with stories that ran for two or three minutes.
The participants of The Youth Tell Their Stories came from the urban poor communities and entertainment centers of Angeles City and Olongapo City, former sites of US military bases in the Philippines. Most of them had very limited or no access to the digital technology they used to complete their stories in a span of six days. "These youth grew up amidst a seemingly endless cycle of violence and aggression, and are largely deprived of the kind of environment that allows them a safe space in which to play, experiment, and develop a healthy and meaningful sense of themselves and their surroundings," says Santos–Maranan.
For instance, the narrator of "Pangarap Kong Makilala Siya" (It is My Dream to Meet Him) dreams of meeting her American father, fully aware that he may refuse to acknowledge her as his child. In a sad, strange way, the father she has never met has always been present — she has inherited his dark skin which has made her the object of stares and taunts since childhood. Isolating herself from her peers, she believes things would be different if her father were around to protect her, which strengthens her resolve to find him.
This contrasts with the image of the father depicted in "Pagnanasa" (Desire) who takes advantage of his wife's absence to sexually abuse his sleeping stepson, or that of the stepfather in "Ampunan" (Orphanage), whose abandonment puts into motion the downward spiral of the narrator's life.
In "Bakit Ganun?" (Why Is It So?) the viewer is just as shocked and dismayed when the narrator realizes that it is his abusive stepfather that his mother loves instead of her own son. The narrator's overwhelming burdens in the eponymously titled "Diday" likewise seems to transcend the screen as she recognizes herself as a mother before her time, with neither child nor husband, or even a secure place she can truly call home. Similarly overcome with conflicting emotions, the daughter–narrator of "Banig" (Mat), rolls herself up inside a mat each time her breadwinner mother arrives from or departs for overseas. Meanwhile, the fourteen–year–old narrator of Hubog ng Aking Kabataan (The Shape of My Youth)[1] recalls how at age twelve, a female relative sold her to an American for one thousand pesos, the rough equivalent of US$23.
"The dust left behind by the US military bases in Subic and Clark, even if it was more than decades ago, has filtered into all aspects of lives in Angeles and Olongapo. The greatest tragedies of prostitution, domestic violence, sexual exploitation and trafficking in the red light districts of Angeles City and Olongapo City are the consequences it has done for the youth and children," says Santos–Maranan.
The digital stories produced during The Youth Tell Their Stories are replete not only with images of disbelief and betrayal, but also of hope. They bring to mind what writers say about writing — how the act is somehow intertwined with a compulsive desire to enter and illuminate the darkness in order to bring something back out to the light.
Santos–Maranan captures it best when she says: "Our daily witness of their enthusiasm and the seeds of their transformation into self–confident and healthy individuals, is what gives us the conviction and motivation to go on."
The Youth Tell Their Stories project is supported by APC through the MDG3 Take Back the Tech! to end violence against women initiative[2] and the Foundation for Media Alternatives, in collaboration with Isis International–Manila.
Endnotes:
[1] You can view this segment on YouTube at
http://www.youtube.com/watch?v=ddTUVxJv_Hk
[2] MDG3 – the third Millennium Development Goal – promote gender equality and empower women
http://www.apc.org/en/projects/mdg3-take-back-tech-fund
The Author: AVA VIVIAN GONZALES
is a freelance writer.
This article and the photo by
ROSLYN IN STARFISH ISLAND
are reprinted from the
ASSOCIATION FOR PROGRESSIVE COMMUNICATIONS
website at
http://www.apc.org/en/node/12440/
and is used with permission under CreativeCommons Attribution-NonCommercial-ShareAlike 3.0 License
http://creativecommons.org/licenses/by-nc-sa/3.0/
WeDpro
is a non–profit collective in the Philippines that protects human rights by defending the rights of women, youth and their communities through gender responsive development programs, projects and activities.
Contact:
WeDpro, P.O. Box 2985, Quezon City Central Post Office, NIA Road, Diliman, Quezon City, Philippines.
Telefax: +63.2.4267479
Email:
admin@wedprophils.org
Website:
http://www.wedprophils.org/
Related Articles: