KASAMA Vol. 25 No. 1 / January-February-March 2011 / Solidarity Philippines Australia Network
New Report Details Rights Abuses Stemming From Philippine Abortion Ban
August 5th, 2010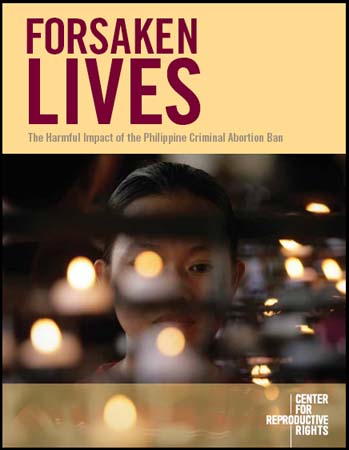 The Center for Reproductive Rights released a new report, "Forsaken Lives: The Harmful Impact of the Philippine Criminal Abortion Ban," which illustrates the harmful consequences of the Philippine ban on abortion from a human rights perspective. By criminalizing abortion, the report states, the government has severely curtailed the reproductive rights of Filipino women and forces them to resort to dangerous alternatives. Despite the ban, each year, an estimated 560,000 clandestine abortions occur in the Philippines, 90,000 women suffered complications requiring hospitalization, and 1,000 women died.
Through the personal accounts of women who have suffered unjustly due to this ban and the testimonies of health care providers discussing the difficulty of their position, this report endeavors to expose the many ways in which the ban violates women's rights. It demonstrates the hopelessness of women who seek to avoid pregnancy, and the stigma they face if they require assistance due to unsafe abortion. The government's policy on banning contraceptives in public clinics further exacerbates the situation, leading to an increase in abortions, which, the report suggests, is due to the power of the Catholic Church in Philippine politics.
To nurses' associations, legal organizations, and international organizations, donors and advocates, the report then goes on to make recommendations such as:
Work to break the taboo and stigma on abortion by initiating public discussions about the negative impact of the criminal ban and the harm they cause to women and society across communities.
Collaborate with healthcare workers to increase their level of compassion toward women who undergo abortion through training and other interactive programs that integrate discussions about ethics and human rights.
Monitor the government's compliance with its human rights obligations to ensure access to safe and legal abortion and post-abortion care. Expose its failure to do so by highlighting human rights violations resulting from the criminal ban and reporting the same to national and international human rights bodies and institutions.
RELATED ARTICLE: