KASAMA Vol. 24 No. 1 / January-February-March 2010 / Solidarity Philippines Australia Network
Awarding of Certificate of Ancestral Domain Title of Aytas
14 January 2010
The municipality of Botolan shined when the Ayta community received the certificate of Ancestral Domain (CADT) that during 12 years they have been trying to get. The event hosted around three hundred people, including the Aytas, but also government and NGOs and residents of the area.
Some personalities gave a speech and a group of Aytas showed some dances that they perform in their community on special occasions and amazed the audience with the dance of the chicken and the courting dance.
It has been a long way for the Ayta people to get official title to their land. The procedure started in 1998 with implementation of the Indigenous Peoples Rights Act (IPRA), and since then ERPR, jointly with NCIP, worked so hard to get what today is legally theirs.
The meeting ended with the awarding, a photographic session and a Filipino lunch.
The attendants enjoyed the event a lot and in the environment everybody really could feel the positive energies and happiness of the Aytas.
http://earthrightspeoplesrights.org/news
Good News from our Aeta Partners
EDUCATION FOR LIFE FOUNDATION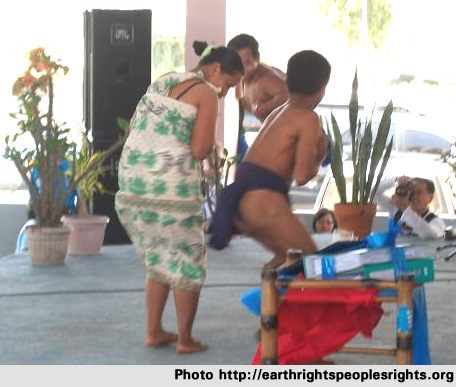 December 6, 2009
The Aeta leader-graduates and educators who have formed PBAZ – Paaralang Bayan ng Ayta sa Zambales, are the main strategic partners of ELF.
ELF met with some Aeta leaders a few years after the eruption of Mt. Pinatubo in 1991 displaced the Aeta communities from their homeland and dispersed them to different resettlement areas.
Since then, they have struggled to sustain their livelihood, and their culture and identity. Integral to this struggle is their effort to have their rights recognized to their ancestral domain.
It has been a long struggle, and will continue for a long time for most of the Aetas. But there is some good news, with the granting of the first CADT (Certificate of Ancestral Domain Title) to four Aeta barangays, including many of our leader-graduates and PBAZ leaders.
http://educforlife.org/good-news-from-our-aeta-partners/





Related Articles: