KASAMA Vol. 22 No. 3 / July-August-September 2008 / Solidarity Philippines Australia Network
The People, The Tides, The Story
Shinju Matsuri 2008
Broome's Festival of the Pearl
22nd to 31st August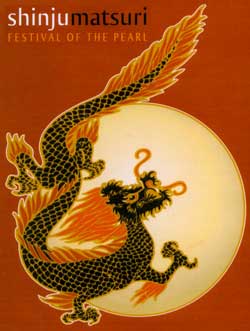 Welcome from Rubibi
Ngaji gurrjin marnja ngarr–ngu nyamba buru yawuru–any nilwal Rubibi 2008 Shinju Matsuri Festival ngarra–ngu gulbulan banugab–gungab – yanbangub – gularrgab.
The Yawuru People, the Traditional Owners and Custodians welcome you to Broome. A welcoming of people onto country is culturally important to Yawuru People to sustain mabujunu liyan (Good Feeling) between both visitors and Traditional Owners.
Nyamba ngang–ga mirliya nagula irr manja ngarra–ngu irr ngang–ga nyamba gun buru Rubibi.
This year's theme "The Tides, The People, The Stories" depicts the life of the Yaruwu People who used the tides on a daily basis for wirli wirli (Fishing) and hunting. At low tide the mud flats were littered with women and children collecting shell fish such as janga (oysters) and ngajimana (cockles) and the young men would be out with their spears looking for birndany (Sting Ray) in the shallows as the tide retreats. The tides play a very important role in the traditional life of the Yaruwu People and we hope that the visitors to our country can enjoy the riches the tides have offered us for many years.
We trust that you will all have a great time and enjoy the unique cultural diversity Broome has to offer. We further wish those visitors a safe journey in their future travels.
Galiya!
The History & Heart of Shinju Matsuri
In 1969 a group of spirited locals began to organise a town festival to celebrate and acknowledge Broome's distinct multicultural heritage whilst promoting local commerce and Broome as a tourism destination. Incorporating Japanese, Malay and Chinese cultural traditions, Shinju Matsuri (which is Japanese for "Festival of the Pearl") was an opportunity to acknowledge the pearling industry and to celebrate the many different cultures that existed in the town, including our own Indigenous community. It was an opportunity to showcase Broome's natural beauty, unique history and diverse character to the outside world.
Board member and Broome local, Anthea Demin, says "When the festival was born in 1970, our home town was a very different place. There were approximately 9 pearling luggers operating from here, employing about 100 Asiatic divers and crew. Chinatown was a hive of activity still with remnants of gambling houses, long soup shops, Asian traders, and with the tide flowing in and out of Chinatown. It was not unusual to find groups of people from three or four different countries mingling and sitting around on the verandas of the shops."
By this time generations of mixed race people, with varying degrees of mixtures made up the majority of Broome's population. It was this intermingling of different characters, different customs, languages and beliefs that made it unlike anywhere else. The ability of these groups to blend all the bits and pieces of Indigenous, Asian and European cultures gave us our unique and special Broome culture."
The luggers stayed out at sea for a period of 6–8 weeks and as you can imagine the crew were happy to return to town after this. August in particular was party time and festival time. The Chinese paid tribute to their ancestors with Hung Seng, likewise the Japanese observed Obon and the Malays celebrated their Independence Day, Merdeka. Often these festivals coincided in the same week. Family and friends were invited to participate and with the population of Broome being about 3,000, everybody had at least one party and feast to attend.
At this point some business people of the town saw the opportunity to combine these festivities and promote and introduce a commercial component in the hope that this would benefit all the people of Broome. And so the Festival of the Pearl evolved.
Filipino History in Broome
by Kevin Puertollano
From the early 1880s onwards, Filipino people came to Broome and surrounding areas. They came as youths and older men chosen to work for the pearling masters who would pick them up from the Philippine Islands. Later many of them became citizens of Australia however there were many who were never naturalised for a variety of reasons including death or errors made when applying for permanency.
The pearling masters engaged the Filipinos to work as divers, engineers, deckhands, cooks, tenders and shell openers on their luggers along with people from many other nationalities. They had to get along with each other but on many occasions this was difficult due to language barriers, religions and beliefs.
During the lay up season when the boats were in for repairs, the Filipinos would get together at their Filipino Clubhouse (which was located where Broome RSL now stands). This was for social reasons and to maintain their cultural identity through their music, dance and other festive events. This would also ensure family connection with the Aboriginal women who became part of their new life. Today we see many families carrying the Filipino name with Filipino music, cooking, dance and other skills handed down from family to family through the generations.
The majority of Filipinos who came to Broome were Catholics and when they were unable to continue their work in the pearling industry they gave their services to the building of the Catholic Church and St. Mary's and Lombadina schools.
Although they had the skills to build houses that withstood cyclones, they lived in a communal setting in small humpies along the foreshore near where the Meatworks once stood and on the sand dune area of the old meatworks site. During this time they were able to make their livelihood from fish traps, they established gardens for fresh vegies and kept goats for milk, chooks for eggs and pigs for meat.
Many of the descendants of these original Filipino workers continue to reside in Broome and in Shinju Matsuri 2008 we acknowledge the Filipino people, the original descendants who call this beautiful town home.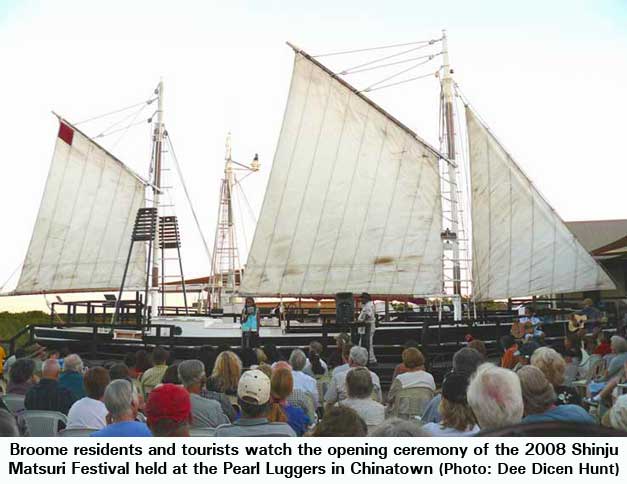 'THE PEOPLE, THE TIDES, THE STORY' TEXT COURTESY OF "SHINJU MATSURI 2008" FESTIVAL PROGRAM
See also: