KASAMA Vol. 21 No. 3 / July-August-September 2007 / Solidarity Philippines Australia Network
Bohol Dreaming
Cubillo Family Reunion: May 12, 2007
In May this year four Larrakia descendants of Antonio Cubillo travelled to the Visayan island of Bohol for the Cubillo family reunion. Darwin-based artist and playwright GARY LEE was tasked with the travel arrangements. "My 76-year-old mother is going to Bohol for the first time. Her younger sister, my aunt Cathie, 64 years, visited the Philippines as a 19-year-old in the early 1960s. My brother and I are planning our presentation with didjeridu and clapsticks." Gary introduced the Australian contingent with the story of his great grandparents Lily and Antonio.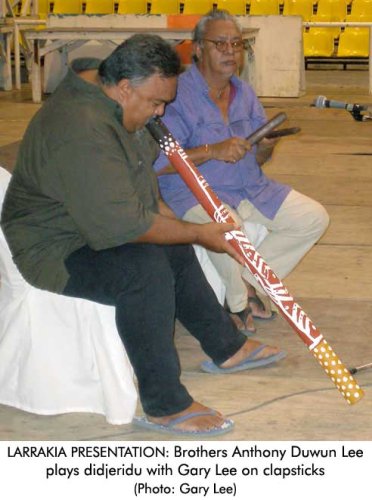 When my great grandfather Antonio Pedro Cubillo, eldest son of Gregorio (Bigoy) Cubillo arrived in Darwin, in the Northern Territory of Australia on 19th January 1895, little did he know he was going to start an Australian Cubillo dynasty.
From family oral history we know that when he came to Australia, Antonio was an adventurous 20 year old who came from Calape on Bohol Island in the Philippines. From a very young age these two words, 'Calape' and 'Bohol' have always been known to me even though I had no concept at the time where they really were.
Antonio had been on his way back to the Philippines from Europe where he had previously travelled to as a cabin boy on a Spanish ship (Galleon class) after leaving home in 1890 as a 15 year old. He'd travelled to England, Ireland, Portugal and Norway where he learned to dive for clam shell. When his ship stopped over in Singapore in late 1894 he met Filipino men on the way home who seemed to have a lot of money and when he asked where they had come from, they told him about Darwin and the good money to be had from diving for pearl shell and trepang that was found aplenty there. He decided to leave the ship and signed on under the Indentured Labour Scheme for Australia.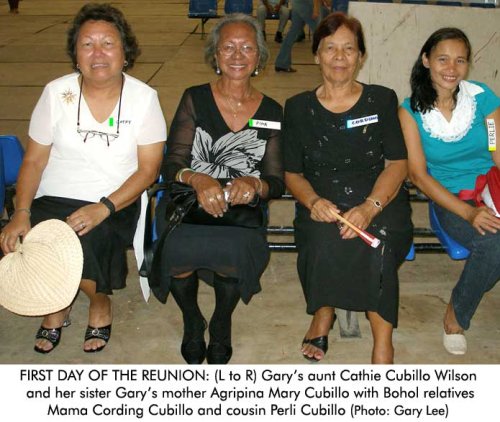 In 1895 there was no Australian Customs, Immigration or medical examinations since Darwin was a free port and he arrived in Australia on 19th January on the SS Darwin. He was indentured to a Scottish pearl lugger owner, George McKeddie, who had a beautiful daughter Magdelena with Minnie (Annie) Duwun, an Aboriginal woman of the Larrakia tribe, the traditional Indigenous owners of Darwin. Magdelena or Lily as she was called, met Antonio in 1897 and they fell in love. After a long courtship they were married on 8th September 1910 at Saint Mary's 'Star of the Sea' Catholic Church in Darwin.
Antonio and Lily went on to have a large family of 10 children starting with their daughter, Cristina (Tina), followed by Alberta (Bertha), Ponciano (Ponto), Juan (John, my grandfather), Lorenzo (Laurence), Martina, Eduardo (Edward), Delfin, Ana and Felipe (Philip).
Antonio was a good father and provider for his family and he was a spokesman for the small Filipino and Spanish community in Darwin. One of his lasting legacies was to bring the Rondalla music tradition to Australia. He hosted visiting Filipino and Spanish ship's crews at his house and taught his sons to play the 14-string mandolin, octavina, the 8-stringed Spanish guitar, the ukulele, concertina and the bass. Before long the Cubillo Brothers 'orchestra' was entertaining official guests and visiting dignitaries at Government House and at numerous other social functions. They would always play the 'Polka Mazurka' and the 'Shake Hand Dance' as well as popular tunes of the day, often well into the night. From the 1920s up to the outbreak of World War Two the Cubillo Rondalla was the first and only musical tradition in Darwin.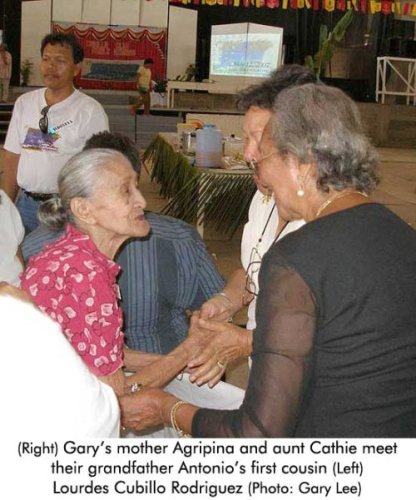 In the early 1920s Antonio made his first return visit to Bohol taking his daughter Alberta with him. In 1926 Antonio returned to Bohol again taking Alberta and for the first time one of his sons, Ponciano who the following year returned to Darwin while Antonio and his daughter remained in the Philippines. Alberta returned to Darwin in 1935 nine months after her mother's death.
Lily Cubillo died during Antonio's tenth year in the Philippines and unable to return due to the Depression, he remained until his own death in Bohol during peace time in 1945, just as he was planning to return to Darwin. Lily had been apart from Antonio for a decade at the time of her passing. Antonio and Lily's long years of separation must have been hard for both of them. During these times with her husband so far away, Lily was well looked after by her sons and daughters who had by then married and started families of their own. Today Antonio and Lily Cubillo's descendants number around 400 spread around Australia with the majority living in Darwin.
The links with Bohol and the Philippines between Antonio's families have been retained by the Aussie Cubillo's for over 160 years. This started with some of Antonio's children – Alberta and Ponciano in the 1920s, in the 1930s his daughters Ana, Mrs Martina Cubillo Hazelbane and her two young sons, and Mrs Alberta Cubillo Cooper on her third visit. On this occasion however the group only got as far as Manila where sadly, after a short time, they had to return to Australia before they could travel on to Bohol. One of the children became very ill and his hospitalisation and medical expenses took up most of their savings.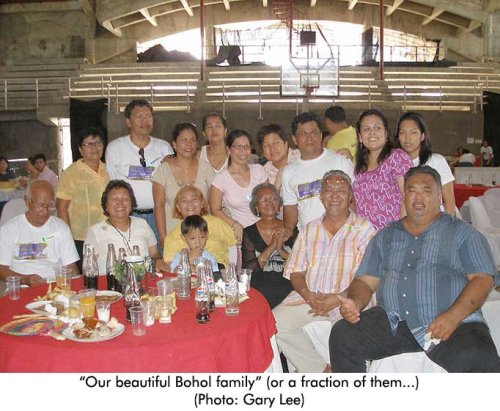 But the links continued over the decades, with family members visiting Bohol from the 1950s through the 1990s. Among the first of the 1960s new-generation to visit Bohol were three of Antonio and Lily Cubillo's grand children – Catherine Cubillo, Betty Cubillo and Victor Cubillo, all in their early twenties. They came back to Darwin with wonderful stories of the many new things they'd experienced, and of the welcoming and warm generosity and hospitality of their grandfather's extraordinary family. I'm pleased that my Aunty Cathie Cubillo Wilson has returned to Bohol once again after almost 40 years. I'm also happy that her older sister, my dear mother Mrs Mary Agripina Cubillo Lee, is also with us in Calape on her first visit to the Philippines and to their grandfather's birthplace.
As Larrakia people from Darwin we have always been very proud of our Cubillo family ancestry, and through three generations of Antonio Cubillo's descendants maintaining connections to family in Bohol. To celebrate this I wrote a play in 1994 called Keep Him My Heart: A Larrakia-Filipino Love Story, based on the continuing links between Australia and the Philippines over a one hundred year period from 1890 to 1990. The play was based on Antonio and Lily Cubillo's story, their children, and the frequent visits back to family in Calape. With the encouragement and much help from my artistic director and producer Christian (Bong) Ramilo, we recreated the Cubillo Brother's Rondalla with Darwin Cubillo and Filipino community members. I'm happy to say that today, the Darwin Rondalla still plays in Darwin. The play was very successful I think because it was a play about universal human values, such as the love we keep in our hearts, for family, for homelands, for friends and for each other. But most of all, it was the love story of Antonio Pedro Cubillo and Lily McKeddie Cubillo after they first met and fell in love in 1897.
Their legacy of connections has remained with their many Cubillo descendants in Darwin, Australia, and now in Calape, Bohol we are honoured and thrilled to be continuing this tradition by attending and meeting our Filipino family at what to us is a special historical occasion – the 2007 Cubillo Family Reunion.