KASAMA Vol. 20 No. 4 / October-November-December 2006 / Solidarity Philippines Australia Network
"Moving Beyond Rhetoric To Diversity In Practice: A Human Rights Framework To Address Violence Against Women"
Immigrant Women's Support Service Forum — Bardon Conference Centre, Brisbane, Australia — November 9 & 10, 2006


IWSS celebrates its 20th anniversary
SPAN and CPCA-Brisbane have enjoyed a productive relationship with the Immigrant Women's Support Service (IWSS) for many years. On behalf of our members and the women we have referred to IWSS' services, we congratulate and thank the IWSS staff and volunteers who have worked with such passion and diligence for the benefit of Non English Speaking Background (NESB) women. The IWSS 20th anniversary forum was a celebration and reflection of these 20 years of 'hands-on' support, research, advocacy, development of policy, training, networking, lobbying – and more – for our common issues of concern. The following articles by four speakers at the IWSS forum are but a sample of the range of issues we discussed. This first piece was written by the 2005/06 IWSS Chairperson, HEATHER NANCARROW.
As a founding member of the Immigrant Women's Support Service (IWSS), it was a joy and an honour to be the Chairperson of IWSS in this, its 20th anniversary year. This was especially so on the 9th and 10th of November when IWSS celebrated its birthday with a Forum, themed 'Moving Beyond Rhetoric to Diversity in Practice: a Human Rights Framework to Address Violence against Women'. The Forum, conducted over one and a half days was attended by over 100 people from a wide range of cultural and professional backgrounds. In addition to being entertained by drummers, belly dancers and the very talented singers who are on the IWSS staff, participants had the opportunity to hear from a range of inspiring and challenging speakers, who led us on a journey filled with hope and, at times, despair.
Hope came in many forms, including opening addresses and keynote speeches from Neroli Holmes, Acting Commissioner of the Queensland Anti-Discrimination Commission; Georgina Perry, National President of Amnesty International (Australia) and Linda Apelt, Director-General, Department of Communities. Linda discussed the Department's ongoing commitment to supporting IWSS and to finding a long-term solution to the funding crisis that has arisen from the national Translating and Interpreting Service's introduction of a 'user pays' policy for services funded under the Supported Accommodation Assistance Program (SAAP), which were previously covered by a 'fee-free policy'. While this should be an issue for all SAAP services in providing accessible and equitable services, it is particularly pertinent to IWSS, which provides services exclusively to women, and their children, from non-English speaking backgrounds.
A sense of despair also hovered over forum participants, especially those of us who have been involved with IWSS and similar agencies for many years. In spite of the great work done on developing access and equity policies for mainstream services in the late 1980s and again in the 1990s, problems persist with (for example) continuing barriers to support women without income and insufficient use of interpreters. There remains much to do and I want to take this opportunity to congratulate and commend past and present staff and management of IWSS for their excellent and untiring commitment to supporting women, and their children, from non-English speaking backgrounds affected by domestic violence and sexual assault.
Also, I am particularly grateful for the ongoing collaboration between IWSS and CDFVR [Queensland Centre for Domestic and Family Violence Research], underpinned by our Memorandum of Understanding. IWSS Co-ordinator, Annabelle Allimant, has made a wonderful contribution to CDFVR's work on the development of the unique accredited Course in Responding to Domestic and Family Violence and associated learner guides that will enable the development of cross-cultural skills for government and non-government workers who are at the first point of contact for women seeking domestic and family violence related assistance.
HEATHER NANCARROW
[Reprinted from the CDFVR Newsletter, Vol 5 No 2, December 2006]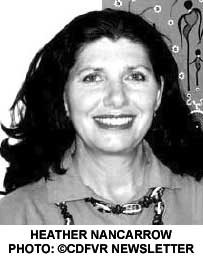 HEATHER NANCARROW is currently the Director of the Queensland Centre for Domestic and Family Violence Research. As she commences doctoral studies in the new year, Heather did not stand for re-election to the IWSS management committee for 2006/07, but she will continue as an ordinary member so IWSS will not lose the benefit of her extensive experience in the field of domestic violence prevention. She can be contacted at the CDFVR, Central Queensland University, Mackay.
URL
http://www.noviolence.com.au/
Email:
enquiries@noviolence.com.au
Phone: 49407834
Articles from 3 other presenters at the IWSS 20th Anniversary Forum: