KASAMA Vol. 20 No. 1 / January-February-March 2006 / Solidarity Philippines Australia Network
Arroyo declares a 7-day State of National Emergency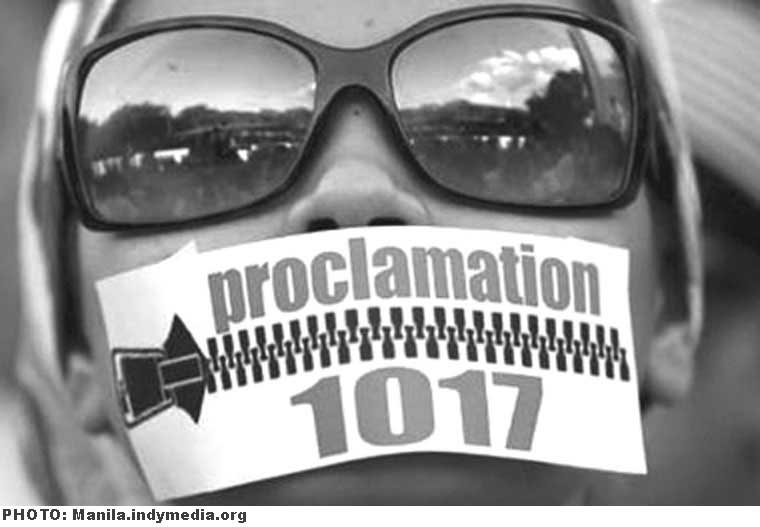 The Philippines was under a State of Emergency, announced presidential spokesperson and press secretary Ignacio Bunye on the morning of February 24, 2006, by virtue of Proclamation No. 1017. this occurred after the government claimed that it foiled an alleged coup d'état attempt against the administration of Philippine President Gloria Macapagal-Arroyo earlier that same day. the purported coup plot was supposedly timed to coincide with demonstrations marking the 20th anniversary of the "people power" revolution that toppled former dictator Ferdinand Marcos. the President lifted the State of Emergency on March 3, 2006.
With emergency powers, the Arroyo administration suspended all public activities. All licenses and permits to hold demonstrations and protests were immediately revoked and, according to the president's interpretation, warrantless arrest was legalized.
President Arroyo said the declaration of a state of emergency was justified because there existed a "clear and present danger to our republic that we have discovered and thwarted … a plan by a few misguided elements in the Armed Forces of the Philippines (AFP), in conspiracy with the Left represented by the National Democratic Front–Communist Party of the Philippines–New People's Army (NDF-CPP-NPA), to overthrow the government." However, said the Press Secretary, the situation all over the country was well under control, (1) and the President gave her assurance that the state of emergency would be limited to the exercise of powers necessary for the containment of threats to national security, and would not be abused and used against innocent persons.(2)
Critics claim that Proclamation 1017 is an attempt by Arroyo to boost her sagging influence and popularity and test her political power. Some have drawn comparisons with the actions of deposed Philippine president Ferdinand Marcos when he declared martial law on September 21, 1972. The Philippine Alliance of Human Rights Advocates (PAHRA) said, "the similarity between Arroyo's Proclamation 1017 and Marcos's Proclamation 1081 is quite uncanny." Both declared "proclamations under the pretext of a threat against the Republic — for Marcos it was the growing communist threat, while for Arroyo it is both the communist and rightist threat. Both of them also cited incidents to prove that a threat exists — Marcos cited the ambush of then Defense Minister Sen. Juan Ponce Enrile, while Arroyo is citing the coup threat allegedly led by Brigadier General Danilo Lim. And now, like Marcos before her, Arroyo is using Proclamation 1017 to perpetuate her hold to power." (3)
Since the lifting of the State of Emergency, the Social Weather Survey, carried out from March 8 to 14, found that of the 1,200 adults interviewed 29% were satisfied and 54% dissatisfied with the performance of President Gloria Macapagal-Arroyo, giving a Net Satisfaction Rating of minus 25. Although negative for the seventh consecutive quarter, the President's new rating is a little better than in December 2005 when fewer (24%) were satisfied, and the same proportion (54%) were dissatisfied, for a Net Satisfaction Rating of minus 30. (4)
The Social Weather Stations index of 'Net Satisfaction Ratings of Presidents' reflects the woes of this administration. In July 2003 there was the 'Oakwood mutiny' where it was alleged that President Arroyo, certain members of her cabinet, and some top-ranking military were involved in corrupt activity. Then came the 'Hello Garci' scandal, where in June 2005 an attempt was made in Congress to impeach Arroyo and charge certain election officials with fraud in the May 2004 national election. This was blocked by Arroyo's Congressional allies and no trial has proceeded thus far.
This year, 2006, is the 20th anniversary of 'EDSA ONE' when for four days in 1986 (February 22 to 25) millions of demonstrators filled Epifanio de los Santos Avenue (EDSA) from Ortigas Avenue all the way to Cubao. It is not surprising that the people would want to turn out for the anniversary of that remarkable occasion of non-violent mass demonstration of a 'people power' uprising which inspired pro-democracy movements worldwide.
In the five years of Gloria Macapagal-Arroyo's presidency, she has been hounded by rumors of military dissatisfaction and allegations of fraud. Disenchantment with her administration has brought about a unity among anti-Arroyo forces, from the non-government militant organizations to political opposition groups, bringing thousands to this year's rallies and marches. The explosion of a small lacquer thinner bomb outside Malacañang (the Presidential Palace) on Monday, February 20, gave cause for alarm. (5)
The EDSA commemoration activities on Wednesday, February 22 began with several thousand protesters calling for a change of government. They were warned that anti-riot police were on hand to disperse any group which did not have a permit to rally.
Nevertheless, "Bring down Gloria!" they chanted as they marched in a sea of red banners to the People Power Monument in Quezon City where their program of speakers took the stage. Minutes before they were allowed to get their program going, tension arose when the steel barriers put up by the police for crowd control were pushed aside.
(6)
The following day, Army reinforcements were deployed to Camp Aguinaldo, with media announcements that a military contingent would be at the ready to assist the Philippine National Police in maintaining peace and order, should the 20th EDSA celebrations by the anti-Arroyo demonstrators turn unruly. Meanwhile, in a bid to woo the loyalty of the soldiers, the President and her aides were in Cavite promising better military equipment, higher wages and more housing projects.(7)
On Friday, February 24, around 11:25 a.m. on national television, Arroyo issued Proclamation No. 1017 declaring this measure under Section 18, Article 7 of the Constitution.
In response, ranking leaders of the political opposition, former President Corazon Aquino, priests and nuns, and even some bishops, along with various militant groups defied the "no rally order" of Malacañang as they trooped to the EDSA Shrine in Mandaluyong City and gathered at the Ninoy Aquino Monument in Ayala Avenue, Makati City, calling for the ouster of President Arroyo.
Fourteen rallyists, led by University of the Philippines Prof. Randy David, one of the leaders of the anti-government protest, were arrested by the police after a violent dispersal along EDSA in Quezon City heading toward the EDSA Shrine. Before the dispersal, David and other political leaders were in the middle of negotiations coordinating with police their peaceful and voluntary dispersal when plain–clothes policemen arrested and took him, Atty. Argee Guevarra and fellow demonstrators to Camp Karingal in Quezon City where they were charged with inciting to sedition. He was later released by night time, with all charges dropped. Ronald Llamas, a leader of the AKBAYAN party, was arrested as well. (8)
Around 3:30 p.m. demonstrators from different sectors gathered at the Ninoy Aquino Monument in Makati City. Prominent personalities like former President Corazon Aquino and her daughter Kris Aquino, Senate President Franklin Drilon, former Vice President Teofisto Guingona, Bishop Teodoro Bacani and Bishop Oscar Cruz, as well as other senators like Sen. Aquilino Pimentel took part in this event. Protesters believed that Makati would be a safe gathering place because it is governed by Mayor Jejomar Binay who is an opposition leader. However, numerous police personnel had been deployed in the area to control the situation. The rally was dispersed by the Philippine National Police around 7:30 p.m. (9) This is contrary to the police statement which said the protesters "voluntarily" left the site where they held their protests.
On Saturday, February 25, opposition congressman Crispin Beltran, party-list representative of the ANAK-PAWIS party and a leader of the leftist Bayan Muna (Nation First) coalition, was arrested as he was leaving his farmhouse in Bulacan on the pretext of his role in a 1985 coup against Ferdinand Marcos, an alleged incident that occurred over twenty years ago and the case was already dismissed. (10) Beltran was questioned by the police and on Monday, February 27, he was charged instead with "inciting rebellion" and "conspiracy to commit rebellion." As we go to press, Beltran, who is 73 years old and recovering from a mild stroke, is still under arrest and has been transferred from Camp Crame to hospital. An international campaign has been mounted to secure his release. (11)
On February 27, the PNP–CIDG (Philippine National Police-Crime Investigation and Detection Group) filed cases against 51 alleged communists, which includes four party-list representatives: Satur Ocampo, Crispin Beltran, Teodoro Casiño and Liza Maza. (12) House Speaker Jose de Venecia assured sanctuary for the members under threat of arrest (13) and gave his office and conference room to be their detention cell as long as they are under the protective custody of the House.
Freedom of the press was a prime target. At 12:45 a.m. on February 25, the PNP–CIDG, without warrant, raided the editorial office and printing press of The Daily Tribune. The paper has been highly critical of the Arroyo administration. Copies of the paper's Saturday edition and various documents, photos and press clippings were seized, while the police stayed in the premises for one week to bug the phones and review the content of subsequent editions. (14)
Abante, a tabloid published by Malaya, another newspaper critical of the government, was also raided and armed troops were sent to the broadcast network ABS-CBN compound in Quezon City with instructions to secure the perimeter. The National Union of Journalists of the Philippines (NUJP) chairman said, "We reject the Arroyo government's attempts to assign blame on media for its current crisis and urge our media colleagues across the country not to be cowed by threats, open or veiled, seeking to scare us from boldly performing our jobs as we must." The Center for Media Freedom and Responsibility likened the Tribune raid to the early days of martial rule. (15)
On March 3, President Gloria Macapagal-Arroyo officially concluded the state of emergency. According to her, Proclamation 1017 "protected" major democratic institutions and even the media.
But that was not to be the end of this sorry saga. Since then, gatherings seen as being critical of the president have been violently dispersed. Anyone rallying in protest against the government have been arrested including those attending some International Women's Day events on March 8. On March 19, one group was even dispersed for walking together in a park wearing T shirts printed with the words "Out Now".
On March 21 media groups filed an urgent motion asking the Court of Appeals to immediately set a hearing on a petition filed against government officials whom they said were engaging in an assault on the press. (16)
— Dee Dicen Hunt
(This article was compiled with various media reports, blog postings, Wikipedia, and personal communications.)
REFERENCES

(1) 'PGMA says situation is well under control', Office of the Press Secretary, 24 Feb. 2006, http://www.news.ops. gov.ph/archives2006/feb24.htm#PGMA%20says

(2) 'Proclamation 1017 will never be abused - Palace', Office of the Press Secretary, 25 Feb. 2006, http://www.news. ops.gov.ph/archives2006/feb25.htm

(3) 'No To Proclamation 1017', PAHRA Statement on the State of Emergency, 24 Feb. 2005, http://www.forum-asia.org/news/press_releases/fa/pdfs/PAHRA_Statement_on_Proclamation_1017.pdf

(4) 'First Quarter 2006 Social Weather Survey: Net Satisfaction With GMA Is –25', Social Weather Stations, 24 March 2006, http://www.sws.org.ph/

(5) 'Blast rocks Palace', The Daily Tribune, 21 Feb. 2006, http://www.tribune.net.ph/20060221/index.html

(6) 'Gloria tells AFP, PNP to stay by her, stop power grabbers', The Daily Tribune, 23 Feb. 2006, http://www. tribune.net.ph/20060223/index.html; 'Anti–Gloria forces defy street protest ban', The Daily Tribune, 25 Feb. 2006, http://www.tribune.net.ph/20060225/index.html

(7) 'GMA, loyalists dig in for coup', The Daily Tribune, 24 Feb. 2006, http://www.tribune.net.ph/20060224/index.html

(8) 'Police arrest UP prof, Akbayan leader', ABS-CBN Interactive, 24 Feb. 2006, http://www.abs-cbnnews.com/ storypage.aspx?StoryId=30846

(9) 'Cops disperse Makati rally', ABS-CBN Interactive, 24 Feb. 2006. http://www.abs-cbnnews.com/storypage. aspx?StoryID=30871

(10) 'Arroyo gov't cracks down on opposition; many held', The Daily Tribune, 26 Feb. 2006, http://www.tribune.net. ph/20060226/index.html

(11) See KMU website at http://www.kilusangmayouno.org/ campaigns/campaigns-freekabel.html; also for more information of activities in Aotearoa/N.Z. contact PSNA, email: cafca@chch.planet.org.nz. In Australia contact PAUL, PO Box A671, Sydney South NSW 1235.

(12) 'Four party-list representatives among 51 persons linked to conspiracy to oust PGMA', Official website of the Republic of the Philippines, 27 Feb. 2006, http://www.gov. ph/news/default.asp?i=14522
"Charged for violation of Article 134 in relation to Article 135 of the Revised Penal Code (rebellion/insurrection) were:
Jose Maria Sison, aka Joma; Luis Jalandoni; spouses Benito and Wilma Tiamzon; Rafael Mariano; party-list Representatives Satur Ocampo y Cunanan, Crispin Beltran, Teodoro Casino and Liza Maza; CPP–NPA spokesman Gregorio "Ka Roger" Rosal; Joel Virador of Bayan Muna; Tirso Alcantara; Benjamin Mendoza; Vic Ladlad; Bayan secretary general Nathaniel Santiago; Sotero Llamas; Julio Atienza; Edilberto Escudero; Rosemarie Domanais; Rogelio Villanueva; Leo Velasco; Rafael Baylosis; Prudencio Calubid; Philip Limjoco; Julius Giron; Allan Jasminez; Antonio Cabanatan; Fidel Agcaoili; Edilberto Silva; Maria Concepcion Araneta Bocala; Jorge Madlos; Eugenia M. Topacio; Francisco Fernandez; Carlos Borjal; Elizabeth Principe; Juliet Sison; Randal Enchaniz; Rey Claro Casandre; Edwin Alcid; Tita Lubi; Abdias Guadiana; Mike Gamara; alias Ka Selbio; alias Kim; alias Tasio; alias Randy; alias Rosa/Sisa/Isid; alias Novo; alias Elya; alias Rose; and several other John and Jane Does."

(13) 'JDV: 'Protection' of House members assured', ABS CBN Interactive, http://www.abs cbnnews.com/ storypage.aspx?StoryId=31174

(14) Senate Committee Report No. 69, Submitted by the Sub-Committee II of the Committee on Justice and Human Rights and the Committee on Public Services on 21 March 2006, Republic of The Philippines, Thirteenth Congress, Second Regular Session, http://www.pcij.org/blog/wp-docs/ Senate_committee_report_no._69.pdf

(15) 'Tribune offices raided; publisher fights back', The Daily Tribune, 26 Feb. 2006, http://www.tribune.net.ph/ 20060226/index.html

(16) 'Media groups urge court: hear TRO petition', Inside PCIJ, posted by Vinia Datinguinoo, 21 March 2006, http://www.pcij.org/blog/?p=739