KASAMA Vol. 20 No. 1 / January-February-March 2006 / Solidarity Philippines Australia Network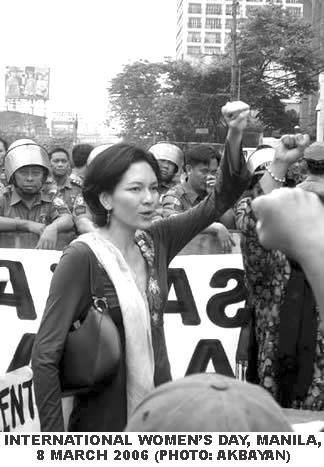 Police attack women's march on the way to Mendiola
Dispersal Of Women's Rally: Sign Of Gma's Extreme Paranoia!
MANILA – MARCH 8, 2006 – The women members of the Alliance of Progressive Labor (APL) and Akbayan Citizen's Action Party with other fraternal organizations rallied at the Sto. Domingo church to march towards Mendiola to commemorate International Women's Day.
They got no further than the Welcome Rotonda where police blocked their way. After an hour of negotiation, the police, without any provocation, began clobbering the activists ruthlessly with their batons and truncheons and arrested Akbayan Rep. Risa Hontiveros, Josua Mata, APL secretary general and dozens of other activists. Many were hurt and injured during the scuffle.
"The police has no right to disperse the activity and arrest its leaders since the APL and other groups were just exercising their fundamental right to peacefully assemble as enshrined in the Constitution, " Tess Gurion, chair of APL-Women said.
"Gloria Arroyo has only proven that she is really determined to destroy democracy in our country. She has not only turned her back on the will and interests of the Filipino people but is using brute force to stifle our legitimate rights and democratic demands to perpetuate herself in power," Gurion added.
"It is not a sign of might and determination to protect and defend democracy. Rather, it is a pathetic attempt of a president to do anything to "legitimize" her cling to power. What happened clearly indicates that Gloria Arroyo is now in an extreme state of paranoia for she knows that her time is up and is already at the brink of being ousted from Malacañang. Martial Law is definitely here again and she is now using the coercive powers of the state to create a climate of fear and unrest," Fatima Cabanag, Kapatiran ng Manggagawang Obrero (KAMAO-APL) said.
"The continued dispersal of peaceful demonstrations held in the exercise of the constitutional right to hold assemblies and petition the government for redress of grievances is a basic sign that Gloria Arroyo will really not listen to the demands of the people and will continue to stifle legitimate political dissent that would only result to more violations of human rights. Unfortunately for her, Gloria has no time left to retract and amend. The people are disgusted and soon, her time would be finally over," Cabanag added.
Rep. Risa Hontiveros says that her arrest is meant to harass anti-Arroyo forces. Police officers in Camp Caringal claimed that she was only invited to accompany them and not arrested.
"I was dragged and forcibly taken to the police car. Halos buhatin nila ako. That is not an invitation. If that is not an arrest, then I don't what it is," stressed Rep. Hontiveros countering the claims of the police. She pointed out that her arrest was intended to show the strong resolve of the administration to go after groups critical of Pres. Arroyo.
She said that her arrest is proof that despite the lifting of Proclamation 1017, the President is bent on violating civil liberties to silence those who simply wish to have the truth exposed. "It is not enough to say that women are ashamed of Gloria Macapagal Arroyo. Her underhanded draconian tactics betray her capacity to be the next Marcos. Does this arrest mean that protesting against her anti-women policies is tantamount to rebellion?"
Hontiveros challenged Congress to speak out against this blatant disregard for the independence of its members. "That a member of this institution had been arrested despite parliamentary immunity shows the disregard of GMA with the independence of Congress. The government now feels that it may pluck out members of the opposition from Congress, prevent them from performing their duties to their constituents, and silence whatever democratic opposition there is in the country."
Hontiveros said that "Under the Revised Penal Code, this arrest is already in violation of parliamentary immunity. They are overstepping their boundaries already, and this is precisely why we are saying that the unconstitutional and illegal draconian measures from Malacañang are giving the police a sense of impunity."
FROM: ALLIANCE OF PROGRESSIVE LABOR AND AKBAYAN PARTY PRESS RELEASES – MARCH 8, 2006