KASAMA Vol. 16 No. 2 / April-May-June 2002 / Solidarity Philippines Australia Network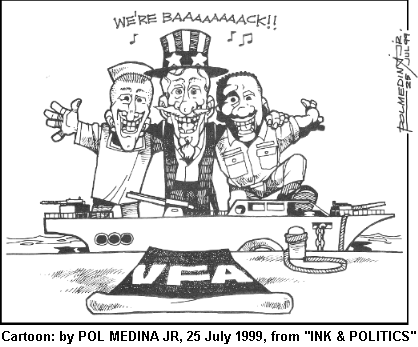 Basilan LGUs Ask GMA to Extend US Military's Stay
MindaNews / 9 June 2002
ZAMBOANGA CITY
The joint RP-US Balikatan 02-1 military exercises will continue despite the rescue of Abu Sayyaf hostage Gracia Burnham "because the objective of the Balikatan exercise is to enhance the capability of our men," Brig. Gen. Emmanuel Teodosio, Filipino co-director in the Balikatan, said.
Last Friday, the League of Cities in Basilan passed a resolution urging Philippine President Gloria Macapagal-Arroyo and US President George W. Bush to extend the Balikatan. Under the Terms of Reference (TOR) governing the Balikatan, the exercise is scheduled to end on July 15.
A total of 150 US Special Forces are deployed in nearby Basilan province training, assisting and advising Philippine troops in combating terrorism. Aside from the 150 US Special Forces, 340 US Navy Seabees are implementing different infrastructure projects in Basilan.
Related Articles