KASAMA Vol. 16 No. 2 / April-May-June 2002 / Solidarity Philippines Australia Network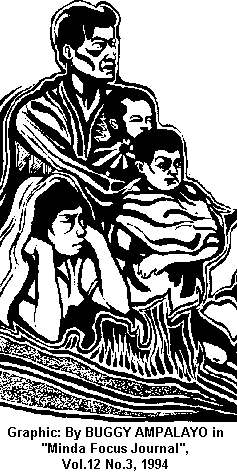 BASILAN: The Next Afghanistan?
Report of the International Peace Mission to Basilan, Philippines, 23-27 March 2002
From March 23 to 27, 2002 an International Peace Mission visited Basilan, Zamboanga City and Cotabato City in Southern Philippines. The following article is a compilation of edited extracts from "Basilan: the next Afghanistan?", the report of the peace mission.
Page 1
In February this year, US military troops began arriving in the southern Philippine island-province of Basilan ostensibly for routine joint training exercises with the Philippine military. Basilan is the site of intensified military operations against the Abu Sayaff, a kidnap-for-ransom bandit group, according to some, or an extremist Islamic movement linked to Osama bin Laden, according to the US.
US officials have been quoted as saying that the Special Forces are in Basilan to wipe out a terrorist cell connected to the Al Qaeda network. The exercises are unlike any other previously conducted: they will be held in actual combat sites and they will last for longer than six months, with an option to extend to a year. It has been the largest deployment of US troops yet since Afghanistan.
Because of these circumstances, Basilan has been called in the mainstream media as the "second front" in the US' war against terrorism. US Senator Sam Brownback called the Philippines, "the next target after Afghanistan."
Fearing that what befell Afghanistan will now happen to Basilan, a group of scholars, parliamentarians, civil society leaders, and human rights activists coming from 10 countries were constituted to form a 15-member international peace mission. From March 23 to 27, the mission went around Basilan, Zamboanga City, and Cotabato City to look into allegations of human rights violations committed by the Philippine military and to assess the impact of the US' involvement on the unresolved separatist struggle in the area.
After talking to scores of local residents, government officials, and military officers, the mission reached three main conclusions:
First, there is strong evidence that the Philippine military is committing serious human rights violations against civilians. Second, there are consistent credible reports that the military and the provincial government are coddling the Abu Sayyaf. Hence, merely intensifying military action will not work to solve the problem. Finally, there is no valid justification for the US presence. It is provocative and may only ignite a bigger war.
Because of the Philippine government's adamant refusal to acknowledge the human rights violations committed by the military and its obstinate endorsement of the military solution, a more concerted and more focused international mediation is urgent and necessary.
-EXECUTIVE SUMMARY "BASILAN: THE NEXT AFGHANISTAN?"-
Related Articles