KASAMA Vol. 15 No. 4 / October-November-December 2001 / Solidarity Philippines Australia Network
The Road BUKAL Travels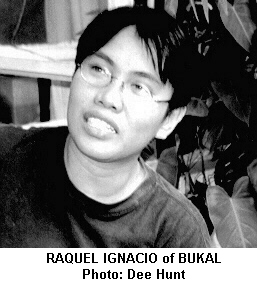 by Raquel Ignacio
A woman in prostitution in the Philippines is stigmatized, discriminated against and stereotyped as a flirt, nymphomaniac, lazy, drug addict. In the social strata, women in street prostitution are grouped with vagabonds, robbers, pushers and others who are thought of as "latak ng lipunan" (dregs of society). They are thought to be the most difficult sector to organize, but BUKAL believes otherwise. BUKAL (which means "spring") stands for Bukluran ng Kababaihan sa Lansangan (Association of Women in the Street). Established in 1996, it aims to empower women in street prostitution through organizing, education and providing services.
Gina M. is a typical mother. Every morning she attends to the needs of her twin daughters and brings them to school. When she comes home, she will do the laundry, cook lunch and tidy their room. In the afternoon she'll take a nap and at five o'clock, she will fetch her children. After helping the kids with their homework, she dresses up for work. Gina is a pimp in Cubao.
When BUKAL started in 1996, we met Gina in Quezon Avenue. She was a streetwalker then. Her fellow streetwalkers, especially those younger than her, considered her one of the toughest women in Quezon Avenue. She was also hooked on drugs. Then, she was so in demand that she had no time to spare to speak with the staff of BUKAL. Later, she admitted that she avoided us before.
At present, Gina is an active member of the core group of streetwalkers and is a peer organizer. She said that when she joined in the activities of BUKAL she learned how to humble herself before the others. Gina hopes that, together with other core group members, they will be able to establish their own organization that will symbolize their unity and sisterhood.
This kind of consciousness that Gina and the other core group members of BUKAL have developed did not come over night. It was a product of five years of diligence and hard work from the staff of BUKAL and the openness and trust the women gave to us.
When BUKAL started its organizing work, most of the women avoided us, just like Gina. There were nights when women talked with us and nights that they were snobbish. At first, only a few came to the mobile center to have coffee. But as time went by, they gradually became at ease and came to the van by themselves to spend some time to talk with us. Some women brought their friends along. Some women came to the mobile center to ask for condoms or the newsletter. During these visits, we discussed issues that concerned them like sexually transmitted diseases, pregnancy, legal rights, sex, homosexuality, relationships and other things that touch their lives in the streets and their private life. Sometimes, we just shared jokes and a laugh.
The time came when the women from Cubao and Quezon Avenue felt at home with the mobile center as well as with the staff. Then came invitations to visit them at home. And when they are imprisoned for violating the Anti-Vagrancy law, we visited them in jail. The desire of BUKAL to reach out in whatever way possible was seen by the women as a sincere act of friendship thus giving their trust to BUKAL.
However, this sense of camaraderie between the women and BUKAL is not yet a guarantee that the women will come together and work for a common cause. The competition among the women is very stiff and that makes it very difficult to gather them. As a response to this reality, we conduct team-building activities to develop cooperation, unity and trust among the women. We encourage them to come up with shared values that will be useful in running their own organization. We also conduct education seminars that aim to raise their consciousness on issues that affect them such as prostitution, reproductive health, human rights, etc. In general, the education program of BUKAL aims to equip the women with skills and tools to help them analyze their situation.
BUKAL's herstory may sound very impressive and that our goal is ideal but we are still far away from attaining our vision. We also have our share of failures and frustration - in a period of five years only six core group members are left from the original fourteen - but we are trying to overcome and take them as a challenge.
BUKAL dreams of a society that has no prostitution. Will it happen in this lifetime? Probably not. However, so long as Gina, the core group and other survivors of prostitution dream of a better future for their children, BUKAL will hold on to its dream. No matter how dark the streets we take, the women will be there to give light and hope and together we will hold on to our dreams.
Related articles:
Interview with BUKAL members Liza and Gina