KASAMA Vol. 15 No. 3 / July-August-September 2001 / Solidarity Philippines Australia Network
Fr. Robert Reyes
The "Running Priest"
Run For Life, Drop The Debt!
a Philippines/Australia event
FR. ROBERT REYES is known in the Philippines as "The Running Priest". He runs to bring attention to the issues that he is passionate about, such as the cancellation of the debts of poor countries. On June 12 this year, Fr. Robert and Fr. Brian Gore, a Columban priest from Australia, launched the RUN FOR LIFE - DROP THE DEBT Campaign in Manila. On August 19 in Brisbane, they launched the Australian segment of the run. This report on the Brisbane launch was sent in by FR. BRIAN GORE. The previous issue of "Kasama" and the "Running Priest" Web site at www.runningpriest.com have lots of information about the campaign.
The Brisbane segment was very successful, a great start. Fr. Robert celebrated Mass and met with the Filipino community as well. And there was also time for informal gatherings where he was able to give a situationer on the Philippines.
We met with Archbishop Bathersby and had a private meeting and a public civic reception with Jim Soorley, the Mayor of Brisbane. As a priest in a former life, Mayor Soorley had been involved in the Brisbane Philippine Action Support Group during the Marcos times and had spent time with me when I was under house arrest. Mayor Soorley gave his full support to the Run For Life campaign and Jubilee Australia's efforts to relieve the debt of the poor countries of the world.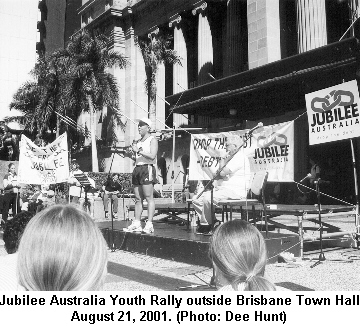 Both Robert and I spoke to over 2,300 students at three school assemblies and about 150 students from 10 schools participated in the Run. They just about ran Robert off his feet as some, cross country runners, were determined to make it a race. They ran together until the last 100 yards and then left Robert behind. Robert is, after all, older than their fathers, but they were determined to beat the "Running" priest.
Robert is adjusting well to the Australian accent and is a hit with the kids. The Jubilee Australia Youth Rally was a splendid launching pad for Robert's run.
Related Articles
The Running Priest and Third World Debt

RUN FOR LIFE - DROP THE DEBT CAMPAIGN

GOMBURZA

Rattling the Chains of Debt

RP Debt Profile 1998

Run for Life - Drop the Debt