KASAMA Vol. 15 No. 2 / April-May-June 2001 / Solidarity Philippines Australia Network
GOMBURZA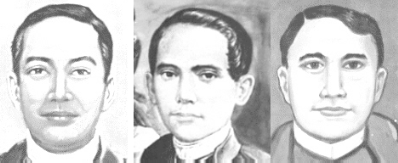 Fr. Mariano Gomez 1799-1872
Fr. Jose Burgos 1837-1872
Fr. Jacinto Zamora 1835-1872
Fr. Robert Reyes heads GOMBURZA, a cause orientated organization of priests, nuns, brothers and laity who are committed to the struggle for justice, which they believe is an essential part of witnessing to the gospel. The group is named after three Catholic priests who crusaded for reform of the Spanish colonial government and were executed by garrotte in Bagumbayan, Manila on February 17, 1872, for allegedly instigating the Cavite mutiny.
The three priests - Fathers Mariano Gomez, Jose Apolonio Burgos and Jacinto Zamora - all graduates of the University of Sto. Tomas, were brilliant men who used their education to fight for reforms to break the 300 year old dominance of the Spanish government.
They headed the secularization movement which alleviated the plight of Filipino priests by insisting on the prior right of the native secular clergy to assignment in parishes over that of the friars newly arrived from Spain. Burgos, the youngest and most brilliant of the three, was especially vulnerable in this regard since he was the synodal examiner of parish priests. He got into a tiff more than once with then Archbishop of Manila Gregorio Martinez in this regard.
Burgos was linked to many activities perceived as hostile towards the Spanish since he was also one of the organizers of the Committee of Reformers which campaigned for more liberal laws. The Committee was composed of two sections: the laymen and the clergy. The lay group was headed by Joaquin Pardo de Tavera while the cleric section, which included Gomez and Zamora, was headed by Burgos.
This reform committee staged demonstrations both during the liberal administration of Gen. Carlos Ma. De La Torre and the reactionary period under Gen. Rafael Izquierdo.
Gomez, parish priest in Bacoor, Cavite was founder of the newspaper La Verdad (The Truth) in which he described the deplorable conditions of the country and printed the liberal articles of Burgos.
The priests earned the ire of the Spanish and were called filibusteros. [Insurrectionists - Ed.]
Source: Excerpts. Jennifer R. Casipit, Kalayaan Vol. 3 No. 3 March 1998.
Downloaded from http://msc.brewsoft.com/centennial/gomburza.html
Related Articles
The Running Priest and Third World Debt

RUN FOR LIFE - DROP THE DEBT CAMPAIGN

Rattling the Chains of Debt

RP Debt Profile 1998

Run for Life - Drop the Debt