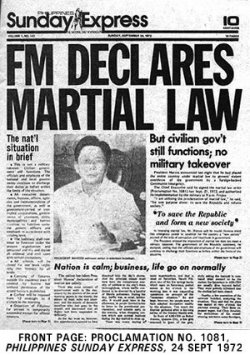 Human Rights groups
in the Philippines launched an online awareness campaign through social networking site Facebook about Martial Law six months before its 40th Anniversary. Tagged as #rememberML@40, the group aims to inform and inspire today's youth about the dark days of tyranny.
To remind the public about this part of our history and educate the new generation, #rememberML@40 led by the Philippine Alliance of Human Rights Advocates, Task Force Detainees of the Philippines and Claimants 1081, together with the Commission on Human Rights, PCGG and peoples organizations, joined efforts to reach 40,000 informed and inspired individuals online by September 21.
The group also aims to generate support for the enactment of the pending Compensation Bill for the victims of human rights violations of the Marcoses through combining online and offline campaigns.
"The bill has been filed and re-filed since the 10th Congress. Some of the victims are already dead, others are sickly, and still the survivors bear the agony of waiting for justice. It's been 26 years since the downfall of the dictatorship and yet justice continues to elude the victims of martial law," said Emmanuel Amistad, Executive Director of Task Force Detainees.