Last April, my brother Ryan, friend Unica and I created a short amateur video entitled, "Ano bang alam mo tungkol sa Martial Law?" ["What do I know about Martial Law?"] In it we randomly asked high school students about Ferdinand Marcos and martial law. Their answers ranged from serious to hilarious.
My favorite was a couple of boys who looked like they were twins. They answered, "Martial law?" They glanced at each other, sheepishly grinned, rolled their eyes, and finally answered, "Wala po." ["Nothing."]
A pretty high school senior said: "Si Marcos ay isa sa pinakamagaling na president ng Pilipinas dahil yumaman po ang Pilipinas (sa panahon na 'yun)." ["Marcos is one the greatest presidents of the Philippines because the country prospered during his time."]
When asked what Marcos had done during martial law, a group of girls, nudged, traded uncertain glances until one finally yelled, "Nangurakot!" ["He plundered!"] When prodded to explain, she continued, "Para sa maraming tao, hindi siya (Marcos) karapat-dapat maging Presidente dahil sa kanyang personality!" ["For a lot of people, he (Marcos) was not worthy to be President because of his personality!"]
It is unfortunate that the martial law period is hardly covered in the elementary and high school textbooks of our children read today. These brief accounts are often limited to the length of Marcos' stay in Malacañang and the infrastructure he built — the roads, bridges and the cluster of medical centers named after body parts. Most teachers, who themselves were born in the mid-to-late 1980s, perpetuate the Marcos myth of a Singapore-like economy during martial law by mouthing these textbooks.
In an effort to tell the youth today what martial law was truly like, I've joined a team of former and current activists, who, under the campaign "RememberML@40," have been visiting high schools and universities to talk about our lives under martial law some 40 years ago.
Surprisingly, this experience has been fun and rewarding.
During my first 'talk' at the UP School of Economics, the students dragged themselves into the large classroom. They had to listen to us speakers because their professor required them to write and submit a reaction paper thereafter. For the first 10 minutes, the junior-senior college students were chatting amongst themselves, not listening. But as my co-speaker and I continued to recount our experiences, the room was soon quiet, and the students' eyes were fixed on us.
A young man literally fell off his seat when he heard me say that my brother's military captors had doused his feet with water, then tied a live wire to his penis to electrocute him during his incarceration under martial law. In the middle of my talk, a young woman, the niece of an incumbent political warlord in Ilocos, texted her uncle to say: "You told me Marcos was a good man. You lied. Many people were tortured and died under martial law!" Still visibly upset, she showed me her text exchange with her uncle soon after our presentation.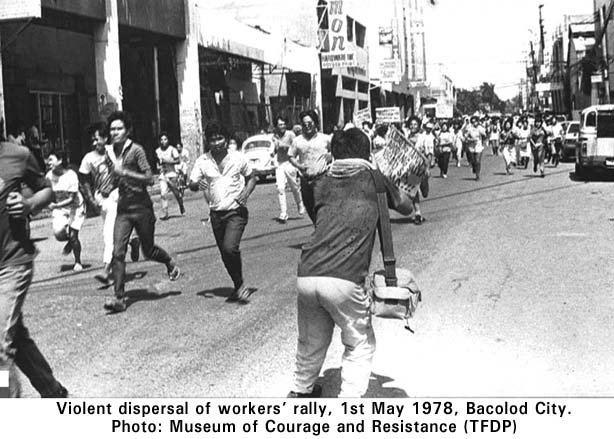 Last September 8, the Philippine Science High School (PSHS, also nicknamed Pisay) honored 21 alumni who were martyred under martial law. The school held a ritual and invited the families of these alumni to talk to their current students.
Among those invited were Siena Sontillano-Villasis and her daughter Lexley Maree. Siena's 15-year- old brother Francis Sontillano was instantly killed when a security guard hurled a homemade bomb at student protestors in a rally in 1970. The bomb landed on Francis' head. Recently, I came across a Facebook page with the account name: "Remember Francis Sontillano," a small tribute to the young martyr. The FB page was created by and is maintained by 11-year-old Lexley, who showed the page to her parents only after she had uploaded the material. Lexley said she created the page because she grew up hearing stories about Uncle Francis and she wanted him remembered.
An hour after I finished addressing the classroom of PSHS juniors and seniors assigned to me, a faculty member gifted me with a folder filled with handwritten thank you notes from the students. One read: "Salamat po sa inyong pagpunta sa Pisay sa araw na ito. Salamat po at hindi kayo nag-alangan na maibahagi ang inyong mga karanasan ... Sana po, balang araw, ay makaya ko ring gawin ang inyong mga ginawa sa harap/mukha ng pang-aapi at pagmamalupit." ["Thank you for visiting Pisay today. Thank you for not hesitating to share your experiences with us ... I hope that one day, I would be able to do what you did in the past in the face of oppression and fascism."] I was enthused by another note that just said: "You are cool."
But I guess the most rewarding experience thus far in the task of telling the youth about martial law came at my family dinner table. Between mouthfuls, my 16-year-old daughter Sarita asked me one evening, "Ma, ano ba 'yung significance ng slogan na Marcos, Hitler, Diktador, Tuta?" [Ma, what's the significance of the slogan Marcos, Hitler, Dictator, Puppet?[*]]
Surprised that she even knew the circa-1970s slogan, I asked her where she had seen or heard about this. She said they studied it at her school, the Berea Arts and Sciences High School, which wasn't on the list our campaign visited. Sarita said they had discussed in class a poem entitled "Prometheus Unbound" by Jose Lacaba. Sure enough, in her textbook, "Philippine Civilization, History and Government" (Vibal Publishing House, Inc., 2006), was the poem published in the "Focus Magazine" in 1973, just a year after the declaration of martial law.
The textbook describes Lacaba's poem: "It was not noticed by the (magazine) editor that all the first letters of each line of the poem, when combined, would read: MARCOS, HITLER, DIKTADOR, TUTA, which was a slogan commonly chanted by street demonstrators to condemn the US-backed Marcos dictatorship."
Now ... that's cool.
I imagine the martial law martyrs grin approvingly.
[*Note: 'tuta' literally translates as 'puppy' but in this context could also be used to mean 'lapdog'.]