KASAMA Vol. 26 No. 1 / January-February-March 2012 / Solidarity Philippines Australia Network
Still stunned, survivors of Sendong have yet to really mourn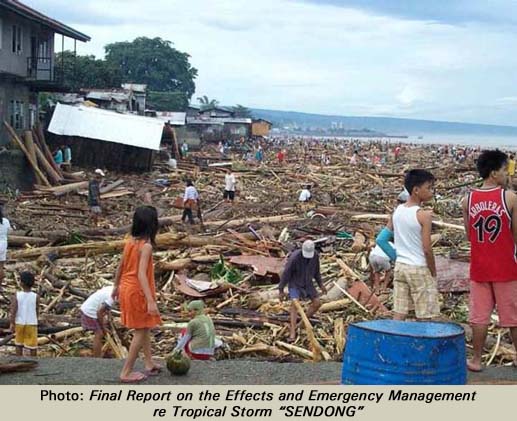 Tropical Storm 'Sendong' - a roundup of initial reports
Part Two of Four
Following a visit to the cities of Iligan and Cagayan de Oro, Walden Bello, Akbayan Partylist member of Congress in the Philippines House of Representatives, wrote in his regular column for the Philippine Daily Inquirer that he observed civil society groups and individuals filling the vacuum left by hapless city government officials:
"…we saw goods pouring in from other parts of the country as well as from international organizations being received and distributed by an impressive, well-organized effort involving hundreds of volunteers."
"Sendong was an ecological disaster," he wrote:
"The Cagayan de Oro River watershed had been stripped of trees and vegetation that could have dammed the floodwaters. Indiscriminate logging, in turn, stemmed partly from population pressure as thousands of rural families could no longer sustain themselves via traditional livelihoods. Population pressure had also driven thousands of families to settle on ecologically fragile areas like Isla de Oro in Cagayan and Bayug Island in Iligan. Populated by around 10,000 people each, both spits of land jutting into the river were totally wiped out by the combination of rampaging waters and careening logs bulldozing everything in front of them."

"But apparently the main culprit was the man-made phenomenon of global warming, which was responsible for the unusual path that Sendong took across an area of the country that is very seldom, if at all, visited by typhoons or tropical storms originating in the Pacific."

Home
|
Aims and Objectives of Solidarity Philippines Australia Network
|
About Kasama
Kasama 2012
|
Kasama 2011
|
Kasama 2010
|
Kasama 2009
|
Kasama 2008
Kasama 2007
|
Kasama 2006
|
Kasama 2005
|
Kasama 2004
|
Kasama 2003
Kasama 2002
|
Kasama 2001
|
Kasama 2000
|
Kasama 1999
|
Kasama 1998
Kasama 1997
|
Kasama 1996
|
Kasama 1995
|
Kasama 1994
|
Kasama 1993
PASG QLD Archive
|
PASG QLD 1995
|
PASG QLD 1994
|
PASG QLD 1993
|
PASG QLD 1992
PASG QLD 1991
|
PASG QLD 1990
|
PASG QLD 1989
|
PASG QLD 1988
|
PASG QLD 1987
About CPCA
|
Deaths & Disappearances
|
Confronting Sexual Exploitation (pdf)
Filipino Women & Sexual Violence
|
Filipino Community Organising on Women's Issues in Australia
Presidential Award to CPCA
|
Vivian Alvarez Solon
|
CPCA Press Release
Tampa Day Rally
|
Refugee Action Collective Rally
SPAN Web Site Map
Search the SPAN Web
This website contains images that some Aboriginal people may
be sensitive to and they should exercise caution when viewing.