KASAMA Vol. 26 No. 1 / January-February-March 2012 / Solidarity Philippines Australia Network
Data from Final Report on the Effects and Emergency Management
re Tropical Storm "SENDONG"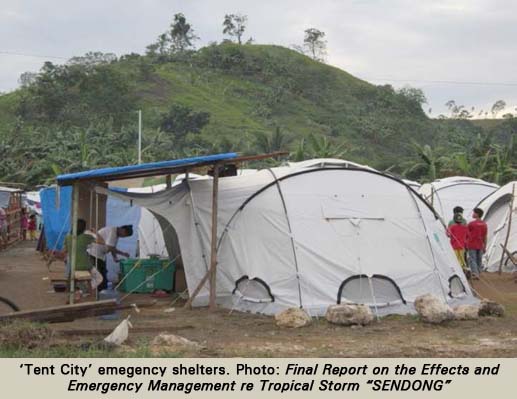 Tropical Storm 'Sendong' - a roundup of initial reportsPart One of Four
Tropical Storm 'Sendong' began as a tropical depression to the east of the Philippines 3 days prior to its entry into the Philippine Area of Responsibility on 15 December 2011, and intensified further into a severe tropical storm. It made its first landfall at Hinatuan, Surigao del Sur in the afternoon of the 16th, traversed the provinces of Agusan del Sur, Bukidnon, Misamis Oriental, Lanao del Norte, Palawan and Negros Oriental, and caused torren­tial rains that led to widespread and catastrophic flooding in Cagayan de Oro and Iligan cities. It made its second landfall in the vicinity of Puerto Princesa City, crossed the island of Palawan and exited through the South China Sea on December 18th.
Casualties reported to the NDRRMC (Philippines National Disaster Risk Reduction & Management Council) include 1,268 persons killed, with the highest numbers in Cagayan de Oro City (674) and in Iligan City (490). Additionally, 181 people are reported missing and across the affected regions a total of 6,071 persons were reported to be injured.
As of 16 January 2012, the DSWD (Department of Social Welfare & Development) said that the overall population served both outside and inside the 124 evacuation centers totalled almost 500,000 persons. To date (10 February 2012), only 47 evacuation centers remain open providing temporary shelter for some 20,000 persons. Meanwhile, more than 200,000 persons who opted to stay with friends and in rela­tives' houses are still being provided with some measure of relief assistance.
Donations from civil society organisations and private individuals, UN systems, international NGOs operating in the Philippines, local NGOs, local govern­ment units and disaster management councils in unaffected regions, all provided monetary and in-kind-assistance.
AUSAID, the Australian Agency for International Development, provided assistance through the Philippine Red Cross (PRC) and Community and Family Services International (CFSI) to wit: PhP12.70 million (AUD300,000) worth of non-food items (sleeping mats, mosquito nets, hygiene kits and cooking utensils) distributed to 5,000 families in Cagayan de Oro City, Iligan City and Bukidnon; PhP31.70 million (AUD750,000) for temporary and transitional shelters and water, sanitation and hygiene units through the PRC; and PhP10.60 million (AUD 250,000) for psycho-social support to survivors through CFSI.
Final Report on the Effects and Emergency Management re Tropical Storm "SENDONG"
,
10 February 2012, National Disaster Risk Reduction and Management Council, Republic of the Philippines.
http://www.ndrrmc.gov.ph/index.php