KASAMA Vol. 26 No. 1 / January-February-March 2012 / Solidarity Philippines Australia Network
Philippines to host 5th World Social Forum on Migration
26-30 November 2012 Manila
The World Social Forum on Migration (WSFM) International Committee representatives from the United States of America, Palestine and Philippine-based Asian regional organization announced that, for the first time, this global event will take place in Asia and will be held in the Philippines on 26-30 November 2012.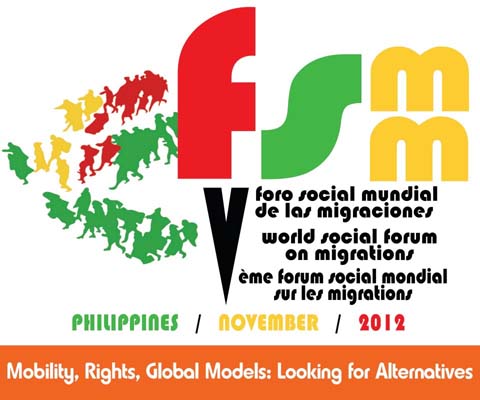 The WSFM aims to strengthen the process, protest movements and organizations around the world fighting for integration and full exercise of the rights of migrants. Hundreds of international delegates are expected to attend.
Mobility: Crisis Critiques and Consequences of Global Migration
Rights: Migrants Rights are Human Rights
Global Models: Re-imagining migration, proposing alternatives, exploring models
Solidarity and Mobilization with trade unions
Field visits in: Batangas, Pampanga and Manila
Cultural Program
Technical Secretariat:
Migrant Forum in Asia, 85-C Masikap Extension, Central District, Diliman, Quezon City 1100 Philippines.
Telephone: (+63 2) 928-2740 Telefax: (+63 2) 433-3508 Mobile: (+63) 921-540-5063
Email:
mfa@pacific.net.hk
Contact Persons:
William Gois, Migrant Forum in Asia, +63.920.960.0916
Ellene Sana, Center for Migrant Advocacy, +63.917.448.1464
More information:
WSFM web site at
http://www.wsfm2012.org/
and
WSFM Facebook page at
http://www.facebook.com/wsfm2012
Migrant Forum in Asia web site at
http://www.mfasia.org