KASAMA Vol. 26 No. 1 / January-February-March 2012 / Solidarity Philippines Australia Network
Filipina Invited to Speak on Trafficking at UN CSW, Stanford and UCLA
Coalition Against Trafficking in Women-Asia Pacific – Press Release – February 29, 2012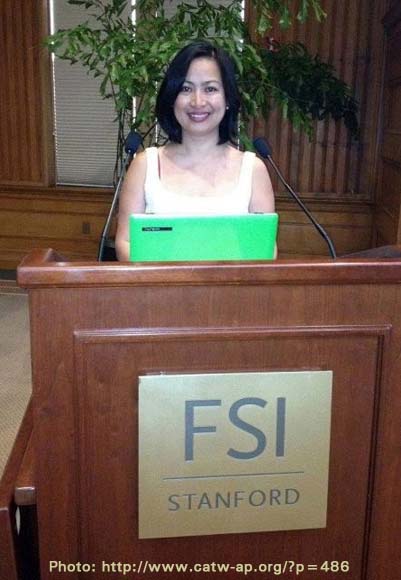 New York, New York
Anti-trafficking advocate Jean Enriquez presented the vulnerability of women in the rural areas of the Philippines to trafficking, at the United Nations Commission on the Status of Women (UN CSW) on Feb. 29. She underscored the accountability of local governments, miners and loggers in recent calamities which disproportionately killed rural women and children in Mindanao, and rendered rural women even more vulnerable to violence against women, such as sex trafficking.
"The global north needs to also cut back on its con­sumption of resources, which contributes enormously to the climate crisis," said Enriquez, Executive Director of the Coalition Against Trafficking in Women – Asia Pacific (CATW-AP). She mentioned the need for a shift in economic paradigm by the Philippine government towards one which is ecologically-sustainable.
She also called for greater prevention and monitoring of trafficking as calamities, both natural and man-made, are often followed by significant rise in cases of trafficking. The priority theme of the 56th Session of UN CSW this year is "empowerment of rural women and their role in poverty and hunger eradication, sustainable develop­ment and current challenge."
Enriquez underscored the fact that during disasters, women as well as children are 14 times more likely to die than men. She also described the vulnerabilities of rural women as intensified by their lack of control over productive resources , capital as well as services, and therefore, in decision-making, too. This is aggravated by subordination in the household, their multiple roles in the productive and reproductive sphere, and the prevalence of violence against women. "Researches by both the National Rural Women's Coalition (Pambansang Koalisyon ng mga Kababaihan sa Kanayunan or PKKK) and by CATW-AP reveal that the majority of those sexually trafficked come from the rural areas, and there is a spike in their number following calamities," under­scored Enriquez.
An audience of around 300 delegates to UN CSW asked questions about CATW-AP's project on addressing the demand side or the buyers. At Stanford University, around 100 faculty and students eagerly asked questions after her "heartbreakingly honest" presenta­tion on Feb. 21, quoting Stanford Human Rights Program Director Helen Stacy. Meanwhile, about 200 students and faculty attended her talk at the University of California in Los Angeles (UCLA) on Feb. 22. She was also interviewed at the radio program KPFA 94.1 FM in San Francisco.
Enriquez was named as one of the 7 Modern-Day Heroes by Yahoo! Philippines in 2011.