KASAMA Vol. 26 No. 1 / January-February-March 2012 / Solidarity Philippines Australia Network
No woman is free until all women are free!
Brisbane International Women's Day Collective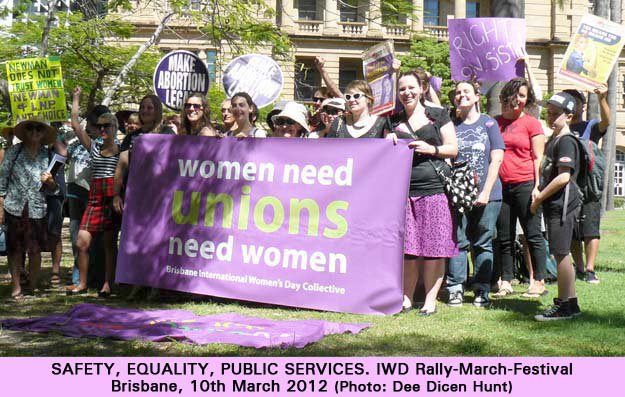 For over a century, International Women's Day has been marked by protests organised to highlight and build the campaigns for women's rights. These days, the history of IWD is too often hidden behind the dazzle of corporate funded luncheons and government sponsored talk-fests. But that was never what the women's liberation movement was about. The movement that founded International Women's Day was one that set out to liberate all women. As long as sexism, misogyny, racism, queerphobia, transphobia, ableism and exploitation continue to oppress women here and around the world, then we need a women's liberation movement. Because no women is free until all women are free.
— Brisbane International Women's Day Collective —

* END THE NT INTERVENTION * EQUAL PAY NOW: INCREASE FUNDING TO PUBLIC SERVICES * REPEAL ALL ANTI-ABORTION LAWS
* NO "INCOME MANAGEMENT" * REFUGEE RIGHTS NOW: END MANDATORY DETENTION
Related Article

Home
|
Aims and Objectives of Solidarity Philippines Australia Network
|
About Kasama
Kasama 2012
|
Kasama 2011
|
Kasama 2010
|
Kasama 2009
|
Kasama 2008
Kasama 2007
|
Kasama 2006
|
Kasama 2005
|
Kasama 2004
|
Kasama 2003
Kasama 2002
|
Kasama 2001
|
Kasama 2000
|
Kasama 1999
|
Kasama 1998
Kasama 1997
|
Kasama 1996
|
Kasama 1995
|
Kasama 1994
|
Kasama 1993
PASG QLD Archive
|
PASG QLD 1995
|
PASG QLD 1994
|
PASG QLD 1993
|
PASG QLD 1992
PASG QLD 1991
|
PASG QLD 1990
|
PASG QLD 1989
|
PASG QLD 1988
|
PASG QLD 1987
About CPCA
|
Deaths & Disappearances
|
Confronting Sexual Exploitation (pdf)
Filipino Women & Sexual Violence
|
Filipino Community Organising on Women's Issues in Australia
Presidential Award to CPCA
|
Vivian Alvarez Solon
|
CPCA Press Release
Tampa Day Rally
|
Refugee Action Collective Rally
SPAN Web Site Map