KASAMA Vol. 25 Nos. 3 and 4 / July - December 2011 / Solidarity Philippines Australia Network
Just as the local government units try every means to solve the garbage issue, this three-time winner for clean and healthy private elementary school environment in La Trinidad, continues to find ways to address the community's environmental concerns.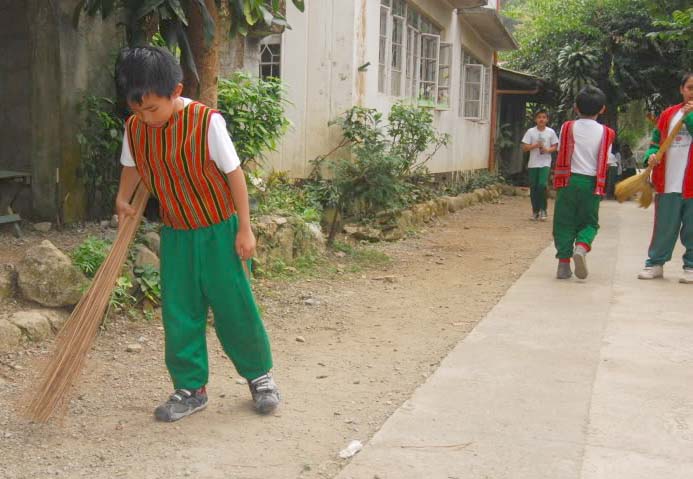 Earth Savers' Day at Little Flower Children's Home Foundation
Story and photos from J.P. Alipio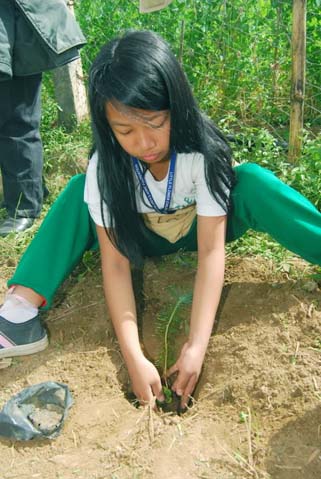 On December 8th 2009, their 24th Foundation Day Anniversary, Little Flower Children's Home Foundation, emerging from its simple waste management efforts, launched "Earth Savers' Day" Program. On this occasion, all student activities revolved around the school's environmental commitment namely: "Our World, Our Responsibility" printed at the back of their t-shirts. Story-telling and art activities related to the event occupied the preparatory and primary grade school students, while the intermediate graders conducted a cleanliness and information drive on solid waste management in the neighborhood, capped by the tree planting activity near Balili River.
On the launching of Earth Savers' Day at Little Flower Children's Home Foundation, and every Monday of the week thereafter, the school community observes a no plastic bag and wrapper, no Styrofoam and no aluminum foil day. Only the green, biodegradable trash bin gets filled up on this day. The school canteen for its part, prepares native delicacies like 'kankanin' or rice cakes, 'palitaw', 'suman', all wrapped in banana leaves, banana cue and fruits served with fruit juices. A clean and healthy habit for our growing children.
Georgina D. Alipio, the School Principal, shared that since year 2000, the school has made the traditional environmental slogans 3 R's & C — Reduce, Reuse, Recycle and Compost — a part of the environmental program of the school. A practice which did not go unnoticed especially by the municipal officials of La Trinidad.
J.P. ALIPIO, a passionate environmentalist, is the Program Director of the Cordillera Conservation Trust. JP holds a Masters Degree in Environmental Management from the University of San Francisco and Ateneo de Manila as well as a Bachelors Degree in Biology from the University of the Philippines. He is a National Geographic Society Grantee. You can contact him by e-mail at:
jpalipio@gmail.com
For more information about the Trust write to:
Cordillera Conservation Trust
Tignayan iti Konserbasyon ti Kordilyera
c/o Little Flower Children's Home Foundation
FA 264 Km. 4 La Trinidad, Benguet
Philippines 2601
or by E-mail:
Cordillera.conservation.trust@gmail.com
or visit their web site at
http://www.kristusway.org/cordilleratrust/cordilleratrust.org.htm
Further Reading