KASAMA Vol. 24 No. 3 / July-August-September 2010 / Solidarity Philippines Australia Network
Marcoses return to power while Martial Law victims still wait for justice
TASK FORCE DETAINEES OF THE PHILIPPINES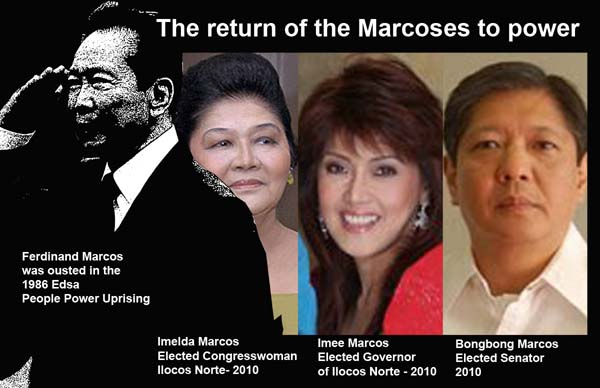 On the 21st of September 2010, the nation will once again commemorate the declaration of Martial law in the Philippines by the late President Ferdinand Marcos. We cannot avoid but reminisce the dark years of Philippine history so that we may never ever forget the supposed lessons learned by our people. We remember, so that the atrocities of martial rule will never happen again. We cannot just forget the countless victims of human rights violations under the then dictator Marcos. The rampant illegal arrests, political detentions, killings, massacres, tortures, enforced disappearances, massive graft and corruption and outright suppression of the civil-political rights as well as socio-economic and cultural rights of the people caused by one dictator and his cohorts. After those widespread unacceptable crimes against human persons that marked part of the story of our nation, 38 years later the Marcoses have returned to power. And yet, justice remains elusive for the thousands of victims of the deposed dictator. Have we forgotten so easily? We have now a Marcos elected as Senator, a Marcos representing the people of Ilocos Norte in the lower house, and a Marcos in the Ilocos Norte provincial government. What happened to their victims? What happened to the lessons learned? What happened to the spirit of Edsa people power? We at the Task Force Detainees of the Philippines (TFDP), a human rights organization founded in 1974 by the Association of Major Religious Superiors in the Philippines (AMRSP) are completely bothered and alarmed by the return of the Marcoses in power. We fear that while the people seem to forget the crimes of the Marcoses, the heroism of those who risked their lives fighting for freedom and human rights will also be forgotten. We hope that this year's commemoration will remind us that the lessons learned from years of tyranny and the blood of those who suffered the dictatorship will not be put to waste. Our democracy today owes its existence to those who suffered and gave up their lives for freedom, justice and democracy in those dark years of martial rule. Now, another Aquino is in Malacañang fueled by a popular movement for change. Will the victims of martial law be finally given justice? Yes, it is time to move on. And moving on means closing the dark chapters of our nation's history with justice rendered to the countless hapless victims of human rights violations during Marcos' regime. Pagkatandaan natin, "ang hindi lumingon sa pinanggalingan ay hindi makararating sa paroroonan". Katarungan para sa mga biktima ng diktadura. [Let us not forget the saying, "If you don't look back to where you came from, you're not going to arrive at your future destination." Justice for all the victims of dictatorship.] It is time to settle the sins of the past.

Home
|
Aims and Objectives of Solidarity Philippines Australia Network
|
About Kasama
Kasama 2012
|
Kasama 2011
|
Kasama 2010
|
Kasama 2009
|
Kasama 2008
Kasama 2007
|
Kasama 2006
|
Kasama 2005
|
Kasama 2004
|
Kasama 2003
Kasama 2002
|
Kasama 2001
|
Kasama 2000
|
Kasama 1999
|
Kasama 1998
Kasama 1997
|
Kasama 1996
|
Kasama 1995
|
Kasama 1994
|
Kasama 1993
PASG QLD Archive
|
PASG QLD 1995
|
PASG QLD 1994
|
PASG QLD 1993
|
PASG QLD 1992
PASG QLD 1991
|
PASG QLD 1990
|
PASG QLD 1989
|
PASG QLD 1988
|
PASG QLD 1987
About CPCA
|
Deaths & Disappearances
|
Confronting Sexual Exploitation (pdf)
Filipino Women & Sexual Violence
|
Filipino Community Organising on Women's Issues in Australia
Presidential Award to CPCA
|
Vivian Alvarez Solon
|
CPCA Press Release
Tampa Day Rally
|
Refugee Action Collective Rally
SPAN Web Site Map
Search the SPAN Web
This website contains images that some Aboriginal people may
be sensitive to and they should exercise caution when viewing.