KASAMA Vol. 24 No. 2 / April-May-June 2010 / Solidarity Philippines Australia Network
Brisbane Joins National "Welcome Refugees" Day of Protest
WORLD REFUGEE DAY 20 JUNE 2010
Sunday's Brisbane rally marks the commencement of Refugee Week around Australia. People from church, political, social justice networks and communities of those who came as refugees, will gather in Brisbane Square in line with national rallies in capital cities calling on the Australian government to "Welcome Refugees."
Frederika Steen, Chair of the organising committee says, "The Refugee Week theme FREEDOM FROM FEAR has special significance for Queensland this year. Not only has Brisbane become a place where about 160 asylum seekers are detained, but both sides of politics are pursuing policies which inspire fear, undermine refugee settlement and inflame negative attitudes towards asylum seekers and refugees in our community."
"Tony Abbott and the Coalition are attempting to make refugees a political football and a feature of the federal election campaign," says Paul McKinnon from Brisbane's Refugee Action Collective. "His proposal to reintroduce the Pacific Solution, and temporary protection visas would take us back to the worst of the failed Howard government policies. RAC says NO! to another Tampa election characterised by refugee bashing".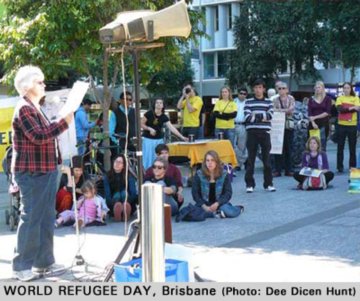 Members of the groups endorsing the Brisbane rally are both angry and disappointed with the Rudd government for not confronting the Coalition's anti asylum seeker scare-mongering and correcting the misinformation and myths about refugees as being illegal and a security risk. Rudd says that he doesn't want to engage in a race to the bottom with Tony Abbott, but what is he doing to lift factual accuracy and moral decency in the public discussion?
"The freeze on processing visa applications for Sri Lankans and Afghan asylum seekers is driven by the Rudd government's determination to be seen to be tough on refugees," according to Frederika Steen. "This generates enormous distress in Tamil and Hazara Australians and refugee supporters who say that such delays are inflicting added misery and injustice on already traumatised people" she said. "It punishes vulnerable asylum seekers when it should be protecting them from further harm."
Members of Brisbane's Hazara and Tamil communities say Afghanistan and Sri Lanka are not safe countries, and the visa freeze violates the human rights of asylum seekers. "If the government wants a policy that is humane to refugees, it must end the visa freeze," says Hassan Ghulam, a local Hazara elder. "Australia can greatly assist UNHCR in Indonesia and Malaysia by increasing its resettlement of confirmed refugees, including my people who have a very well founded fear of persecution, and cannot go home".
"Detention centres on the mainland, including one proposed for Dalby in Queensland, is no answer to the over-crowding on Christmas Island," says Frederika Steen. "Asylum seekers do not need to be detained beyond registration, security and health clearances, and can live and work in the community on Bridging visas, and be self supporting, while their claims are finalised." The Government was clearly told by this year's Australian of the Year, mental health expert, Professor Patrick McGorry, that detention centres are "factories for mental illness", so why is the government re-opening one of the worst of Howard's remote detention centres at Curtin? And considering reopening Baxter?
Frederika Steen, Paul McKinnon, for the Organising Committee , 16 June 2010