KASAMA Vol. 24 No. 2 / April-May-June 2010 / Solidarity Philippines Australia Network
Joan Shears 'Mother of Peace'
was awarded an OAM in the
2010 Australia Day Honours List
Peace and social justice activists gathered in the Queensland Council of Unions building to celebrate the Order of Australia medal awarded to Joan Shears for her service in the promotion of peace, nuclear disarmament and social justice issues. One of the many personal testimonials submitted with the nomination named her "The Mother of Peace".
The Union Choir and the Women's International League for Peace and Freedom entertained the gathering with songs and humour specially prepared for the evening. There was delicious dinner and speeches of congratulations and stories and recollections of working alongside Joan in the peace movement. The following are some extracts from a few of the evening's speakers.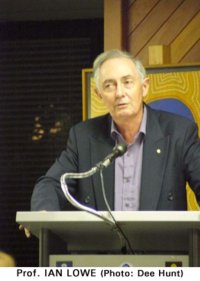 Professor Ian Lowe: "Through all the discussions over the years, Joan has kept chipping away at the nuclear establishment … circulating information, organising meetings, rallies, marches, even when the cause seemed hopeless. I can remember speaking at a Hiroshima Day rally when we were literally outnumbered by the Special Branch, when the number of Joh's goons photographing us outnumbered the people who were there to be photographed. But she's always been a beacon of hope and she's always provided the information that allowed us to counter the ceaseless stream of misinformation from those who want to mine uranium, those who want to export it, those who want to build nuclear power stations.
"…Throughout all the debates, all the ups and downs, Joan has kept reminding us that the three problems of uranium mining and nuclear power will not go away, no matter how much obfuscation there is from the big end of town. First, that the mining of uranium and the production of nuclear power inevitably produces radioactive waste for which 50 years down the track there is still no proven solution and no coherent national strategy anywhere in the world. Secondly, it inevitably contributes to the risk of weapons proliferation. And while the problem of waste management is a technical problem that at least is capable of a technical solution, the problem of weapons proliferation is a social and political problem that appears totally insoluble and in that sense the export of uranium is inevitably making it more likely that nuclear weapons will be produced and used. And third, she's reminded us constantly that there are enormous local environmental impacts of the mining of uranium upon areas like Roxby Downs and like Ranger. And if you doubt that, take a look at Mary Kathleen or Rum Jungle, the places where we've mined uranium in the past, to see the legacy left there for all future generations…[1]
"I have a little French postcard at home that says with wonderful Gallic humour, We're going to change the world. Underneath in smaller writing it says, If it's not you, my little one, who will begin to change the world? Who will do it? …We can't wait for other people, we can't wait for our elected leaders, we certainly can't wait for big business. We have to be the change we want to see in the world. And throughout an enormous working lifetime here in Queensland, Joan has exemplified that principle, and shown us that one person can make a difference, one person can inspire hundreds of others to work for a clean future. It's wonderful to be here tonight to pay tribute to Joan. Please join me in applauding her efforts."
Professor Noel Preston: "Tonight is extremely special and I count it as an almost unbelievable privilege to be invited to speak on this occasion in honour of our dear friend and comrade, Joan Shears. …When I first met Joan she was an organiser of the Campaign Against Nuclear Power and I was working with an organisation called Action for World Development, and these were times of great conflict in the community over uranium mining … and all that was exacerbated by Joh Bjelke Petersen's disregard for democratic rights.[2] But it was a good context in which to make some great friends that have lasted until this night 35 years later…
"The peace movement hasn't always been that peaceful. It worked, but it worked with a lot of friction at times. But this lady, Joan Shears, across the factions of the peace movement, has been embraced by all. She's been above all that. She's been accepted by all players and that's a great tribute, because she not only works for peace, she lives peace. And when I saw your name, Joan, on the Order of Australia Medal List, I was delighted that the grassroots were acknowledged, that you were acknowledged. You are a most worthy recipient, a reliable friend, a wonderful mother, a faithful activist, and a fearless campaigner."
Senator Claire Moore: "Joan, the important thing about tonight is that everyone is here because we love you and that's what we want to say to you. When we were putting the submission together, the first thing we had to do was to get a number of people to sign on for the nomination process and give a story about why they think the nominee deserves an Order of Australia Medal... Marya McDonald told me she had no trouble at all, in fact people wanted to and came forward extremely quickly. …Two or three statements of support were needed, and we had so many more.
"…The thing that I most love about Joan is her welcome and engagement toward everyone. And when we are working around issues of peace and social justice there are divisions of different views, different politics, people have their own particular process. Joan makes sure we forget the differences and focus on what we share, and that is her absolute strength. Your networking Joan and the way you bring people together – you make us better... We know you've put all this work in up til now but we expect you to keep on doing it. We need you …no matter what you ask, we do, and we always say thank you so much. But now we want you to say something, because as we all know, for many years Joan did not make any speeches at all.
Joan Shears: "When I look around this room tonight, there isn't one person here who hasn't spent years trying to achieve peace or justice or nuclear disarmament or any one of the myriad of issues that need addressing. This award is a wonderful thing to have happened and I'm really proud and pleased about it.
"…I've been able to stay with things over the years because I have a wonderful family who always come to the party when I need it and I'm happy in the things that I do because I think we're headed in the right direction… So I've had the time and I've had the support and I've had the company and I have the knowledge that what we are trying to do is the right thing to do. The other reason why I've been able to stay at it is because we had George Georges who was always there and another was a bequest in a will that gave us some thousands of dollars which we decided not to spend all at once, but spread it about as widely as we could in the community, taking into account that if we're talking about a peaceful world we need a peaceful community around us and there's so many things happening in our own community that need addressing and if we can in any way help, we do. It's not just me you see. I can make the phone calls, but if nobody comes, well you wouldn't keep on doing it time after time. There's always people who turn up and they obviously are intent upon getting to the same place that I've been trying to get to. So it is all of us, it's not just me. And I am honoured to have my name on it. The Governor said to me yesterday that she was pleased and interested to see that these issues were being recognised with the award.
"So I think that we can all join in that, we can all share in that because it doesn't happen for just one person and I have to say thank you to all these people here… what a joy to see you all and to feel the comradeship and happiness here tonight. And that takes all of us, it doesn't come from just one direction, it comes from everybody. Thank you all for coming. I will look back at this with real joy and pride for a long time, and I will try to keep going. I've just got myself a little bit more ticker, so I should be able to get back into the stream of things. I have been slacking off lately you know. Seeing all the different organisations that are represented here and we're all working toward the same end, that's the best thing we can do - keep ourselves together so that we can draw more and more people into the cause."
Ms Eunice Joan SHEARS, Gaythorne Qld 4051
For service to the promotion of peace, nuclear disarmament and social justice issues.
Prominent within several peace and social justice organisations including:
Rally for Peace and Nuclear Disarmament.
Just Peace; Co-Founder, 2001.
Catholic Justice and Peace Commission.
Australian Coalition for Economic Justice; current Director; Founding Member, since 1988.
Instrumental in the formation of Australia at the Crossroads, early 2000s.
Co-Founder, People for Nuclear Disarmament, 1983.
Member and Convenor, Campaign Against Nuclear Power, 1970s.
Participated in the annual Palm Sunday Peace March and Rally, and Hiroshima Day Rally and March in Brisbane, from the late 1970s to the late 1980s;
Member, Organising Committee, since the late 1980s; current Organiser.
Awards/recognition include: Gandhi-King-Ikeda Prize, Soka Gakkai Buddhist Group 2005.
Endnotes added by Kasama editor:
[1] Mary Kathleen Uranium Mine in Queensland is one of the oldest uranium mines in the world. Rum Jungle in the Northern Territory was Australia's first large scale uranium mine with sales to the UK for their atomics weapons program. Source: The Sustainable Energy & Anti-Uranium Service website at
http://www.sea-us.org.au
[2] In 1977, the Premier of Queensland, Joh Bjelke-Petersen, declared that political street marches were henceforth illegal. The right of appeal to a magistrate was removed, and Bjelke-Petersen said that all applications for permits would be turned down. This ban triggered the formation of the 'Right to March' movement, which for three years challenged the government. Supported by civil libertarians, the anti-uranium movement, the churches and some politicians, the right to march campaign generated considerable support. Source: Brian Martin. 'Queensland versus Greenpeace: the Vega affair' in Gijutsu to Ningen (Technology and Humanity), June 1988, pp. 71-79 at
http://www.uow.edu.au/~bmartin/pubs/88gijutsu/
Further Reading:
Jeff Rickertt, 'Right to March Movement: King George Square', pp.291-298 in
Radical Brisbane
, edited by Raymond Evans & Carole Ferrier with Jeff Rickertt, The Vulgar Press, 2004.
John E Ransley, 'Ending the 1977-79 Street March Ban: The Untold Story', submission, Brisbane, August 2006, Queensland Council for Civil Liberties web site at
http://www.qccl.org.au/documents/1977_1979_Street_March_Ban_Untold_Story_JER_Aug06.pdf