KASAMA Vol. 24 No. 2 / April-May-June 2010 / Solidarity Philippines Australia Network
Philippine Elections 2010
Statement of COMPACT International Observers Mission
on the Conduct of the 2010 National Elections
Press Statement — 14 May 2010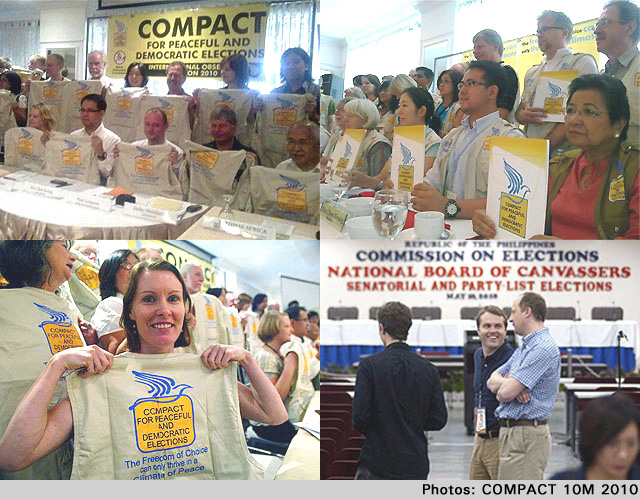 We, twenty-five members of the 2010 International Observers' Mission from ten countries and organized by the Compact for Peaceful and Democratic Elections commend the Filipino people for enthusiastically exercising their democratic right to suffrage. Amid threats and actual acts of violence, possibility of failure of elections, fraud and outright uncertainty due to an automated election system widely criticized, many Filipinos were able to cast their votes and choose new leaders. This in itself is an achievement and a clear testament to the Filipino people's faith in the democratic process.
As election observers, we are truly honored and privileged to witness and/or observe this amazing feat and we hope that the country's recently concluded national political process would lead to the further deepening of Philippine democracy and the strengthening of its democratic institutions.
Election monitoring is increasingly the norm throughout the world. Contrary to some assumptions, observation missions are not only conducted in countries with weak democracies. Increasingly, election observation missions are organized to create important spaces for people of different nationalities to learn from each other in their common advocacy to further democracy.
But while we join the Filipino people in celebrating this important achievement, we also would like to present some of our observations concerning the conduct of the elections in particular areas we have visited. In the spirit of objectivity and in contributing to the development of the country's democracy, we see fit that these observations are given national and international platforms. For the purpose of observing the conduct of this election, COMPACT's international election observers visited Pasig, Pampanga, Negros Occidental and Maguindanao.
During our five-day mission, our group arrived at a consensus that numerous election rules, procedures and protocols have not been observed and enforced. We take particular notice to the lack of voter secrecy folders. This compromises the voter's right to vote in absolute secrecy. This was seen and observed in almost all the places we visited and as such, opened possibilities for other people with vested interest to know how particular voters have voted.
It was also observed that in some cases, indelible ink was not marked on the fingers of people who have just finished voting. We could only assume that such incidents could have contributed to election fraud such as multiple voting, aside from incidents of vote-buying and vote-coaching which we also have observed.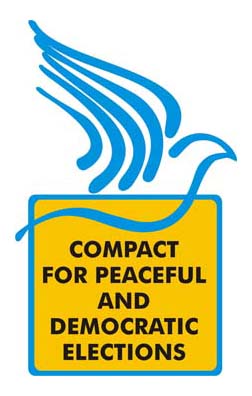 Furthermore, we observed that ballots cast in several precincts were rejected without providing voters adequate mechanisms to appeal or at the very least be provided with concrete explanations of why their votes were rejected. We are deeply concerned that such incidents could lead to a significant disenfranchisement and undermine the people's right to vote.
Also, technical problems besieged some of the vote counting machines we monitored. From PCOS machines freezing up to out-and-out breakdown, such incidents together with the lack of BEIs [Board of Election Inspectors] and necessary support staff greatly contributed to slowing down the new voting process that was supposed to bring comfort and more efficiency.
Lastly, on peace and security: we observed political tension in particular areas which resulted in heavy military and police presence in order to maintain the peace. Threats and actual acts of violence also marred the conduct of elections in some areas. In fact, violence was so real and serious in those areas that fellow observers were forced to abandon observation missions in some municipalities and barangays.
Thus, we strongly encourage the new government as well as other important stakeholders to give priority to improving the general conduct of elections. Needed and swift reforms must be realized in the areas of right to suffrage, polling center efficiency, ballot security measures, technical capacities, electoral laws, voter education, peace and order, and voter education.
How a country conducts its elections is a barometer of how mature its democracy and institutions are. The Philippines' conduct of its recent elections shows that it is willing to tread that path. However, treading the path alone is not enough. That difficult journey requires the active participation of Filipino people willing to push for and realize these much needed electoral reforms.
We are confident that the Filipino people are ready for the challenge of further electoral reforms.
Faye Laquio, COMPACT-IOM, Philippine Elections 2010
International Observers' Mission (IOM) Secretariat
More info… please contact Faye
Tel: 09155778956