KASAMA Vol. 23 No. 2 / April-May-June 2009 / Solidarity Philippines Australia Network
Asia Pacific Women's Conference
Philippine Normal University (PNU) Manila, Philippines
Women, Peace and Security:
VISIONS FOR A NEW WORLD
8-10 September 2009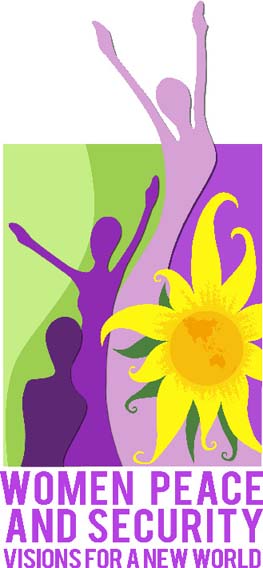 Women are at the center of conflicts and wars, both overt and silent. They bear the brunt of violence in different forms, whether in their personal lives or from armed conflicts within their communities or among nations of the world.
Yet women have not been mere victims or casualties of war. Women have always struggled and survived over experiences of violence. They continue to work for peace and build secure communities. Women have been mostly invisible, however, in peace negotiations and policy making in many countries.
It is time for women to take the lead and to declare their vision for a new world where women and humanity can enjoy peace and security.
The Conference on Women, Peace and Security: VISIONS FOR A NEW WORLD will be hosted by the Peace Women Partners-Asia Pacific in partnership with the Center for Peace and Human Rights Education of the Philippine Normal University. It aims to bring women of the world together to discuss critical issues and define strategies for women's peace and security in Asia-Pacific.
Asia Pacific Women's Conference Secretariat
Center for Peace and Human Rights Education
Room 203-A, Philippine Normal University,
Taft Avenue, Manila
PHILIPPINES

Telefax. No. (632) 527 03 73

Details for Registration will be available soon.

If you would like more information, please email to:

Merci L. Angeles: mvl.pwp@gmail.com

or Betty McLellan: bettymclellan@bigpond.com