KASAMA Vol. 23 No. 1 / January-February-March 2009 / Solidarity Philippines Australia Network
by Sabrina Oliveros, Philippine Online Chronicles, 05/03/2009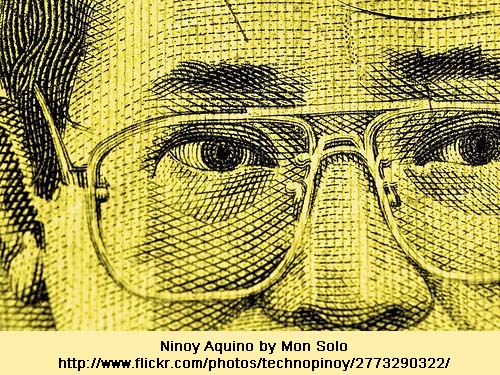 March 4, 2009 —
The 10 men convicted for the 1983 murders of Filipino democratic icon Benigno "Ninoy" Aquino Jr. and his alleged assassin Rolando Galman walked free yesterday after being granted executive clemency by President Gloria Macapagal-Arroyo, reported the Associated Press.
The convicts were released from the New Bilibid Prison after the Department of Justice (DOJ) ordered their release on Wednesday morning, considering their good conduct in prison, humanitarian reasons and the order of commutation signed by the President on March 2.
Those released were: ex-Capt. Romeo Bautista, former 2nd Lt. Jesus Castro, former Sergeants Ruben Aquino, Arnulfo de Mesa, Rodolfo Desolong, Arnulfo Artates, Claro Lat, Ernesto Mateo and Filomeno Miranda and former Constable 1st Class Rogelio Moreno. All were members of the former Aviation Security Command which escorted Aquino out of the plane that brought him back to the Philippines on August 21, 1983 after years exile, related inquirer.net. [1] Aquino was gunned down immediately on the tarmac of the then-Manila International Airport [2], and 16 soldiers all in all were sentenced to life imprisonment for his murder,[3] as well as that of his alleged killer.[4] Aquino's assassination is now largely credited for leading to the 1986 EDSA People Power Revolution that overthrew the dictator Ferdinand Marcos and installed Aquino's widow Corazon as president, restoring democracy to the Philippines. Three of the convicts died in prison and three others were pardoned earlier, though the brains behind Aquino's murder still has not been named.
"I hope their release would finally bring closure to the Aquino-Galman case," DOJ chief Raul Gonzalez was quoted as saying by philstar.com. "Besides, what can they do, they are very sick. I think the only issue left is who was the mastermind."
"I don't think [this pardon] can clear their names," Gonzalez added. "They were already convicted and they haven't said anything that they had not said already."
According to Executive Secretary Eduardo Ermita, the presidential pardon was in accordance with Arroyo's 10-point agenda, which includes healing the political wounds inflicted by the EDSA Revolution, reported gmanews.tv.
While Ninoy's brother Agapito "Butz" Aquino, himself a former senator, said that it is indeed "time to move on" from the decades-old crime, the slain leader's children were more aggrieved over the pardon.
Sen. Benigno "Noynoy" Aquino III called Arroyo's act of clemency an injustice and part of a "political vendetta" as he cited testimonies that implicated the convicts in a conspiracy to kill his father, said philstar.com.
In turn, his younger sister, actress and TV personality Kris, said that she accepted that the pardon is part of the country's judicial system but lamented that the mastermind behind the assassination has still not been named, reported abs-cbnnews.com.
Still, Noynoy Aquino said he hoped that the public would not think his family is incapable of forgiveness.
Happy as he was to be reunited with his family, Ernesto Mateo, one of the convicts, said that he still wanted to meet with the Aquinos and "explain to them personally what happened."
"I am so happy that after all these years we were freed," Mateo told the Agence-France Presse, maintaining that Galman was the sole person responsible for the crime. "Let the Aquino family move to re-open the case. I am willing to meet them and help all of us find the truth."
Corazon Aquino, stricken with cancer, has not commented on the issue.
Reprinted from the POC web site http://www.thepoc.net/index.php/Breaking-News/Breaking-News/Ninoy-s-killers-freed.html
Kasama Editor's Endnotes:

[1] For an account of Ninoy's return to the Philippines on August 21, 1983 after 3 years in exile, see "Marcos and Beyond" by John Lyons and Karl Wilson, Kangaroo Press, Australia, 1987, pp. 34-37.
[2] Now named the Ninoy Aquino International Airport in his memory.
[3] The ex-Avsecom chief, Brig. Gen. Luther Custodio died soon after the verdict was handed down, former A1C Cordova Estelo died in prison in 2005, former Master Sgt. Pablo Martinez was granted conditional pardon by President Arroyo in 2007, former Cpl. 1st Class Mario Lazaga died in prison in 2008, and A1C Felizardo Taran and former Sgt. Rolando de Guzman whose sentences were commuted by former President Fidel V. Ramos and President Arroyo respectively, completed their prison terms and were released in 2009. Philippine Daily Inquirer, 03/05/2009.
[4] Rolando Galman, who the military claimed had been hired by communists to assassinate Aquino, was also killed.