KASAMA Vol. 23 No. 1 / January-February-March 2009 / Solidarity Philippines Australia Network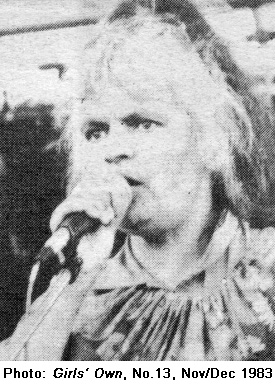 On the fourth day of the New Year, Australia lost one of its most respected Aboriginal women, Aunty Maureen Watson. Tireless educator and campaigner for the rights of her people, gifted and passionate performer on stage and film, poet, author and playwright, children's author, beloved mother, grandmother and great-grandmother, and recognised Murri elder in South-East Queensland.
Born in Rockhampton in central Queensland on the 9th November, 1931 of Birri Gubba descent, Maureen was brought up in the Dawson Valley, her mother's Kungulu country.
She was a dux of her school, an all-round sports person and brilliant horse-rider, but her scholarship year came to an abrupt end with a bad horse fall. So as a teenager she worked beside her father, becoming skilled at shooting kangaroos, trapping dingoes, mustering, droving and branding cattle, picking cotton, planting seed crops, driving tractors and bulldozers.
At 21 she married Harold Bayles, a Wakka Wakka man from Eidsvold and in 1970 Maureen with their family of five children moved to Brisbane. She joined the fledgling Aboriginal rights movement and commenced an arts degree at the University of Queensland.
Her experiences of growing up in a home where her family and visitors talked of politics, culture, spirituality and social issues, and her own innate story-telling ability prepared her well for the rest of her life. She was popular and highly-respected by non-indigenous as well as Aboriginal Australians, and showed her strong sense of justice by confronting bullies, discrimination and injustice where ever she saw it.
Maureen was a founding member of Indigenous organisations that include Radio Redfern and the Aboriginal people's Gallery. She attended the first National Aboriginal Theatre Workshop in Sydney and a Black Film-makers course. Her first collection of stories and poems, Black Reflections was published in 1982 - she went on to produce six more poetry anthologies, one children's book and one picture book. She has performed and taught in many venues, from major festivals to local schools and arts organisations.
She was at the forefront of Aboriginal protests against the Commonwealth Games in Brisbane in 1982, facing arrest during demonstrations. In 1996 she was awarded the Australia Council Red Ochre award in recognition of her national and international contribution towards recognition of Aboriginal arts. Also she received the inaugural United Nations Association Global Leadership Prize for her outstanding work towards building cross-cultural understanding and harmony.
Maureen also worked with Sisters Inside, a support group for women in prison. She was a qualified and experienced Neuro-Linguistic Programming councillor. Her son, Tiga Bayles spoke at the very moving ceremony to celebrate the life of Maureen Frances Watson. His words of her intense spiritual connection to the Land were a fitting tribute to this feisty, wise, beautiful, intelligent, creative and strong Black woman.
…she taught us to look past the racism, injustice, lies and greed. She taught us to look past those things - to look for the goodness inherent in every person. The goodness we all share when we dream of clean air and water, as the essential birthright of every child, regardless of race, colour, creed or country - how all of us, individually, collectively and globally - can empower ourselves to become honourable ancestors to our future generations by bequeathing them a healthy Mother Earth.
12 January 2009,
Murri School, Acacia Ridge, Brisbane.

See also: