KASAMA Vol. 23 No. 1 / January-February-March 2009 / Solidarity Philippines Australia Network
One Humanity, Many Faiths - An Interfaith Summit for Peace & Harmony in Australia and the Asia-Pacific Region, 18-21 February 2009, Brisbane City Hall, Queensland, Australia. Organised by the Multi-Faith Centre, Griffith University and the Pure Land Learning College.
Education for a Culture of Peace
LORETA CASTRO is Executive Director of the Center for Peace Education and a Professor at Miriam College, Quezon City, Philippines. She coordinates a local Peace Education Network. She serves as Vice-President of Pax Christi International and is a member of the Global Campaign for Peace Education, the Global Partnership for the Prevention of Armed Conflict and IPRA's Peace Education Commission.
[1]
In 2005, she was one of 27 Filipino women among 1000 women around the world who were collectively nominated for the Nobel Peace Prize. Her work includes training formal and community educators as well as the youth towards peace and interfaith understanding. The following are extracts from her workshop presentation on February 19th.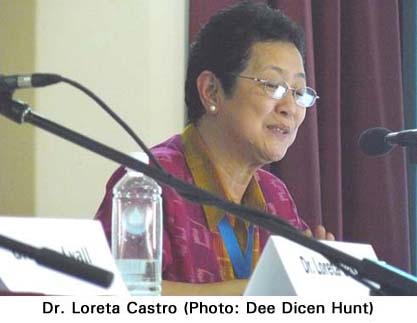 In the Philippines about 85% are Christians and we also have a significant population of Muslims, nearly 10%, and the rest are the other religions. And much of our efforts in peace education, or at least a significant part of what we do, relates to the building of understanding between Muslims and Christians because the extent of prejudices between the two groups are really very difficult. And, maybe you also know that we have actually an armed conflict still raging in the Philippines between the Moro Islamic Liberation Front and the government. That's just one, there is also another big one between the Communist Party of the Philippines [and the government]. So that's the general context.
I was asked to speak about the Philippine faith-based and interfaith initiatives in educating for a culture of peace and I thought of selecting three faith based organizations but if I don't have the time I might just concentrate on the initiatives of the Center for Peace Education, the center that I work with which is based in a Catholic college called Miriam College. [There is also] the Peacemakers Circle and the Silsilah Dialogue Movement. Silsilah comes from an Arabic word which means chain or link. They also focus on Moslem-Christian relationship building activities and they are based in Mindanao.
Dr. Toh Swee-Hin said this morning that education for a culture of peace really plays a vital role in our work today… [T]hrough education and training as well as advocacy work we see that empathetic understanding of other religions so that all may live in harmony and with respect. And we try to promote trust and communication as well as operational action towards a culture of peace.
The Center for Peace Education was founded in 1997 to promote a culture of peace through education. …[I]n the Center we try to use a holistic definition of peace; we think of peace as not only an absence of direct violence but also the presence of the conditions of well being. And conditions of well being in just relationships are not only on the human level but also in the human-earth relationship. …We think of peace education or education for a culture of peace as essentially transformative education. Transformative education because it's an education that seeks changes — changes in our mind‑sets, changes in our attitudes and values and also changes in our behaviours and actions. We have focussed as a center on the training of educators believing that this is the most strategic entry point for us, because if the educators are convinced of the importance of advancing a culture of peace then everything else will follow. So the most important element to be touched is really the teacher, the educator, whether the educator is a formal educator or a non-formal or community based educator. If they're convinced, if they are excited about promoting peace, then they will use the materials available, etc. So for us this is the beginning point.
We have done trainings on peace education in the Philippines in the last two years with help from the Australian embassy in the Philippines. We have also been able to extend this to other agencies. The Australian embassy could only help us with the Philippine participants in our southeast Asian trainings, but fortunately there are other groups that support us financially to be able to bring in other southeast Asian participants... and very key in these trainings would be the inclusion of a module on faith and spiritual traditions as resources for peace.
[W]hen we started in 1997 we weren't so conscious of this and we were doing everything else, trying to put in everything else. We were not touching on the faith traditions of all. Eventually we got the realisation that it was important to include in the content of our training of the educators, the spiritual and faith traditions and what they have taught us about peace. On the training of teacher educators and promoters of peace understanding, the teacher educators are those who teach in colleges of education and this is also key because they are the ones teaching the prospective teachers. So this is addressing the pre-service training of teachers.
We have also published a book entitled "Peace Education: a Pathway to a Culture of Peace" and one whole chapter is about spiritual and faith traditions as resources for peace.
We have cooperated with the Peace Education Centres Network in the conduct of workshops on the ethical and spiritual foundation of peace education … in the various countries where our network exists:
Cooperation with the Multi-Faith Centre by hosting an educators workshop on promoting understanding and harmony among faiths and also with the Silsilah Dialogue Movement by serving as a resource centre;
Cooperation with government agencies such as the Department of Education and OPAPP, the Office of the Presidential Adviser on the Peace Process — inter-trainings and formulation of guidelines to implement Executive Order #570 Institutionalising Peace Education and Basic Education and Teacher Education. This is a rather significant policy document that we are very happy to have now in the country and we're trying to help implement this Executive Order;
Cooperation with civil society networks such as the Mindanao Solidarity Network and Sowing Peace for Mindanao, to advocate for the peace process and activities toward interfaith understanding. Marites of the Peacemakers Circle made mention of it this morning. This is so important [for] the peace advocates in Mindanao and we work closely together to advocate for the resumption of the peace talks because the armed conflict in Mindanao is four decades old [and] it has had so many damaging effects, especially to the civilians.
Let me tell you about a special project between the Miriam College, which is a Catholic College, and Raja Muda High School which is a school attended by Moslems in a conflict area in Mindanao. When we started in 2004 our idea was to accompany the formal peace process which was going on then but which now is suspended after some renewed fighting.
We thought that we had to think of ways by which there could be a people-to-people peace process accompanying the formal peace process between the rebels and the government because of the level of prejudices between the two groups. We started with what we call letter writings and the students of the two schools became pen pals and this has developed quite well over the years.
They produced their own joint newsletter where they wrote their reflections on writing to each other, exchanging with each other, and we have seen that it was a good way of reducing the prejudices. When we gave them opportunities to meet eventually, they expressed how they appreciated the fact that they had this opportunity to first write to each other and now to meet. And the beautiful thing about this is that in our school we have a peace club and they also established a peace club in their school. For us, this is very significant because now they can be the agents in their community in Mindanao to promote good relationships between Moslems and Christians.
…I'll now move to the challenges. One challenge is to rethink the true meaning of interfaith dialogue. The idea is very much what one of the speakers said this morning that interfaith dialogue should not be seen as something reactive but something that is a longer process that can prevent violent conflict. The challenge of intra-faith reflection and action. The challenge of fear, mistrust and prejudices against the other. The challenge of vulnerability to extremisms formed by perceived and actual injustices and a sense of desperation. The challenge of poverty and the hand-to-mouth existence of grass roots communities. And the challenge of sustainability of programs because of lack of long-term funding and lack of support or interest in inter-faith work from important stakeholders like government agencies and even religious people.
Center For Peace Education, Miriam College,
UP PO Box 110, Katipunan Road,
Diliman, Quezon City, Philippines
Telephone: (+632) 435-9231
(+632) 580-5400 extn. 3550
Fax (+632) 924-6769
E-mail: cpe@mc.edu.ph
Endnote:

[1] IPRA - International Peace Research Association. http://soc.kuleuven.be/pol/ipra/about/commissions/pec.html
Further Reading in Kasama:
Read more about the Silsilah Dialogue Movement in Dialogue Among Faiths and Civilizations in the Asia-Pacific Region: Hopeful Signs, Urgent Challenges, KASAMA Vol. 21 No. 1, January-March 2007, SPAN.
See also: