KASAMA Vol. 22 No. 4 / October-November-December 2008 / Solidarity Philippines Australia Network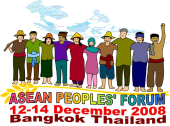 ANNOUNCEMENT:
The ASEAN Peoples' Forum and
ASEAN Civil Society Conference 4
has been postponed to March 2009.
The 3–day APF/ACSC 4 will be held in the original location of Chulalongkorn University – Bangkok, during the weekend before the 14th ASEAN Summit. Precise dates will be confirmed as soon as the ASEAN Secretariat is able to set the date of the rescheduled Summit.
Updates will be posted on our website at http://www.apf2008.org.
Please register for the conference if you wish to be sent regular updates by email.
The organizers of APF/ACSC, representing civil society organizations in ASEAN countries, stand in solidarity with our friends in Thailand at this challenging time, and support their efforts to secure a peaceful and sustainable resolution to the current crises.
Enquiries:

Tel: +66 82 344 8724, Thai/English
Tel: +66 81 771 6075 English

Email: info@APF2008.org