KASAMA Vol. 22 No. 3 / July-August-September 2008 / Solidarity Philippines Australia Network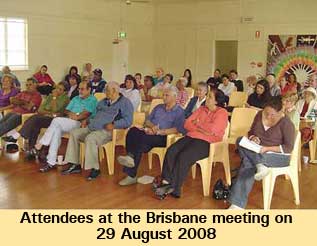 stolen wages
The Queensland Council of Unions recently conducted regional consultation meetings in Brisbane, Rockhampton, Mackay, Townsville, Yarrabah and Cairns.
These meetings were exceptionally well attended by workers (claimants), community members and community leaders.
Every meeting agreed that the recent government decision to quarantine $21.1 million into the Indigenous Queenslanders Fund was a disgrace and gave their full support to the ongoing campaign to have all monies, promised by Beattie in 2002, distributed to affected workers.


Petition
SIGN THIS E–PETITION AT
http://www.parliament.qld.gov.au/view/EPetitions_QLD/CurrentEPetition.aspx?PetNum=1090&lIndex=–1
TO: The Honourable the Speaker and Members of the Legislative Assembly of Queensland
Queensland Citizens draw the attention of the House to the fact that successive Queensland Governments have withheld wages, underpaid wages and withheld forced savings of Aborigines and Torres Strait Islanders for more than a century and that payment of these monies should now be concluded.
The sections and recommendations relevant for Queensland from the Report of the Legal and Constitutional Affairs Committee, "Unfinished business: Indigenous stolen wages", tabled in the Australian Senate on 7 December 2006 can be viewed on a Senate web site.
Your petitioners therefore request that the Queensland Government revise the terms of its payment offer so that:
(a) Indigenous claimants are fully compensated for monies withheld from them;
(b) further time is provided for the lodgement of claims;
(c) claimants are able to rely on oral and other circumstantial evidence where the records held by the state are incomplete or are allegedly affected by fraud or forgery;
(d) new or further payments do not require claimants to indemnify the Queensland Government; and
(e) the descendants of claimants who died before 9 May 2002 are included within the terms of the offer.
Your petitioners therefore request the House to legislate in order that an independent legal body be established to ascertain the quantum of the payments and all the sources of the required funds.

WANT MORE INFORMATION?
CONTACT ANTaR QLD
(Australians for Native Title and Reconciliation)
ANTaR Qld Association Inc,
Room 10, 25–27 Cordelia Street,
South Brisbane QLD 4101
Phone (07) 3844 9800
Fax (07) 3844 9562
Email:
office@antarqld.org.au
Web:
http://www.antarqld.org.au