KASAMA Vol. 22 No. 3 / July-August-September 2008 / Solidarity Philippines Australia Network
Book Review by Pip Griffin
The Solemn Lantern Maker
by Merlinda Bobis
Pier 9, an imprint of Murdoch Books Pty Ltd, 2008
A star has five lights. Noland thinks it so it must be true. Angels live in stars, with fire in their chests. So when they breathe, the sky twinkles.
I met Merlinda Bobis for the first time at a Sydney launch of this, her latest book, and was impressed and moved by her warmth, humanity and scholarship as she talked about her native Philippines and her life in Australia. Her personality and her poetic imagery (she is a poet and playwright as well as a novelist), shine throughout this mesmerising story set in the slums of Manila at Christmas time.
Noland, a young mute boy, lives with his crippled mother in a shelter he has transformed into a kind of heaven – where his angels tell a story he cannot. He makes and sells parol, star lanterns. He becomes a political target when he and his friend, the street smart Elvis, rescue and hide an American woman tourist from a drive–by shooting.
Bobis, with superb use of language (both Pilipino and English), creates a suspenseful and moving story of the lives of people from many strata of Manila, set against a background of religion, violence, corruption, local and international politics, child prostitution, love and, ultimately, compassion. She contrasts desperate street life, poverty and love with the empty Western affluence to which the poor aspire; the shimmering angel dreams of Noland with the hard, cruel reality of his and his mother's manipulated lives.
The mystery surrounding Noland's muteness and his mother's injuries is expertly sustained. Elvis's (and ultimately Noland's) exploitation is hinted at and finally revealed in all its horror. Bobis keeps masterly control of all the strands of her plot as she propels us towards denouements that involve tragedy but also hope.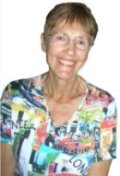 ABOUT THE REVIEWER:
PIP GRIFFIN
lives in Sydney's inner west.
Trained as a primary school teacher, she has taught in New Zealand and Australian schools as well as created and conducted training programmes in writing and communication skills for Australian government staff.
She has a degree in anthropology and has travelled extensively in the People's Republic of China.
Pip writes poetry, short stories and her latest work is a verse novel,
Ani Lin: the journey of a Chinese Buddhist nun.