KASAMA Vol. 22 No. 3 / July-August-September 2008 / Solidarity Philippines Australia Network
The Year of Philippine Australian Writing
This year marks a significant chapter in Australian literature: the first ever anthology of Filipino–Australian writings is published.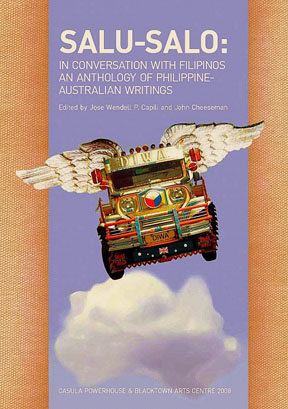 The book is 'Salu–Salo: In Conversation with Filipinos — An Anthology of Philippine–Australian Writings', edited by Jose Wendell Capili and John Cheeseman, published by Casula Powerhouse and Blacktown Arts Centre, Sydney.
The publication features masterpieces from Xerxes Matza, Jose Capili, Deborah Ruiz Wall, Merlinda Bobis, Erwin Cabucos and Crystal Gail Koo.
Executive Director of the Casula Powerhouse Arts Centre, Kon Gouriotis, launched the book at the Sydney Writers Festival on 25 May 2008.
Gouriotis alludes to the opportunities missed when books on Filipino–Australians' culture such as this, were not given importance in the past.
Referring to the book's richness in literary content, Gouriotis said: "It is a dense book... representing the significant contributions of Filipino–Australians in the wider Australian culture and society."
"Filipinos are one of the top ten migrant groups in Sydney and this is the first anthology of their writings. This launching is a very significant event for Filipino–Australians and for Australia in general."
Looking at the quality of the publication, he suggests that a second anthology should be looked into.
Merlinda Bobis, a prominent Australian writer with a Filipino background comments that this book presents rich and insightful stories to be heard. "When we learn to listen to people's stories, we experience a connection of human hearts," says Bobis.
Contributor Erwin Cabucos hopes that the anthology gains wider publicity in the Australian educational reading lists.
"It will be great if high school or university students include this collection in their literary and literacy studies so that learners gain richer understanding of the diversity of Australian and world literatures," adds Cabucos.
Editor Capili hopes to see that this book fills the gap of the silenced narratives of Australian people in the nation's contemporary history.
"May this book address the wide canvas of Australian national histories by highlighting those things which might have been left out of the national myth," comments Capili.
Cabucos' new book
Green Blood and Other Stories
published this year by Manila Prints.
Bobis' new book
The Solemn Lantern Maker
iis published this year by Murdoch Books.
Salu–Salo is now on sale through the Casula Powerhouse Arts Centre: 02 9824 1121.

Review downloaded from http://erwincabucos.blogspot.com