KASAMA Vol. 22 No. 2 / April-May-June 2008 / Solidarity Philippines Australia Network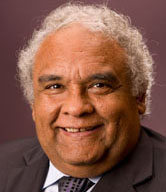 Valuing and Protecting Diversity
The following are excerpts taken from a speech presented on April 9, 2008 by TOM CALMA, the Aboriginal and Torres Strait Islander Social Justice Commissioner and Race Discrimination Commissioner for Australia's Human Rights & Equal Opportunity Commission
Good afternoon. Thank you for the invitation to speak to you today. At the outset I wish to pay my respects to the traditional owners of the land where we meet today, the Ngunnawal people.
In his introduction to the announcement of the 2020 Summit the Prime Minister was succinct in his diagnosis of the challenges we face as a nation in today's global community. He says and I quote:
'The new century has thrown up enormous challenges, as well as breathtaking opportunities. The ground rules of economic success are being re-written with the rise of nations like China and India. New technologies are continuing to transform our work lives, our social lives and everything from health care to entertainment. Our own society is changing rapidly as well as we live longer and expect greater fulfilment in our older years. It's a big agenda, but we need to think big.'
I'm pleased to see that many of the chosen contributors to the Australia 2020 Summit are from a range of cultural backgrounds representing the diverse make up of the Australian society. With 45 per cent of Australians either born overseas or with a parent born overseas we are truly one of the most diverse nations on earth. The challenge is how to account for this diversity; how to follow the inclusive practice and the outward looking perspective of Australia 2020.
… A major focus for me as Race Discrimination Commissioner is the way in which Australia's social policies, particularly those affecting people from culturally diverse backgrounds, are evolving in response to current trends and concerns. From a human rights perspective, our policies need to ensure that the right to enjoy and practice one's culture and language without discrimination is protected. This right is a fundamental tenet of multiculturalism, a policy which emerged in the 1970s in many countries, including Australia, as a response to the increasing cultural diversity of society.
For many people multiculturalism was a welcome development away from failing assimilation policies towards the recognition of the need to provide more socially equitable arrangements, particularly as a nation that hosts a large number of migrants.
After more than two decades of implementing Multiculturalism, the government advisory body on Multiculturalism found in 1999 'the term 'multiculturalism' has served the Australian community well and best describes our positive acceptance of the reality of cultural diversity and a proactive approach to addressing the challenges and opportunities arising from it'.
The 'reality' of cultural diversity in 1999 is today, in 2008, beyond the wildest imagination of the early advocates of multiculturalism. Australia is one of the most diverse nations on earth. Australians speak some 364 languages, of which 170 are Indigenous languages and between 1996 and 1998, 52% of marriages in Australia were 'mixed' in the sense that they involved people from different countries of origin, and 43% of Australians have had one or both parents born overseas.
In view of these statistics and the social milieu it reflects, one needs to ask: is multiculturalism still an effective policy framework to manage and optimise the opportunities flowing from the ever-expanding cultural diversity of the Australian society? In my view the answer is 'yes'. Not only because multiculturalism rests on the human rights principles of equality and non-discrimination but also because multiculturalism is a policy that has many benefits for all Australians.
… In my view, multiculturalism provides a dignified, equitable and just ethos for fostering harmonious relations between the many different ethnic, racial and religious groups that live in Australia today. As a policy of community harmony it has worked well over the past two decades, replacing the failed policy of assimilation which, as you recall, decimated Indigenous communities and alienated ethnic communities.
Multiculturalism under the current circumstances needs to be reaffirmed and reinvigorated so that it can meet the new challenges that an increasingly culturally diverse society continues to present.
… Fundamental to good policy development is that all legislation, policies and programs developed and implemented by governments should be consistent with international human rights standards.
A human rights based approach encourages the adoption of proactive measures to create an enabling framework for active participation and engagement of all citizens, and particularly for those who are disadvantaged or powerless.
The human rights framework promotes a focus on ensuring that different segments of the population are able to participate fully. This requires a focus on gender equality; the rights of children and a focus on the best interests of the child; as well as providing recognition and protection for cultural diversity.
Human rights provide an enabling framework that promotes active engagement of Indigenous peoples through partnerships, shared decision making and ultimately shared responsibility for outcomes. Importantly, human rights also provide a framework to assist in targeting government activity to areas of greatest need.
… Ultimately, human rights are about implementing a sound policy framework. And human rights are for everyone, everywhere, everyday. Please remember, from self respect comes dignity, and from dignity comes hope.