KASAMA Vol. 22 No. 2 / April-May-June 2008 / Solidarity Philippines Australia Network
Look after country and country will look after you
We all know what our old people used to say: We have to look after country. It is our responsibility to protect the environment and cultural values because for us land is an integral part of who we are. It is central to our culture and well being. She has always been there for us so we have to be there for her. It is a symbiotic relationship where one is connected to the other.
KATHLEEN COX travelled across Australia in June from the Dampier Peninsula in the Kimberley region of Western Australia to The Dreaming Festival at Woodford, Queensland with this message and the story of Goombaragin.
Kathleen is a Baniol, Bard, Nimanburr and Kija woman who also has Filipino, Malay, Scottish & Irish in her ancestry as well. She was born in Broome, grew up in Beagle Bay mission and today is the owner-operator of Goombaragin Eco Ventures, located about 160 kms north of Broome and 28 kms off the Cape Leveque Road.
Kathleen's family started living permanently in Goombaragin in 2003 as part of the homelands movement [1]. "It was a family decision to go back to country and establish a home and a business, so that we could make a difference in our lives, aiming to be independent of government welfare, in control of our own destiny and be leaders for our people. Though our family presently holds a 99 year lease on a 25 acre block we are still responsible for the safeguarding of country, culture and heritage, outside of the leased area as well. This is why when deciding to establish a business, we have to take into consideration the impact of any development on country."
Tourism in the Kimberley is a booming industry and international and domestic visitors come in search of an Indigenous experience of culture, lifestyle, to learn the history of the area and feel a love for country in a truly connected sense. "Meeting grassroots people on country and learning first hand how we use the sea and the sky, to work with the seasons of when it's the best tine to hunt, gather sea foods, bush tucker and bush medicines and when to move on to the next camping area," are the experiences Goombaragin offers says Kathleen.
Another aim of Goombaragin is to establish a horticulture facility where native seeds are collected, propagated and planted out on country. Kathleen explained, "these native plants can be sold as seedlings to other communities and in Broome [as well as] to the guests [who] in turn plant it back on country… Furthermore, we are growing our own vegetables and bush fruits."
Education, self reliance and sustainability are high on the list of Goombaragin's objectives. Kathleen told us that, "in September 2008 we'll commence the construction of our three self-contained eco-chalets fitted out with recycling of water waste into gardens and solar power with a hybrid system. As part of the construction project we have engaged the local Kimberley College of TAFE to design a special building and construction course so that family members can participate and up-skill themselves. Skills learned from this project can then be used to assist other businesses and communities who need a labouring helping hand to undertake and complete projects, working together and supporting each other."
This approach is akin to what we call the Filipino spirit of bayanihan, or 'working together'.
Managing a business, a home and raising a family in a remote rural area has its advantages, but there are hardships too. Access to services, provisions, transport, skilled labour, and all the things we take for granted when living an urban lifestyle, are not so readily available. The lack of schools is a major challenge. "The School of the Air," says Kathleen, "is the present way to go for many of the communities on the Dampier Peninsula and some of the east Kimberley area as well." This caters for children of primary school age [2]. Boarding out, an option that carries a high emotional and financial cost, may be the only choice when her son is ready for high school.
Living in the Kimberley coastal areas requires a knowledge of and preparedness for the threat of natural disasters like bushfires and cyclones. The maintenance of an annual fire management strategy and preparation for the wet season is a must. As Kathleen pointed out, "if you have a bushfire come through, there is no bush walk, which means that you don't earn any dollars for your bush walk. Last year at the end of September a major bushfire came through to Goombaragin … causing about $20,000 damage. Now, many Indigenous communities are working closely with the State Emergency Service to bring old practices and new ways of fire management together that are specific to the area. A lot of our people have developed a pastoralist way of thinking and they burn country every year. This isn't right. Country should be burnt, we say, only every 3 to 5 years so it gives the little seedlings a chance to grow."
Industrial development however, can be more insidiously destructive than natural disasters by causing such tension and friction within communities that even families divide along economic considerations. There are several giant oil and gas multinational companies placing developmental pressure upon the Dampier Peninsula through resource demand that could threaten the Kimberley coast forever.
Approximately 260 kms north of Goombaragin out in the Indian Ocean is the Browse Basin gas field. For many years now there have been discussions to develop a processing 'hub' to serve as a central point for the liquid natural gas (LNG) industry. "Perpendicular Point," said Kathleen, "is one of the proposed sites [identified as] an ideal spot from a technical perspective. Perpendicular Point is directly across from where I am and where some other family members live."
"What threatens us is that should the site on Perpendicular Point go ahead they're looking at about 1,000 hectares all up, and on top of that they need an exclusion zone, which they don't talk about, and on top of that, they have to put in a conservation area as well, which they don't talk about too much. A 2-kilometre jetty could be built where they send the pipeline from the Browse Basin to the processing facility where the big ships come in, so they've got to dredge the reef system a little bit, and the gas goes to the ships and they go on to China, Africa, India, etc. Should that happen, we won't be allowed to walk on the reef, we won't be allowed to get in our dinghies and go fishing and hunting, which means that many of us would have to move. People can relocate and set themselves up in new places, but country and traditions that come through country and the animals, they can't speak for themselves, so we have to speak for them and we need to insure that in this whole awareness thing, that we have to put them in the forefront as well."
Kathleen says that many of her family members favour the building of the gas plant because they want the promised benefits that development will bring to the area. Kathleen does not hide her personal viewpoint. "I myself do not support industrial development on the Kimberley coast," she said. "We don't need multi-national companies coming in and promising us jobs and employment opportunities and the benefits we can get from this. What they really want is our lands. On the other hand I am aware of the appalling state of disadvantage under which most of our people live."
"The Kimberley Land Council is working hard to make sure that Aboriginal people [are able] to make an informed decision. They have set up its own Traditional Owner Taskforce that was drawn from every native title claimant group along the Kimberley coast. The Traditional Owner Taskforce members represent local views and concerns and take back information on potential gas development to their Traditional Owner groups. The Western Australia government has stated that no development will occur without informed consent from the traditional owners. I hope this will be the case."
Goombaragin is one of several Indigenous operators on the Dampier Peninsula who have been meeting together for the past 5 years and officially incorporated 3 years ago as Ardi Indigenous Tourism Operators Inc. "Ardi is a member-driven organisation. Its focus is to market and grow tourism," said Kathleen.
"I believe that businesses such as Goombaragin and the Ardi group particularly in relation to the Dampier Peninsula, are creating economic pathways to become financially independent. To continue to do this we need access to our lands to realise our own aspirations. Could this be an opportunity to perhaps create partnership with these multinational companies and receive the benefits that will lead our people out of poverty and enter a new world of Indigenous autonomy as a whole for the Kimberley?" she asks. "Or is it from ourselves as people that we need to dig deep and search for the answers to how we can best do this ourselves?"
— Dee Dicen Hunt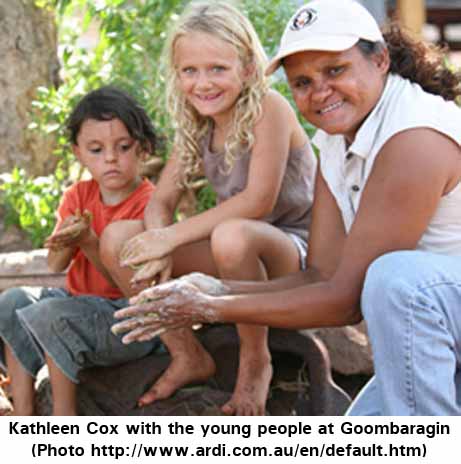 Kasama Editor's endnotes:
[1] The homelands movement, which is a return by small family units to their traditional areas from centralised mission and reserve settlements, has been a significant result of the land rights process. Atlas of South Australia 1986, Chapter: 'The course of Settlement: Aboriginal Lands', Government of South Australia, downloaded at http://www.atlas.sa.gov.au/go/resources/atlas-of-south-australia-1986/the-course-of-settlement/aboriginal-lands
[2] See Kimberley School of the Air http://members.westnet.com.au/ksota/
Further reading:
The Woodford Dreaming Festival is organised annually in June by the Queensland Folk Federation. The Jinibara people are the registered Native Title Claimants of the Woodford area. The QFF acknowledges the Jinibara people as the traditional custodians and have together signed a Memorandum of Understanding to work toward social outcomes for the common good.
Kimberley Media: Kathleen Cox began her talk with a 20 minute version of a film by Richard Costin from Kimberley Media illustrating the beauty of the Kimberley coast and the natural treasures of its environment. She especially thanked Kimberley Media for their contribution to her presentation.
GOOMBARAGIN ECO VENTURES:

Phone: (08) 9192 4717
Mobile: 0429 696 180
Email:
info@goombaraginecoventures.com.au
Web:
www.goombaraginecoventures.com.au