KASAMA Vol. 22 No. 1 / January-February-March 2008 / Solidarity Philippines Australia Network
Film Review by Natasha Saroca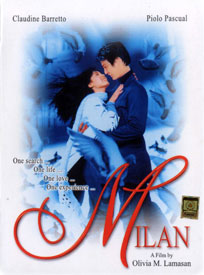 If any film can challenge the idea that popular culture is lightweight – Milan (2004) is it.
While first impressions may suggest that the film is a 'typical' Filipino drama complete with an epic love affair, the requisite angst, meddling family and a 'token' bakla (gay), Milan also offers a powerful and insightful commentary into the complexities of OFW experiences.
Directed and co-written by Olivia M. Lamasan, Milan is a love story set amongst the political economies of the Philippines and Italy. It tells the story of Lino, a young man who travels to Italy as an undocumented OFW to search for his missing wife Mary Grace. Lino's distress from being separated from his wife is exasperated when he becomes lost in Milan while frantically searching for her. While looking for fellow kababayan to assist him on his desperate search, Lino then meets Jenny – a no nonsense, street-smart Pinay who takes him under her wing and teaches him how to survive.
While dealing with the pressure of their family's demands, looking for Mary Grace and juggling several jobs to support themselves, Jenny and Lino fall in love. But will it be the circumstances that leads to their love affair?
Stars Piolo Pascual and Claudine Barretto bring life to characters that are sure to resonate with the everyday lives of Filipinos, especially given the large amount of families that are affected by relatives working abroad. Their acting is on par with an equally brilliant script and direction, especially in dealing with the hardships OFWs face such as loneliness coping with the pressure of their family's demands and the subsequent sacrifices they make, exploitation at the hands of unscrupulous agents and employers, racism and culture shock, and the strain on their relationships with their families back home. Interwoven interview snippets of 'real' OFWs also contributes to the film's credibility.
But perhaps what makes Milan speak to viewers is the film's underlying sense of hope. Scenes of the quasi family of Filipino workers living together, Jenny and Lino's joy as they explore the country and, of course, their love story, remind us that while OFWs face many hardships they strive to make the best of things. By capturing the complexity of the OFW experience, Milan does justice to the many OFWs scattered around the globe.
About the Reviewer:

NATASHA SAROCA is an Australian–Filipino who has recently returned from a four month trip to the Philippines. During her trip she completed an internship at an advertising agency and overdosed on Filipino pop–culture (her not–so–secret passion). Natasha is currently working as a journalist in Sydney and hopes to one day work in magazine publishing in the Philippines.