KASAMA Vol. 21 No. 4 / October-November-December 2007 / Solidarity Philippines Australia Network
5th UITBB meeting for Asia and the Pacific
22-24 February 2007 – Manila, Philippines
The 5th UITBB conference for building workers' unions of Asia and the Pacific centred on the question of the migrant workforce. Delegates from Australia, Bangladesh China, India, Japan, Mauritius, New Zealand, Philippines, and Vietnam attended the Manila conference. The representative from Pakistan was unable to get a visa.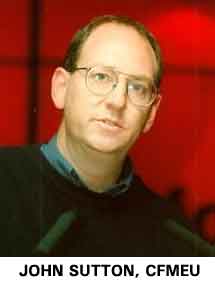 In his keynote speech to the Seminar, JOHN SUTTON, the National Secretary of the Australian CFMEU (Construction Forestry Mining Energy Union) and President of UITBB, addressed the issue of the exploitation of migrant workers and the use of migrant labour to undermine workers rights. This development of capitalist globalisation is not an epiphenomenon; it involves mass movements of individuals from all continents. Guaranteeing adequate protection to all workers is a fundamental task of trade unions. As an illustration, Sutton dwells on the Australian situation. The following is an extract from his speech:
…Let me now say something of the situation in Australia as regards the migrant labour question. In dealing with the situation in my home country I will refer to material that we presented at the Brussels and Beijing Seminars. Since the arrival of European settlers in the early 1800's, the development of Australia has been dependent on the waves of immigrants to our country. The overwhelming majority of these workers and their families were permanent migrants who were entitled to the protections and benefits of our industrial and social legislation, including the right to be members of and to be represented by trade unions.
In recent years however we have seen significant changes to the legislation and immigration policies adopted by our social democratic and conservative governments. They have pursued neo liberal economic and free market philosophies, including the deregulation of the labour market, the promotion of subcontracting and independent contractors, and more recently the introduction of draconian industrial legislation with the intent of reducing real wages and conditions and preventing trade unions from operating effectively. At the same time we have seen changes in the immigration policies with a greater emphasis on skilled migrants, and huge increases in the number of temporary migrant visas issued.
Australia however has experienced a continued period of economic growth over the last 15 years (mainly as a result of high demand for our natural resources such as coal, gas and iron ore), and the increased economic activity has led to many industries experiencing skill shortages. There is also a growing recognition that our ageing population and low birth rate will not assist in reducing these skill shortages.
The main response from our conservative Federal government, supported by the majority of employers, has been the pursuit of short term solutions based on importing labour from overseas. Since the election of the conservative Howard government in 1996 we have seen the number of skilled (permanent) migrants increase from approximately 25,000 in 1995-96 to the current level of 117,500 per year. Some could argue that this number is not all that significant given the fact that Australia has a total workforce of just over 10 million, but the skilled migration program is only part of the capitalists' solution.
The main tool that is being used is the temporary visas being issued for visitors to stay in Australia for periods of up to 4 years. Under the Australian system temporary visa holders such as overseas students, working holiday makers and temporary business entrants, all have an entitlement to work. The number of temporary visas issued has ballooned over the past 10 years from just over 70,000 in 1994-95 to over 700,000 in 2005-06. With an official unemployment figure of 4.7% or less than 500,000 persons (which we contend is an underestimation as people who work at least 1 hour per week are no longer classified as unemployed), the significance of the temporary visas becomes more apparent.
The trade union movement in Australia has been accused of being xenophobic by the Minister for Immigration for raising concerns over the increase in the number of skilled migrants and migrants on temporary work visas. But this is not the case. The unions are not opposed per se to the introduction of skilled migrants or skilled workers on temporary visas, but rather this should only occur in areas where it can be clearly demonstrated by proper labour market testing that there are no local workers available. Where this is demonstrated and subject to a number of other conditions being met then the unions will accept skilled workers on temporary work visas.
However, Australian unions have exposed numerous examples where temporary visa holders have been grossly exploited. The following examples are indicative of some of the abuses:-
In October 2006 four Indian construction workers were evicted from their accommodation, sacked from their jobs and threatened with deportation, after asking the CFMEU for assistance with employment and wage problems. These workers were charged by labour hire agents $6,000AUS each to come to Australia plus air fares, and are further obliged to pay an additional $6,000 to the agent next year under their contract.
Recently, a Chinese welder Zhihong Fu was forced to return to work despite breaking his right wrist at work. This worker ceased work in accordance with medical orders and was sacked by his employer, he was notified that he would be deported from Australia within 28 days. Fu had been brought to Australia by a labour hire firm known as Worldlink to China Services and was charged more than $21,000AUS to gain entry to our country.
A beef processing company in South Australia locked out 20 of its permanent workers over a pay dispute, whilst workers on temporary migrant visas continued working inside.
Three Filipino workers complaining to the unions in 2006 about their wages and conditions were threatened with deportation. Their employer had not only been underpaying them by 30% under the legal rate but they were also working excessive hours. Further, they were charged $450 per week for bunk style accommodation. These workers were even being charged for access to a television.
A prominent example in 2006 is that which involved Chinese nationals working in Australia for a business known as Hunan Industrial Equipment Installation Company. After investigation by Australian trade unions it was discovered that the company in just six months had underpaid 38 of its employees collectively $650,972AUS for work carried out in Australia. Moreover, their company had such disregard for worker safety that government authorities ordered the project to stop until safety breaches were rectified. The Union movement is campaigning to ensure that these workers are back paid.
Another recent example involved 4 Chinese labourers working for an Australian printing firm. After the Government's Office of Workplace Services recovered nearly $93,000 in back payments the employer then constructed new individual contracts which involved each worker paying $15,000 back to the employer to keep the job. If the workers lose their jobs they are subject to deportation after 28 days.
The most recent controversy at home over the last two weeks has involved Filipino electrical linesmen again working on the notorious S.457 temporary visas. It has been discovered that their employer ABC Global Services had formulated work contracts that allowed for them to be dismissed and deported if they either 'joined a trade union' and/or 'engaged in union activities'. The Australian immigration authorities accepted this arrangement in the first instance until pressure from the Electrical Trades Union forced the Government and the employer to adhere to current Australian law which makes such conditions illegal.
Further Reading:
Parliament of Australia, Joint Standing Committee on Migration, Inquiry into temporary business visas; Terms of Reference: 1. Inquire into the adequacy of the current eligibility requirements (including English language proficiency) and the effectiveness of monitoring, enforcement and reporting arrangements for temporary business visas, particularly Temporary Business (Long Stay) 457 visas and Labour Agreements; and; 2. Identify areas where procedures can be improved. Submissions to the Inquiry and transcripts of public hearings downloadable at http://www.aph.gov.au/house/committee/mig/457visas/index.htm