KASAMA Vol. 21 No. 4 / October-November-December 2007 / Solidarity Philippines Australia Network
'Heed Alston recommendations or risk further embarrassment, government told'
AKBAYAN — 28 November 2007
Calling the Alston Report an embarrassing rebuke to the government and the military before the international community, AKBAYAN Rep. Risa Hontiveros said that the government, in particular the AFP, has already run out of excuses and must act decisively to stop extrajudicial killings.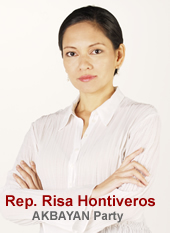 "The government may find the Alston Report harsh, but it is just the first issue leveled against the Philippine government due to its poor human rights record. Early next year, the Philippines will be part of the first batch of countries whose fulfillment of human rights obligations will be scrutinized by the Human Rights Council," Rep. Hontiveros revealed. "Under the Council's Universal Periodic Review mechanism, the Philippines would suffer more humiliation if it fails to stop and resolve cases of extrajudicial killings."
"Lying through its teeth is no longer enough. Rather than deny that fact that the military is behind these killings, it should wield political will to put an end to this grave and atrocious violation of human rights and civil liberties," Rep. Hontiveros said. "What the report says is that there is a de facto policy in the AFP to kill leftist activists."
The fix should begin within the Executive, from the Office of the President and Cabinet members. "As the Commander-in-Chief, GMA has the obligation to correct the abuses committed by AFP. Even while the powers of the Executive which she has abused should be clipped, she should clip as well the wings of the hawks in the Cabinet, especially those who pushed for the abandonment of the peace process in favor of attacking the allied organizations of the Communist Party," Rep. Hontiveros added.
She likewise challenged the government to implement security sector reforms and seriously undertake a paradigm shift in order to revive the peace process.
"These attacks against leftist groups can only happen in a situation where the military is politicized and partisan. When anti-GMA activists are seen as threats to the political survival of the administration, it becomes easy for a partisan AFP to rationalize these attacks," Rep. Hontiveros said, adding that perpetrators of extrajudicial killings should be made to pay for their crime.
There is an urgent need to renounce the militarist framework of the government in resolving the armed conflict. "This climate makes it difficult to hold perpetrators of extrajudicial killings, be they AFP soldiers or NPA combatants, accountable to universally recognized human rights and international humanitarian principles. A new peace framework should be pursued, where political solutions are given priority over guns and bombs," she said.
AKBAYAN Representative and Deputy Minority Leader Risa Hontiveros is currently representing
AKBAYAN
in Congress.
See also: