KASAMA Vol. 21 No. 2 / April-May-June 2007 / Solidarity Philippines Australia Network
Film shows 'trafficking' of Pinoy workers to Iraq has an American face
by Jeremaiah M. Opiniano
www.ofwjournalism.net
QUEZON CITY — A FINGER-LENGTH shard of metal on a white tissue paper nearly made Ailyn Mateo's mother faint. Taken from Mateo's right shoulder, the shrapnel from a bomb that killed 22 armed combatants and 11 civilians is a terrible testament to Filipinos' desperation for work, even in a hell hole called Iraq.
Mateo, a mother of two, is one of the migrant workers whose survival from an episode in the four-year war was snapped on celluloid in a film documentary by Chinese American Lee Wang. Shown recently here among members of non-profit groups and government officials, the 24-minute video documentary revealed the uncanny ability of Mateo and over-6,000 Filipinos like her to earn a living deep within violence-riddled Iraq. Likewise, it also showed an elaborate trail of hiring "third-country nationals" or TCNs –as these migrant laborers from the Philippines, India, Sri Lanka, and Nepal are called– through recruiters in Kuwait and the United Arab Emirates.
The film titled "Someone Else's War" showed these workers remain available despite a government ban for Filipinos to go to Iraq now on its third year. Hence, Wang, his producers, and migrants' rights advocates here consider the continued recruitment of Filipino hired help for American military bases in Baghdad a form of trafficking—and the accountability trail for whatever happens to these workers leads to US companies.
"In the background of this war is an unseen army–neither American nor Iraqi. They are all here in the middle of someone else's war,'" said Wang in a voice-over on her documentary.
BLASTED
THAT war Mateo came close to know as a food service worker in a US military facility in Baghdad.
In a reconstruction of the night some time May 2006, the film showed Mateo, a white bandana hiding her forehead, putting food on trays of uniform-clad men queued in front of a stainless steel counter. Then a missile exploded, sending food, debris, and human body parts flying across the swath of a light brown desert. According to Mateo's mother Fe, an American soldier grabbed her arm and led her to safety amid the chaos. When he heard the words "I am okay," Mateo said the soldier left purportedly to see if more could be saved.
When Mateo came home a month later, all she could remember of that night comes from the shrapnel that hit her shoulder. She thought TCNs like her were invisible to the soldiers whose facilities they clean and whose trucks carrying weaponry they drive across the Iraqi border. Apparently, how Mateo got there almost remained invisible had the trail of recruitment wasn't uncovered by the documentary, according to Lucille Quiambao, Wang's field producer. What are also unnoticed are the routes where TCNs like Filipinos are hired, Quiambao said. Another Filipino, Ramil Autencio, went on-camera to attest to this elaborate recruitment scheme. According to Autencio, he was recruited by the MGM Worldwide Manpower & General Services, one of the Manila-based businesses that were tapped by Kuwaiti labor sub-contracting agencies that, in turn, were paid by an American company to hire TCNs.
In the film, Autencio claims that the contract he signed with MGM wrote that he would work as a technician in Kuwait. Autencio said that six weeks after arriving in Kuwait, executives of MGM's foreign principal First Kuwaiti General & Contracting Co. ordered them to board buses going to Iraq.
"A certain McKinley guy told us if we do not agree to them, we will be sent to jail and penalized with some amounts," Autencio recalled. "I was being forced to go to Iraq, but my POEA contract stipulates we will be working in Kuwait."
Autencio found a way to escape from Iraq and return to Manila. "I hired taxi cab that drove all the way from our camp to the Kuwaiti border at around midnight," Autencio said in the documentary. "The driver was even scared because we are passing by snipers while we were driving."
He sued recruiter MGM Worldwide for contract substitution, which the Labor department's National Labor Relations Commission upheld. The NLRC ordered MGM Worldwide to pay damages to Autencio. However, MGM Worldwide officials are in hiding, Quiambao said.
TRAFFICKED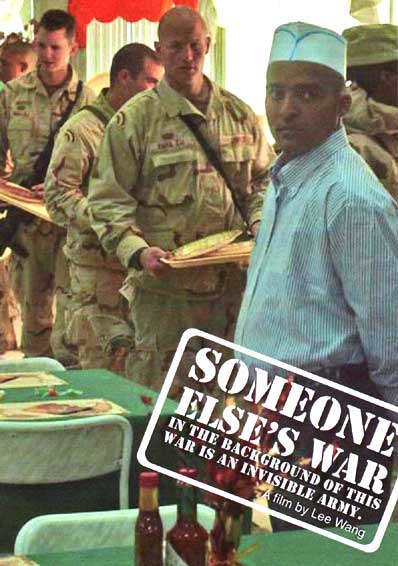 RESEARCH Director Maruja Asis of the non-profit Scalabrini Migration Center, which hosted a premier showing of the documentary, said since there is a government ban to deploy workers in Iraq, Filipinos there are considered "undocumented migrants."
Even the case of Autencio is already considered trafficking "since there was already coercion involved" on the worker, Asis said. Quiambao said Filipino workers bound for Iraq are also taken from Dubai, United Arab Emirates and they fly from there to Baghdad.
Wang estimates that Filipinos among the TCNs in American military facilities in Baghdad earning US$300 monthly, the peso equivalent of which is twice less than what a call center agent receives. The film added that the money matters less since the lines of accountability are blurred especially when armed hostilities erupt between the armed groups operating in or near Iraq's hotspots.
Quiambao said that American soldiers are protected by vehicles with very thick armors. "Trucks driven or used by TCNs are not even protected by metal, and it makes them easy prey to missile attacks, or even IEDs (inter-explosive devices)," Quiambao added.
Apart from Autencio and Mateo, the documentary also featured the case of truck driver Rodrigo Reyes, the first Filipino killed in Iraq. It was only upon Reyes's death that the Philippine government imposed a ban on deployment to Iraq. Since 2003, five Filipinos have died in Iraq, according to the Philippine Overseas Employment Administration.
POEA's Felixberta Romero, director of the Employment Regulation branch, told the OFW Journalism Consortium on June 7 that the agency's Anti-Illegal Recruitment branch will look at the recruitment agencies that have First Kuwaiti General as its foreign principal. Romero said the POEA has yet to get hard facts about recruiting Filipinos going to Iraq via Kuwait through First Kuwaiti. Romero added that POEA's other units, such as the Pre-employment Services Office, have been "sounded off" on this recruitment trail.
Meanwhile, Quiambao identified a woman who lives in Abucay, Bataan and who recruits residents there to go to Iraq, even as she does not run a licensed recruitment agency. For this, Romero promised that the POEA will plan a search operation for that lady recruiter.
A June 18 POEA policy forum will also discuss the issue of recruiting Filipinos to Iraq via Kuwait, Romero bared.
CONTRACTOR
THE documentary revealed that recruiting TCNs has a list of subcontractors from different countries. The mother contractor, the documentary revealed, is American company Halliburton Inc.
Information by the US-based non-profit groups Essential Information and the Center for Corporate Policy, which run the project called "HalliburtonWatch.org," reveal that an estimated 50,000 American and TCN contractors are in Iraq under Halliburton's watch, with 40,000 of them TCNs. HalliburtonWatch.org said that Halliburton's contracts in Iraq are expected to have generated "more than US$13 billion in sales."
Meanwhile, 70 US military personnel are said to have died every day since soldiers landed in Iraq in March 2003.
The watchdog's website wrote former US Vice President Dick Cheney was CEO of Halliburton, and profits rose because of the company's contracts with the US Federal government. Halliburton's revenue increased 30 percent in 2003 (to US$16 billion) "largely because of its military contacts in the Middle East, and is also the top US Army contractor that same year with a US$3.731 billion contract, HalliburtonWatch.org posted.
OFW Journalism Consortium
Stories for the Faraway Filipino
www.ofwjournalism.net
The Consortium is a nonprofit global media service that does focused reportage about Filipinos' international migration and its surrounding issues.
This article is reprinted from the OFWJC NEWSPACKET Volume 6, Number 4, June 11, 2007
You can contact OFW Journalism Consortium, Inc. by Email:
ofwjc@lycos.com
or
ofwjournalism@gmail.com
and by posting comments at the official website,
www.ofwjournalism.net.