KASAMA Vol. 21 No. 2 / April-May-June 2007 / Solidarity Philippines Australia Network
Political Caucus of Women Leaders in Mindanao is Launched
A motorcade kicked off the day's activities on the morning of January 25, 2007. It was a momentous occasion. After months of hard work, the political caucus of women leaders in Mindanao was finally a reality.
"WIN WITH WOMEN, FOR OUR CHILDREN'S FUTURE."
Representing a partnership of women civil society leaders, elected officials and members of different political parties, the Political Caucus of Women Leaders in Mindanao (PCWLM) was established with the goal of getting more women elected in public office and will do this by providing training in political leadership, mentoring and coaching, advocating for electoral reforms for good governance and for greater women's representation in political parties and strengthening links with women's organizations sharing the same goal. This multi-party, multi-ethnic Caucus is founded by twenty women from different political parties, fields of expertise and ethnic affiliations in Mindanao, who had participated in NDI's regional training of trainers program for women in Indonesia, Malaysia and the Philippines, particularly the Autonomous Region of Muslim Mindanao (ARMM).
Despite a 1996 peace agreement between the Philippine government and the Moro National Liberation Front (MNLF), armed conflict continues and terrorist factions remain serious threats to the peace and stability of Mindanao communities. In addition, the region's periodic elections have been beset with severe intimidation and violence — a serious consideration for the government and the people of the region as ARMM prepares to join the nation in electing its local and national leaders this year.
In response to requests for assistance from Mindanao communities and regional government bodies, NDI has been conducting programs that create tangible partnerships between police and the public in order to reduce crime, maintain peace and order and ultimately, to improve the quality of life of women and men in ARMM. Recognizing that the equitable participation of women and men in political decision-making as well as peace-keeping will be to the benefit of all ARMM citizens, the women from Mindanao decided to take action to help increase women's leadership in their government. Inspired by the work of in the Indonesian Women's Political Caucus (KPPI) — a multi-party women's organization that has been instrumental to increasing women's leadership — the Mindanao Caucus adopted the core message of NDI's global initiative for women and linked the advancement of women's leadership with a better future for their children.
At the Caucus's formal launch event, the community demonstrated its support for the women's efforts. About 150 women and men were in attendance, including participants of the trainings conducted by the Caucus members, elected officials, civil servants and civil society activists. The Caucus was also happy to welcome young women leaders from a local university, as well as the media, who provided valuable coverage of the launch.
Guests were treated to an impressive line-up of speakers and activities including Former Member of the Australian Parliament Dr. Lesley Clark (Australian Labor Party) who delivered the keynote speech. "The experience of Australian women and women from around the world is that when women support women, women win" she said, adding that "when men and women share equally in political decision-making, the lives of women improve and that brings benefits to the whole community." Thanks to the support of the ALP International Program, Dr. Clark also conducted a workshop with the Caucus members.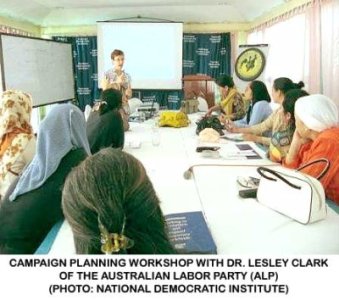 Former American Secretary of State and NDI Chairman Madeline Albright sent a message to the Caucus praising their work and their commitment to promote positive change in Mindanao.
Premier of Australian State of Victoria Joan Kirner and the co-founder of EMILY's List in Australia also congratulated the Caucus for sharing the same goals of helping more women get elected to represent their communities. Kirner described how EMILY's List Australia has helped more than 100 women get elected to Australian parliaments and echoed Dr. Clark by adding that "when parliaments and governments at every level hear and respond to the voice of women and include women as equal partners in decision-making, then the whole community wins."
Other messages of support and commendation came from Gefarina Djohan, Chair of KPPI; Senator Franklin Drilon, President of the Liberal Party; Margarita Cojuangco, former governor and President of the Public Safety College in Mindanao; Irene Santiago, Chair of the Mindanao Commission on Women; Zaldy Ampatuan, Regional Governor of ARMM, Muslimin Sema, Mayor of Cotabato City and other political leaders; Mujiv Hataman, Chairman of Anak Mindanao (AMIN), and Mario Aguja of AKBAYAN, two of the party list organizations that won seats in the present Congress. Caucus President Nida Dans and Vice-President Bai Nhormala Lucman unveiled the Caucus's official logo.
After having made its official debut on the Mindanao political scene, and with the enthusiastic support of numerous individuals and organizations, the Political Caucus of Women Leaders in Mindanao is now getting to work. Immediately following the launch, the members convened for a mentoring and campaign planning workshop with Dr. Clark. The Caucus will next meet to discuss fundamental organizational concerns. Presently, the Caucus is gearing for political leadership trainings for women candidates in the May and October 2007 elections, along with a massive citizen-voters' education campaigns that will integrate a balanced gender perspective.
This article is reprinted from the Win With Women web site at
http://winwithwomen.ndi.org/
The Win With Women Global Initiative is a project of the National Democratic Institute for International Affairs.
NDI's programs in the Philippines have been funded by the United States Agency for International Development (USAID). For further information on NDI programs in the Philippines contact: in Washington DC, Raissa Tatad, Senior Program Manager. Email:
raissa.tatad@ndi.org
in Cotabato City, Nelia Agbon, Resident Senior Program Manager. Email:
nagbon@ndi.org
See also: