KASAMA Vol. 20 No. 4 / October-November-December 2006 / Solidarity Philippines Australia Network
Extreme Weather Events
A Climate of Tragedy in the Philippines
The Philippine Government's official figures have reported 734 people killed, 2,360 injured and 762 missing when on November 30 a super-typhoon packing winds of up to 265 kph, brought volcanic debris, mud and floodwaters upon the villages below the slopes of the Mt. Mayon volcano. More than 3 million people in 14 eastern provinces were affected, with more than 112,000 persons being housed in evacuation centers.[1]
PRESS RELEASE FROM GREENPEACE SOUTHEAST ASIA
5 DECEMBER 2006
Greenpeace laments the loss of lives and the extensive devastation wrought by super-typhoon 'Reming' (international code name 'Durian') in parts of the Philippines, stressing that the latest extreme weather disturbance to hit the country is a portent of more violent weather events that countries around the world are likely to experience in the future as a consequence of climate change.
"The tragic loss of lives and the massive destruction of properties brought about by the super-typhoon deserves immediate attention and sympathy from the international community. It should also serve as a wake-up call about the need for governments to find ways to avert or mitigate the catastrophic impacts of extreme weather events which scientists predict could become more severe because of climate change. We are calling on governments worldwide to act decisively and urgently on climate change because it is poor countries like the Philippines who bear much of the brunt from such climate impacts," said Abigail Jabines, Climate and Energy campaigner for Greenpeace Southeast Asia.
'Reming' is also the third super-typhoon this year (a first in Philippine history) and the fourth major typhoon in as many months. Typhoon 'Milenyo' (international code name 'Xangsane'), struck the country in September, causing more than P3 billion in damages and leaving more than a hundred casualties. Super-typhoons, Paeng (Cimaron) and Queenie (Chebi) followed in October and November, both adding millions of pesos more to the damages already wrought by Milenyo.
Scientists say that as global temperatures rise, the intensity of extreme weather events is likely to increase, and it is possible that in the future the impact of these events will become even greater. Research by Dr. Leoncio Amadore, one of the Philippines' foremost meteorologists, showed that the Philippine archipelago has already suffered severely from extreme weather events. His report "Crisis or Opportunity: Climate Change Impacts and the Philippines", indicates that from 1975 to 2002, intensifying tropical cyclones caused an annual average of 593 deaths and damage to property of 4.5 billion pesos (around US$ 83 million), including damage to agriculture of 3 billion pesos (around US$ 55 million).
"The combination of strong typhoons, excessive precipitation and landslides has caused a great deal of death and destruction in the Philippines. If we do not act urgently, climate change will further intensify the severity of extreme weather events," said Amadore.
Greenpeace is urging governments in the region to use the upcoming 12th ASEAN Summit as a platform to secure critical agreements on urgent measures to mitigate the impacts of climate change across the region. Examples of such measures include the massive shift away from dirty fossil-fuel based energy sources and towards renewable energy systems and the setting of legally-binding targets for drastic reductions of greenhouse gas emissions around the world.
SOURCE: http://www.greenpeace.org
NOTES:
[1] National Disaster Coordinating Council, Media Update, 'Typhoon "Reming" (Durian). Situation overview as of 6:00 AM 16 December 2006. Downloaded at http://ndcc.gov.ph/ndcc/
Can we afford to be complacent?
In terms of frequency, strength and hazardous terrain, allied to prevailing socio-economic conditions few countries exceed the vulnerability of the Philippines to the impact of tropical cyclones.

Australian Government, Bureau of Meteorology
The 12th ASEAN Summit originally scheduled for December 2006 in Cebu, Philippines will now take place 10-15 January 2007 "due to major weather disturbance".
While it is true that it is difficult to attribute any single weather event to climate change, it is agreed that climate change brings more extreme weather events with it. In very broad terms, this is because climate change is putting more energy (heat) into the world's weather systems. This energy speeds up the whole system, increasing the number and intensity of storms.
Extreme weather, Greenpeace International
Australia too is experiencing extreme weather. This year alone there has been drought, unusually high temperatures, hail as big as tennis balls, wild cyclonic winds and bushfires.
Will the ADB finally Stop Funding Climate Change?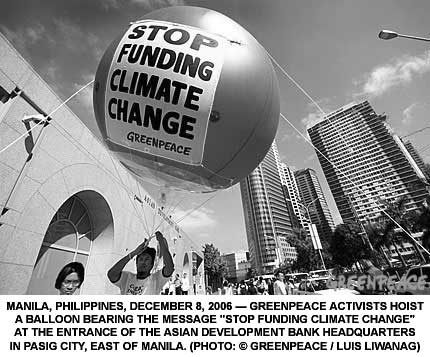 GREENPEACE SOUTHEAST ASIA
December 08, 2006
Manila, PHILIPPINES - Greenpeace activists hoisted a balloon bearing the message "Stop Funding Climate Change" at the entrance of the Asian Development Bank headquarters. The group is calling on the ADB, one of Asia's largest institutional lenders, to stop supporting fossil fuel and dirty energy projects that cause climate change and instead aggressively fund renewable energy initiatives in the region. The demand comes as the Philippines tries to recover from the devastation of super-typhoon Reming (international code: Durian), a portent of violent weather events that the world is likely to experience more as a consequence of climate change.
The ADB is currently finalizing its energy policy, to be released in the next few weeks. The previous version of the ADB Energy Policy supported the development of huge coal-fired power plants in the region, including two of the dirtiest: Mae Moh in Thailand and Masinloc in the Philippines.
The UN Intergovernmental Panel on Climate Change has pointed out that developing countries, like those in Asia, are expected to suffer most from climate change in terms of loss of life and effects on the economy. Extreme weather events such as strong typhoons, flooding, landslides, and droughts are predicted to occur more frequently and with greater severity. The Philippines, for example, was recently battered by a series of super-typhoons that sent its population reeling in the aftermath.
Unfortunately, unlike the G8, ASEAN has never put climate change on top of its agenda in spite of all scientific evidence pointing out that it is a region bound to be hit hardest by climate change.
"The ADB must stop funding fossil fuel projects, especially coal plants, whose greenhouse gas emissions are the main cause of climate change. The Philippines and many other Asian countries are increasingly being ravaged by extreme weather events brought by climate change," said Jasper Inventor of Greenpeace Southeast Asia. "The bank is also in a very powerful position to challenge ASEAN leaders… to tackle climate change with strong renewable energy and energy efficiency targets and laws as well as mitigation measures."
The ADB has earlier pledged US $1 billion for clean energy projects, but this will not be available until 2008. ADB's definition of clean energy projects sadly include coal and huge dams, which was widely criticized by civil society groups.
Source: http://www.greenpeace.org/seasia/
Asian Development Bank Urged To Halt Fossil Fuel Support As Filipinos Reel From Devastating Extreme Weather Events
Greenpeace demands that the Asian Development Bank, Asia's largest institutional lender, stop supporting fossil fuel and dirty energy projects and instead aggressively fund renewable energy initiatives in the region. The ADB is set to release its energy policy in the next few weeks.
Take Action
Global warming is real and its impacts will only get worse unless we embrace clean energy. Renewable power from the sun, the wind and modern biomass provides less than 1% of the energy needs of the Philippines today. Climate change is already happening. It will only get worse unless we embrace solutions today.
Our world today is hotter than it has been in two thousand years. The 1990's was the warmest decade in history, and 1998 the warmest year. By the end of the century, if current trends continue, the global temperature will likely climb higher than at any time in the past two million years. Humanity is largely responsible for this change. The choices we make today will clearly decide the climate of the future.
For more than a century, people have relied on fossil fuels such as oil and coal for their energy needs, with coal being the dirtiest fossil fuel. Burning fossil fuels such as coal releases into the atmosphere massive amounts of the global warming gases such as carbon dioxide — the most significant greenhouse gas. The more we release carbon dioxide, the more we increase the "greenhouse effect" on our planet by trapping in heat and increasing global temperatures and creating catastrophic impacts on the planet's ecosystems — impacts that will hit developing countries the hardest.
There is strong evidence that extreme weather events – such as hurricanes, floods, droughts and heat waves – are increasing because of climate change. According to the Financial Initiative of the United Nations Environment Programme (UNEP), the economic costs of global warming are doubling every decade. The cumulative number of people affected by disasters rose to two billion in the 1990s, up from 740 million in the 1970s. Virtually all of these millions were concentrated in poorer countries. Rising sea levels, melting glaciers, massive flooding, decline of agricultural yields, an increase in risk of species extinction and biodiversity loss - these are the other impacts that we may face if we don't act today to stop climate change.
Solutions to global warming already exist but they will not work unless we use them. Today, renewable power from the sun, the wind and modern biomass provides less than 1% of the entire energy needs of the Philippines. To stop global warming, we need to embrace solutions. We need to switch to renewable energy and to increase energy efficiency.

Home
|
Aims and Objectives of Solidarity Philippines Australia Network
|
About Kasama
Kasama 2012
|
Kasama 2011
|
Kasama 2010
|
Kasama 2009
|
Kasama 2008
Kasama 2007
|
Kasama 2006
|
Kasama 2005
|
Kasama 2004
|
Kasama 2003
Kasama 2002
|
Kasama 2001
|
Kasama 2000
|
Kasama 1999
|
Kasama 1998
Kasama 1997
|
Kasama 1996
|
Kasama 1995
|
Kasama 1994
|
Kasama 1993
PASG QLD Archive
|
PASG QLD 1995
|
PASG QLD 1994
|
PASG QLD 1993
|
PASG QLD 1992
PASG QLD 1991
|
PASG QLD 1990
|
PASG QLD 1989
|
PASG QLD 1988
|
PASG QLD 1987
About CPCA
|
Deaths & Disappearances
|
Confronting Sexual Exploitation (pdf)
Filipino Women & Sexual Violence
|
Filipino Community Organising on Women's Issues in Australia
Presidential Award to CPCA
|
Vivian Alvarez Solon
|
CPCA Press Release
Tampa Day Rally
|
Refugee Action Collective Rally
SPAN Web Site Map
Search the SPAN Web
This website contains images that some Aboriginal people may
be sensitive to and they should exercise caution when viewing.