KASAMA Vol. 20 No. 2 / April-May-June 2006 / Solidarity Philippines Australia Network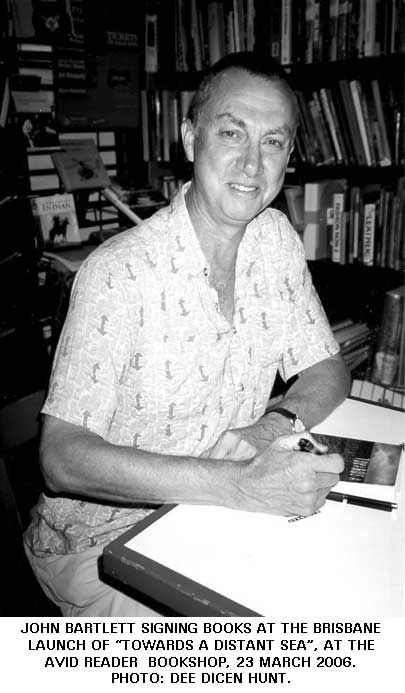 We were the babies of the Second Vatican Council
John Bartlett first went to the Philippines as a newly ordained Columban Father in 1971. He left the country and the priesthood in 1980 returning to Australia with a new self awareness. Twenty-five years later John's first novel has been published. Towards A Distant Sea is based on his experience as a young Catholic priest in Mindanao during the martial law era. he was in Brisbane in march to promote the book. Dee Dicen Hunt caught up with him for a chat about those years.
I first went to the Philippines in 1971 just as Martial Law was being declared. The boat was not going to stop in Manila. It was going on to Hong Kong because that was after the grenade attacks at Plaza Miranda.1 But in the end we did stop at Manila.
I didn't stay there long in Manila because I'd been appointed to Mindanao. Within a week or so we were sent to Ozamis City where we had intensive language study for 6 to 8 months before being appointed to parishes. My first parish was on the island of Camiguin off the coast of Mindanao, near Cagayan de Oro. I was there until 1975 when I came back to Australia for a holiday. When I returned after that I was assigned to a very remote mountain village in Zamboanga del Sur called Midsalip, where I stayed until the middle of 1980 when I decided to leave the priesthood and come back to Australia. Toward the end of 1980 I briefly visited the Philippines again just to explain why I was leaving the church and the priesthood, to reassure people that it was a personal thing, nothing to do with them, and to tell them how much it meant to me and how much it had changed my life.
I actually started thinking about leaving the church in 1975 while I was in the Philippines. It was one of those long decisions that took about 5 years to make. I came back to Australia in '75 but thought I'd give it one more go, so I went back. And because I got involved in such interesting things in the Philippines, it kept me going for another 5 years. It was only when the personal stuff became too much and I became really unhappy, that I knew it wasn't a good idea to stay in the priesthood any longer.
I was pretty unwell, I suppose I was having some sort of a breakdown when I got back to Australia. But, it was never anything to do with the people or the work I was doing, it was about my personal intimate level of loneliness. In the seminary, we'd been trained to never become intimate with people, to always keep people at a distance because it would be dangerous to a life of celibacy and all that sort of stuff. There must have been issues of sexuality too, I guess, because at that time I had no idea that I was gay. That took a bit more time to reveal itself. So it was all part of that process to allow myself to emerge and to understand who I was.
It was the work that kept me going. It was exciting and interesting, plus the contact with the people and the whole involvement. I'd probably reached my limit in what I could do as a Father. I felt that the people had everything under control as much as they could in terms of knowing what they wanted to do and where they were going. Whether they could achieve it all was another thing. But I questioned what I was doing there as a foreigner and perhaps I was getting in the way rather than contributing.
I got involved in Camiguin in the Federation of Free Farmers.2 I'd met Jerry Montemayor when he came there. The Federation of Free Farmers had quite a strong group in Camiguin because the peasant farmers had never received proper sharing of the crop under the law. It had always been two thirds to the landowner and one third to the farmer sharing the crop, and according to the law the expenses should have been taken out before the sharing.
But the landowners were taking all the expenses out of the one third farmer's share, and that was something the Federation focussed on. There were some wonderful people in Camiguin, very brave and very courageous, who actually stood up to one particular landlord. They planned it over a period of time and tried to do the sharing according to the law and they were put in prison for quite a time as a result. They really put themselves on the line. So that turned my thinking upside down and I became less involved in the religious aspects of the Church, like saying mass and going round the barrios and doing baptising, and I got more involved in the conscious¬ness raising seminars that were going on.
I was brought up at the beginnings of the Second Vatican Council and liberation theology and the idea that the church belonged to the people. It was really exciting stuff, very powerful and it was very easy to propagate especially when the people were so strong and so determined to lead. It was very easy to let them take control, and be there in a supportive and supplementary role and just allow things to happen. It was wonderful. We were the babies of the Second Vatican Council inspired by the ideas and possibilities of being able to change people's lives and do something about the poverty and injustice. We saw the church as a power for political and physical good, as well as spiritual good.
So I came back to Australia, resigned from the priesthood, took some time off, moved to Melbourne, made contact with the gay community and took a series of different jobs. Eventually I got into writing about 6 years ago and was reasonably successful at it. My short stories and feature articles about social, political and church issues got published in magazines and news¬papers. I started to write some of this novel when I came back from the Philippines in 1980. I thought it would make a good couple of short stories but I put it away for a few years and then realised I had to finish it as a novel. I sent it round but it was rejected by all the major publishers in Australia and then I found a small publisher that was interested in it.
Everyone asks how much of this novel is autobio¬graphical. It's a bit of an amalgamation of some of my own experiences and the experiences of other people. Some of the characters are based on real people but turn out differ¬ent from the real people in the end. Some parts of my real dream diary is in there, some of the poetry I wrote in the Philippines is there. I don't know why it took so long to write. Perhaps it was because of coming to terms with my own sexuality, falling in love a few times, having relationships that didn't last, trying to find jobs, make money. I had a bit of a struggle economically because I came out of the Church with nothing. Even though I'd done 7 years of tertiary study, there's nothing, no bit of paper, no superannuation, no recognition, because in leaving the priesthood I'd done something really bad in the eyes of the Church. The book just had to be put aside while I tried to make a living and decide what I was going to do with my life. But I've been in a long term relation¬ship for 20 years now which has given me the support and love and confidence to finish this project at last. I went back to university and got a BA in Literature which I finished last year. Now I've started an MA as well, and I'm teaching creative writing to adults in TAFE, which is wonderful, I love it. And I'm just going to keep writing til I drop. It's a passion, I love it so much.
I have started another novel, and I aim to write the first draft by the end of this year. The main character is a man but there's a woman's story as well which is based on my own aunt who was a musician and an artist but spent a lot of her life in a psychiatric hospital. But the main protagonist is not me this time.
NOTES [added by the KASAMA Editor]:
The Liberal Party Proclamation Rally at Plaza Miranda on August 21, 1971 was bombed by unknown elements severely wounding and killing several of the opposition party representatives. Immediately, President Marcos suspended the writ of habeas corpus. The military used this opportunity to arrest student leaders, journalists and well-known activists, and raid the headquarters of mass organisations. Martial Law was, in fact, formally declared by the signing of Presidential Proc¬lamation No. 1081 on September 21, 1972. However, it was only announced to the public two days later. Hundreds were detained and arrested. (Dictatorship and Revolution: Roots of People's Power, Conspectus Foundation Inc, Manila, 1988.)
The Federation of Free Farmers, an offshoot of the Philippine Rural Reconstruction Movement, was formed in 1953.